---
With the incoming spring blooms comes the beauty of more visible skin. Unfortunately, this comes at a cost to most bodies. Throughout the winter and fall, we bundle up and try to stay warm. Then in spring, many of us are shedding our winter layers and grabbing the sunglasses for outdoor adventures. Spring is the time for renewal and rejuvenation, not just in our minds but in our bodies as well.
While enjoying the blue skies and sunshine, you need to protect your body as well as your clients' bodies. Circadia and M.A.D have come out with some wonderful feature products that do just that!
The winter months leave many people looking tired and a little worse for the wear. Help them spring into the warmer months with the gift of an Emergency Eye Lift from Circadia. This product "instantly tightens and lifts the eye area, plumping fine lines for a younger look." The featured ingredients focus not only on moisturizing the skin, but also tightening and smoothing the skin which stimulates the natural formation of collagen. Eliminate the tired skin of winter and embrace the energy of spring with Emergency Eye Lift. Rejuvenating the skin around your clients' eyes is only one way to give them that bright and youthful summer glow. Another way is keeping your clients' skin moisturized to achieve that fresh summer look.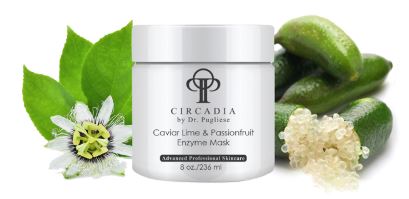 The warmth of summer and spring affects our skin. During the warmer months, we need to show love to our skin by moisturizing. Circadia came to the rescue by creating the Blueberry & White Tea Hydrating Mist. This luxurious mist is best used after cleansing and toning to calm and cool your body while also hydrating your skin. The light and summery aroma of this mist will leave your clients feeling refreshed and relaxed. Your clients will experience the tranquility of the spa in a simple hydrating mist. These two products are not the only way you and your clients can spring into summer!
We are continuing with the idea of blossoming into beautiful weather with two other featured products this month: Caviar Lime & Passionfruit Facial Kit by Circadia and the Jenasus Growth Factor Peel by M.A.D.
The Caviar Lime & Passionfruit Facial Kit is a special Enzyme Mask Kit which can be used in your spas all summer long! The Caviar Lime & Passionfruit Kit is a gentle rejuvenating treatment that utilizes second generation AHA technology, antioxidants, and hydrating botanicals. It is a "luxury facial that will leave the skin instantly hydrated with a flawless finish." Give your skin that natural summer glow with this facial kit.
The Jenasus Growth Factor Peel is generally considered a medium level peel containing Multi Fruit Acid, Lactic Acid, and Glycolic Acid. This peel is suitable for most skin types—particularly mature-dry and sun-damaged skin. People with sensitive skin, however, should consult a skin care professional to determine if this is appropriate for them. Use this medium peel to shed that layer of dead winter skin to expose the fresh and new layer underneath.
Spring is a time for new growth and a fresh start in both nature and our bodies. Warm weather and bright sunshine mean more skin exposure.
Make sure that, while loving the weather, you are also loving your body and helping your clients love theirs. So while you are prepping for those summer time woes, be sure to remember mom with all these wonderful products she will love for Mother's Day.
To learn more about CSS's awesome sales and products that we have to offer

click here for more details.

When FB Messenger opens click the

GET STARTED

button and you're in!