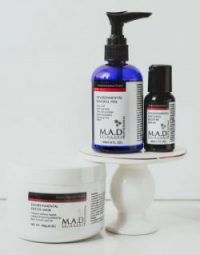 #CocktailHour
---
M.A.D. Skincare is known throughout the esthetician industry for being able to layer various peels together to create a completely customized facial for each client.
Barry Eichner, the Cofounder of Lipgloss + Aftershave and the host of this year's Skin Games, decided to take on the cock-tailing challenge.
The goal of Barry's treatment was to "use a combination of peels and masks that will help to minimize his pores and brighten those dark spots." Because Michael Contorno, President of M.A.D Skincare, found on the initial inspection that Barry's skin has "large pores and some congestion. It looks like he has oily skin. You also have some dark spots from years of UVA exposure."
So, in the time that it normally takes to complete one facial, Barry received 3!
He had the M.A.D. Pore Refining and Brightening Cocktail Peel, focusing on his acne and hyperpigmentation! Click here to see his experience.
M.A.D. Skincare has 10 distinct peels which allows estheticians, like Jenny Almaneih – CSS Educator, to be super creative like she was with Barry's #MADStacking.
With the M.A.D. Skincare cocktailing capabilities you can use up to 4-6 different layered chemical peels treating multiple skin concerns at the same time depending on your client's skin sensitivity.
Barry's specific treatment featured 3 specific peels:
Layer 1- Advanced Acne Peel containing Lactic Acid, Glycolic Acid and Salicylic Acid. This peel is excellent for oily, combination skin prone to break out. Glycolic Acid is a powerful exfoliator- Lactic Acid for skin smoothing and softener and Salicylic Acid a Beta-Hydroxy Acid derived from Willow Bark Tree which decongests and reduces blemishes.
Layer 2- Multi C/Retinol Peel- this peel is particularly good for mature and sun damaged skin. It contains Lactic Acid, Glycolic Acid, Multi Fruit Acid (exfoliates and rejuvenates) Turmeric (provides healing benefits) Retinol for smoothing and exfoliating and Vitamin C for brightening.
Layer 3- Radiant Brightening Peel containing Glycolic Acid, Trinity Tea Extract (anti-oxidant) Bearberry (natural lightener) Licorice Extract (reduces Hyper pigmentation and is anti-inflammatory)
By layering these peels we were able to treat Barry's multiple skin concerns in one treatment. We also cock-tailed the Zinc and Sulfur Mask with the Radiant Brightening Mask to control breakouts, heal and brighten. We cock-tailed the Wrinkle Repellent Serum for Environmental protection and to reduce the depth of the wrinkle with C4 Intensive Brightening Serum to bathe Barry's Skin in antioxidants and continue to brighten the complexion.
Layering and stacking products not only saves you time and money for the treatment products, but you also save your clients money as well.
Now they can purchase one product line that can provide them with faster and more specialized results.
Your average client will be able to handle about 3 layers of the peels. While more sensitive individuals will only be able to handle approximately 2 layers. But some of your veteran clients with more robust skin will be able to handle anywhere from 4 to 6 different layers of stacking.
In our Free Learning Center, you can learn all about becoming a #MADScientist and creating your own cocktails for your clients. Click here to learn more! Once you are in Facebook Messenger you can explore our brands or specific skin concerns that your clients face regularly.
acne, Cocktails, hyperpigmentation, Lipgloss and aftershave, peels, SkinGames