MASKS MASKS MASKS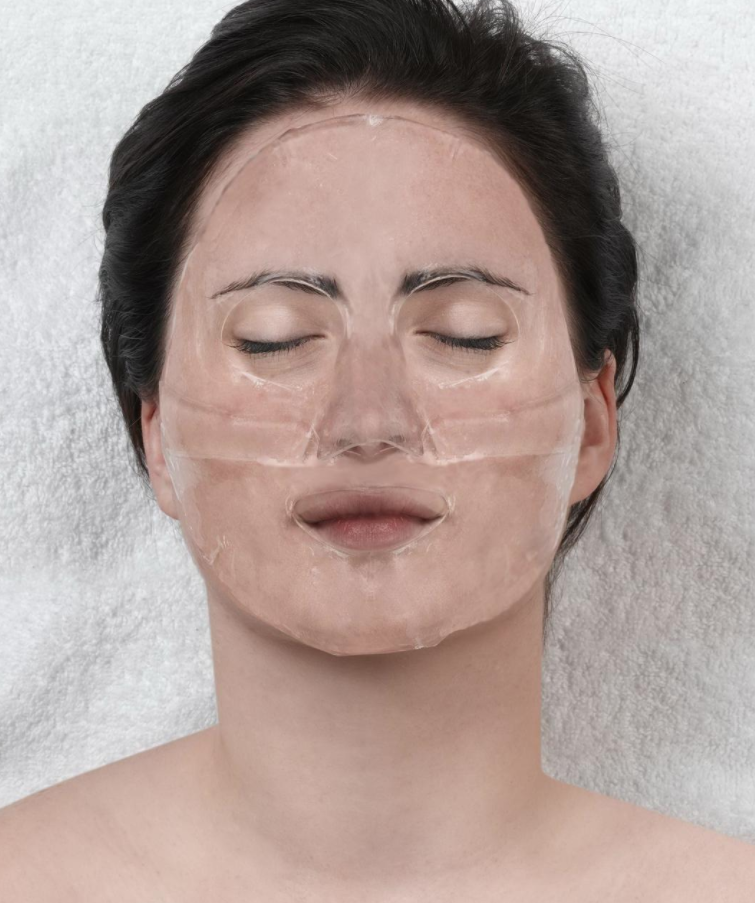 From the CSS SHEET MASK COLLECTION.
A 2-piece crystal facial mask treatment that offers 4 treatments at once: lightens, moisturizes, minimizes pores, and replaces collagen. The absorption rate is 10x greater than paper masks!
Perfect for after a chemical peel or microdermabrasion treatment. Good for all skin types except acneic.
And try the version designed for use on the neck! The Collagen Crystal Neck Mask helps to hydrate, tighten, brighten, and revitalize the gentle skin around the neck.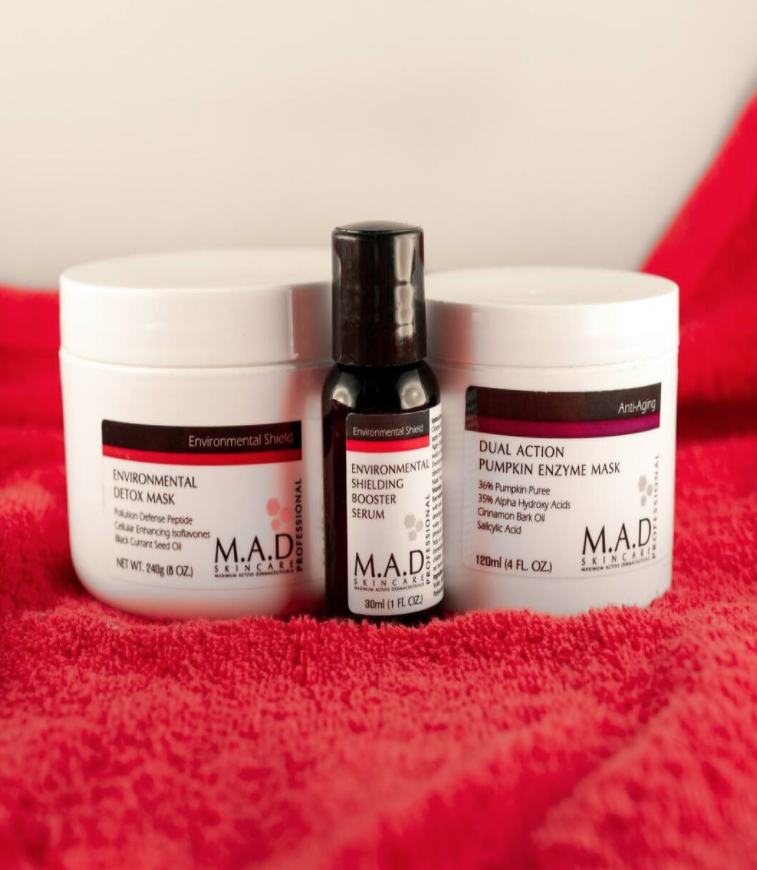 M.A.D. November Pumpkin Enzyme & Environmental Detox Mask Special
Use separately or cocktail together to reduce the strength of the Pumpkin Enzyme!
The naturally-derived Exfoliating Pumpkin Mask features enzymes that gently dissolve dead skin cells, promoting new cell production, and contains essential Vitamins A & C which help smooth & reinforce the skin's natural barrier, for healthy radiant skin:
• Natural Pumpkin Puree is rich in enzymes that exfoliate dead skin & soften the appearance of fine lines & wrinkles. It boosts collagen production to help combat the signs of aging. The high EFA (essential fatty acid) content helps to regulate sebum in oily/mature skin. Vitamins A & C serve as natural anti-oxidants to help fight free radicals, & the Zinc mineral content helps to smooth out & reinforce the skin barrier to promote younger, smoother skin.
• Glycolic Acid is an alpha-hydroxy acid that helps to rid the skin of dry dead skin cells & promotes cell turnover for a more even & smooth complexion.
• Lactic Acid is a milk-derived AHA that helps to soften & smooth rough skin, revealing underlying healthy skin cells, forming a more luminous & healthy skin barrier.
• Cinnamon Bark Oil is known to increase collagen levels & improve skin's elasticity by stimulating blood vessels, plumping skin & improving the appearance of fine lines & wrinkles. It can also help soothe irritated skin & offers dull, dry skin a more radiant & healthy glow.
• Salicylic Acid is a beta-hydroxy acid that helps control sebum production & acts as a natural anti-bacterial to help keep skin free of blemishes & imperfections, promoting more radiant, healthy skin.
The Environmental Detox Mask (with booster serum) is jam-packed with botanicals and other ingredients to nourish and protect skin from aging factors such as pollution, stress and poor diet:
• Pollution Defense Peptide enhances the function of skin to help eliminate toxins & minimize the damaging effects of physical & emotional stress. It also guards against free radical damage.
• Cellular Enhancing Isoflavones are organic compounds help to reduce the breakdown of collagen & prevent fats in the skin from forming aggressive compounds. It also helps to improve skin breakdown due to environmental stress.
• Black Currant Seed Oil is rich in fatty acids, which helps to maintain healthy skin & reduce the effects of dry, damaged skin.
• CELLDETOX® reinforces the cell detoxification process by reducing the level of oxidized proteins & peroxidized lipids. By noticeably smoothing facial lines and illuminating skin complexion, CELLDETOX® reduces the visible signs of aging & restores natural radiance to congested, tired skin.
---
DEEP EXFOLIATION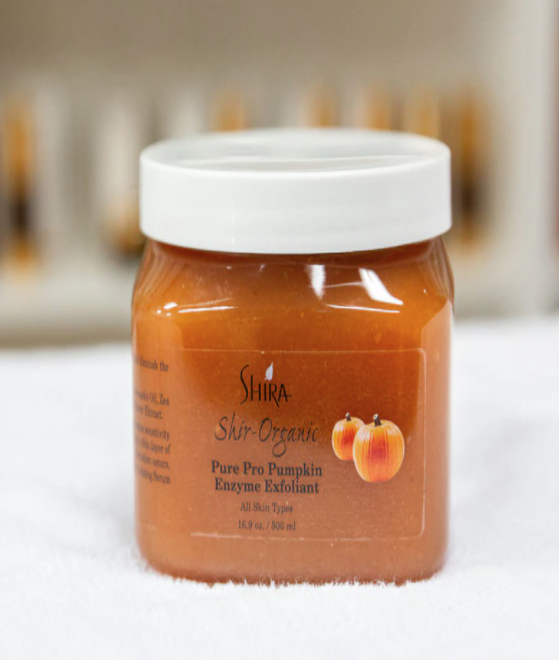 Shir-Organic PRO Pumpkin Enzyme Exfoliant
Best for all skin types, except sensitive.
Purified Pumpkin Pulp is rich in naturally occurring Enzymes, Beta Carotene and over 100 essential nutrients. These natural ingredients work in synergy with Pineapple & Papaya enzymes to smooth and soften skin, while providing it with anti-oxidant protection.
Circadia by Dr. Pugliese Peels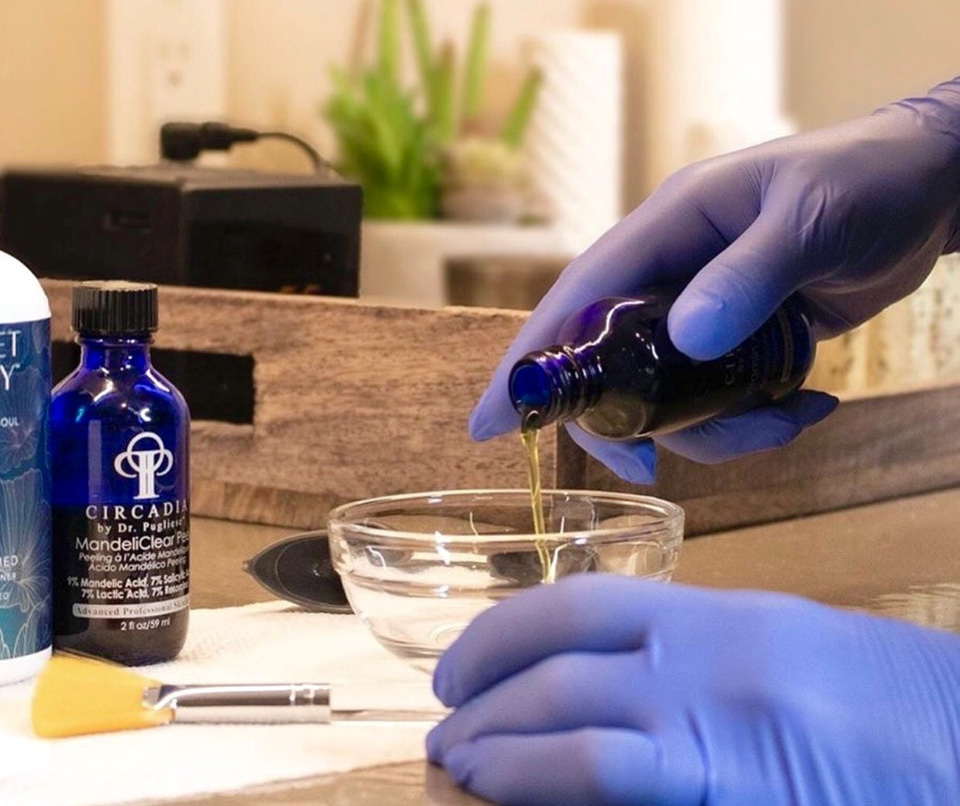 Circadia is offering several professional peels on sale this month!
Alpha/Beta Peel 30/10% and Alpha/Beta Peel 40/15% are ultra-effective peels formulated with the perfect blend of acids to help gently exfoliate the skin without harshness, irritation or inflammation. Thanks to a new technology of peeling, clients will experience little to no stinging sensation & should not experience any flaking or peeling post treatment. Contains Lactic Acid (AHA) and Salicylic Acid (BHA).
The DermaFrost Salicylic Acid Peel (in 12% and 25%) are formulated with a higher-strength Salicylic Acid, which provides the benefits of alpha-hydroxy acid and provides an effective treatment of early to moderate photo aging. Good for Sun Damaged (actinic keratoses), wrinkled, aging skin; Acne grades I and II, oily skin, pigmentation abnormalities, and Fitzpatrick types I, II, III.
The Jessner Peel is a is a unique combo of 14% Resorcinol, 14% Lactic and 14% Salicylic Acid. This light-to-moderate peel is ideal for clients experiencing uneven pigmentation, acne, sun damage, lentigenes, hyperpigmentation, and Fitzpatrick types I-III. Recommended for use every 2-3 months.
The MandeliClear Peel System blends 7% lactic, 7% salicylic, 7% resorcinol, and 9% mandelic acid in an ethanol base with quillaja bark. It's effective for lightening pigmentation due to acne, melasma or photodamaged skin.
The Lactic Acid Peels come in three strengths, containing Lactic Acid. This member of the Alpha Hydroxy group of molecules encourages desquamation of the stratum corneum, and is suitable for anyone with aging, acneic or keratinized skin. It can be used up to 5 minutes on any Fitzpatrick skin type & can be repeated every 4 weeks. On sale in 30%, 35%, and 45%.
---
FINISHING PRODUCTS
The Illuminate AHA Essential Renewal Toner by France Laure reveals a glowing, healthy epidermis. It accelerates an intense, yet gentle epithelial renewal, nourishes, moisturizes, and contributes significantly to cellular proliferation and migration. It cleanses pores, regulates sebaceous secretions, and erases skin imperfections.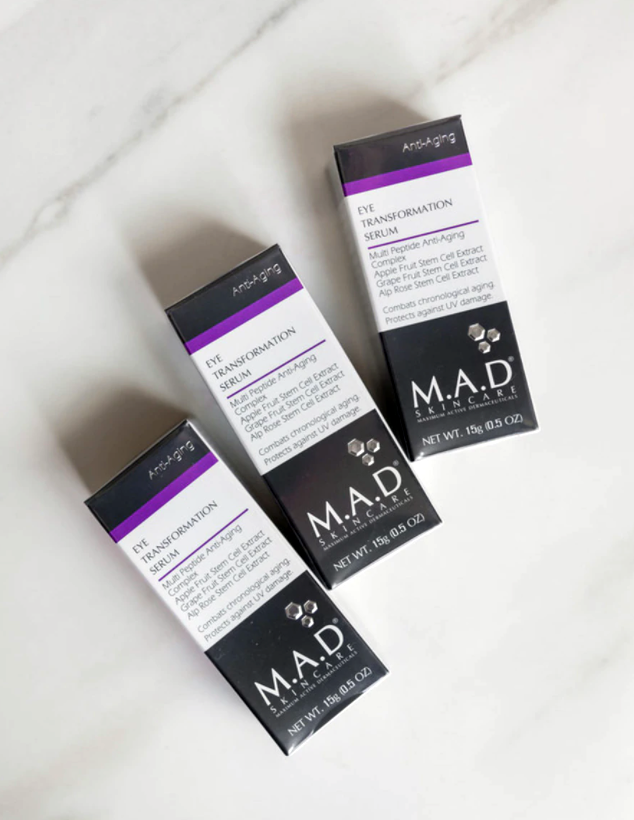 Save on THREE M.A.D. Skincare Eye Transformation Serums
A lightweight multi-stem cell, multi-peptide-infused complex designed to protect, hydrate and nourish critical areas around the eyes:
• Multi Peptide Anti-Aging Complex – this potent peptide complex helps to minimize the appearance of wrinkles, improve elasticity around the delicate eye area, stimulating collagen & elasticity of the skin.
• Apple Fruit Stem Cell Extract – provides powerful anti-aging benefits, helps to lessen the appearance of wrinkles, & increases the longevity of skin cells.
• Grape Fruit Stem Cell Extract – this powerful age fighter helps to repair the signs of aging, reducing crepiness around the eye. It offers excellent protection against UV-stress & damage occurring from sun exposure.
• Alp Rose Stem Cell Extract – nature's "super flower" helps to recharge skin stem cells & protect cells against UV stress, improving skin tone, texture & firmness.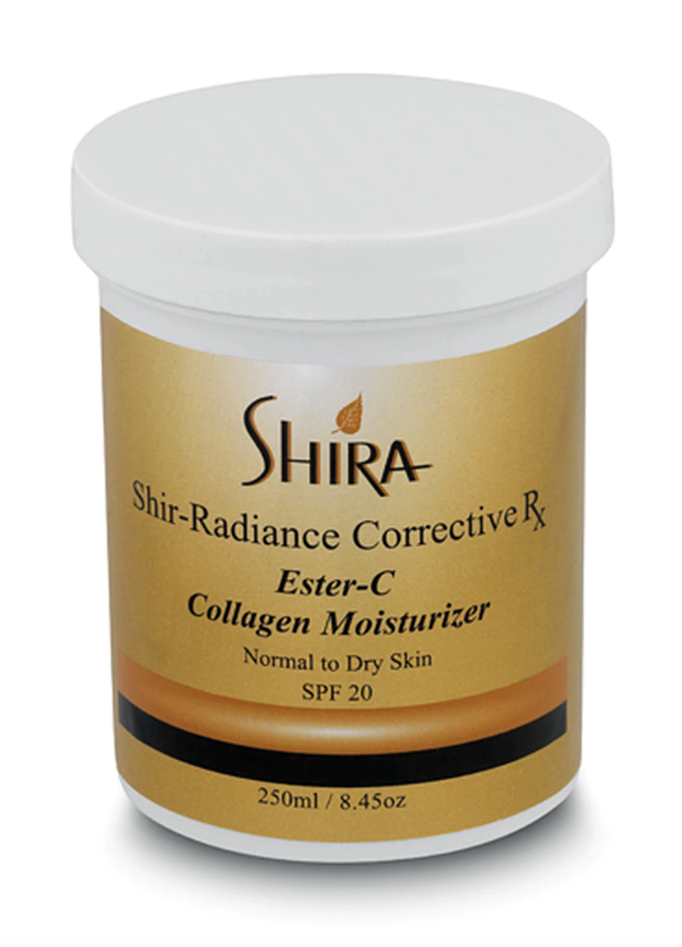 Ester-C Collagen Moisturizer by Shira-Radiance (Professional Size)
Best for Normal to Dry Skin.
• Delivers deep and long lasting hydration.
• Helps to diminish the appearance of fine lines & wrinkles.
• Fortified with Mandelic Acid to enhance Vitamin C absorption.
• SPF 20 helps to protect against UVA & UVB damaging rays.
• Fragrance-Free & Paraben-Free
---
BODY CARE
Light & Refreshing Gel by Aqua Laure with Fucus Algae, Hamamelis & Chamomile. As a pro treatment, this gel is able to desensitize & soothe sensitive skin on the body:
• anti-inflammatory benefits
• stimulates oxygenation
• facilitates toxin elimination
• nourishes & calms
• drains, decongests and refreshes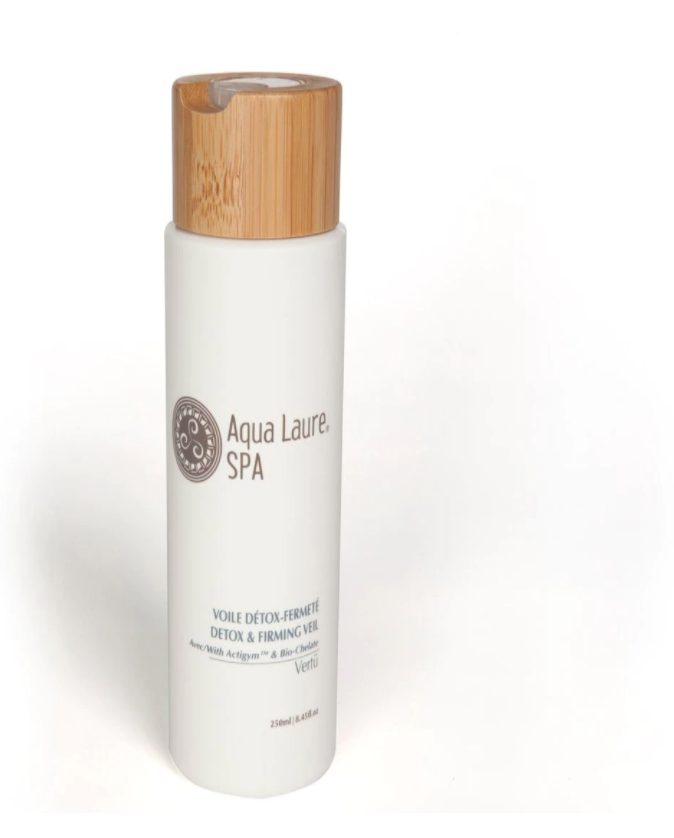 Detox & Firming Veil Vertü Fragrance by Aqua Laure
A lightly perfumed body milk hydrates, refreshes, & leaves skin soft to the touch.
The addition of Vitamin A and Actigym™, also called the "Secret Personal Trainer," is an essential ally in weight loss.
• Restore metabolism
• Reduces body fat
• Refine waist, tone sagged tissues
• Improves skin texture
---
View ALL November Sales here!
---
Client Drop Shipping Special
We are still offering direct shipping from the warehouse to your clients! We offer a flat fee of $9 to ship your retail order to your clients, free from invoices!
Collect payment from your clients, place their order for them using your CSS account, add their shipping address, and type DROP SHIP in the comments! We will email you the invoice.