Is it microcurrent or is it microneedling? One thing for sure is this beauty wand really does perform magic.
California Skincare Supply interviews Julie Lindh on her Ageless System Beauty Wand.
But first, who is Julie Lindh? 
Julie Lindh is the founder of one of the nation's top skin and wellness companies focusing on natural age-less solutions. She has curated a unique assortment of products, high tech beauty devices and developed a four-phase approach towards skincare: Correct, Repair, Rejuvenate and Preserve. With this approach and her products, Julie has helped clients to achieve and maintain clear, glowing, and radiant skin naturally, making it easy to understand why some of her devotees call her "the SKIN guru."
Now let's have Julie tell us about her magic wands!  
These amazing devices are made for retail use to support the professional micro current treatments you are already offering in your spa for your clients to use in their at-home facial treatments. 
(P.S. We also carry professional microcurrent machines too!)
Ageless System Beauty Wand 1.0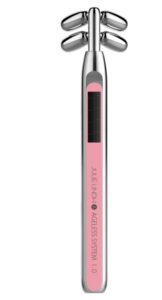 Ageless System Beauty Wand 2.0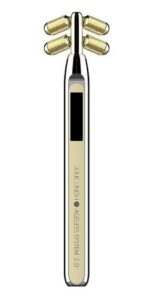 The Ageless Beauty Wands, 1.0 and 2.O, are handheld beauty devices that are solar powered, portable, and sustainable.They help:
tighten skin
lessen the appearance of wrinkles and fine lines
improve circulation
help skin care products to absorb more effectively
What follows are some answers we got from Julie before we realized we just needed to get her on video. Some of what you heard in the video is included here, but there is some additional info as well.
But do watch the video. We think it's priceless!
Julie, what is so special about microcurrent technology as it relates to beauty?
Julie:
Microcurrent facials have become one the biggest trends in the beauty industry. The technology behind them is a low-level electrical current that is almost similar to what we have in our bodies. When applied to the face, it releases gentle waves of energy through all the layers of the skin and further down to the muscles fiber. Think of it as a work-out for your face. 
What do you feel are the primary benefits of using these devices?
Julie:
As we age, our face loses its shape and elasticity due to collagen breakdown and skin becoming thinner. Weak facial muscles also contribute to sagging skin. Using a microcurrent device will help to strengthen the facial muscle, especially the cheekbone muscles, beneath the skin and make them stronger and plumper. When they are stronger, you will see the lift of the lower face. Deep folds around the mouth will shrink. Microcurrent also stimulates blood circulation in the layers of the skin and rejuvenates the cells. That action alone makes the skin glow.
In addition, microcurrent devices help repair free radicals, detoxify, rejuvenate, help to defeat acne skin, and trigger the fibroblasts to make more collagen.

Are micro current devices safe?
Yes. Our body recognizes a similar frequency, not as something that needs to rejected, and helps to break it down and distribute it to the treated area. 
Are at-home microcurrent devices worth it compared to in-office treatments?
Oh, yes, absolutely! Using a microcurrent device at home will maintain the results you get from the in-office treatment and with consistency you will keep the muscles stay toned and skin firm. It's like going to the gym. The more you work out the better the results you will see. 
I have been offering microcurrent facials for almost two decades. Back then it was called the "non-surgical facelift," the instant lift that makes you look 10 years younger without surgery. It was the trendiest Red Carpet Facial ever offered. For in-between treatments, I advised clients to do face fitness to maintain the lift at home. Many couldn't keep it up and that was the reason why I begin to offer microcurrent devices that are easier to do and require less time.
We are all looking for the secret to keep our skin looking younger longer. The quick fix method such as botox and fillers may not give you that natural look, and skincare products can only do so much to address sagging skin. But adding microcurrent treatments to your beauty ritual will keep the skin looking healthy, younger, and radiant.  In my opinion, a microcurrent device should be part of any daily skincare routine. 
How do your beauty wands compare to other microcurrent devices on the market?
Our research has shown that an electrical current that more closely matches what is natural to your body is best for use at home. Since the body is more receptive to this current, you can use our wands on a daily basis at home without having to worry about overworking your muscles. 
The Beauty Wands are also innovative because of their unique design with four rollers that are perfectly spaced to fit the curvatures of the face. The spacing and angle of each roller is precisely placed for hard-to-reach areas such as between the eyebrows and around the eyes and mouth. 
And unlike other microcurrent devices, our wands do not require an expensive conductive gel. You can run the device on dry skin, or any moisturizing cream will do. 
Finally, to add convenience and sustainability benefits, our wands are also solar powered and are recharged by either indoor or outdoor light. There is no on or off switch. As long as there is light available, they will run. 
Let's talk about your two magic wands now. We know what they do. How do they differ?
There's 1 big difference between the two:
The 1.0 provides 4 smooth rollers for reshaping the contours, stimulating collagen production, and giving a gentle workout for the face. 
The 2.0 is very similar but is 14k gold plated and has the addition of spikes on the 4 rollers.These are like a gentle alternative to micro needling. They stimulate wound repair and  increase collagen production, while still giving a gentle workout for the facial muscles. The spikes also help penetrate whatever serum you choose to use.
You can see the spikes below: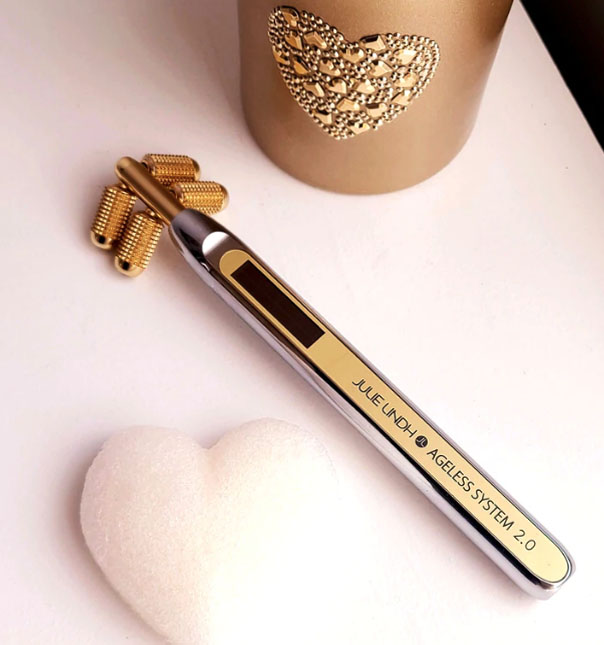 We're convinced. Are you?
Who wouldn't want to add microcurrent facials to their skincare routine after listening to Julie, right? The Beauty Wands are also great skincare tools for estheticians to recommend to their clients for at-home treatments, making them essentials for your retail shelves!
So, since this is a no-brainer for your business and your clients, the final question is where can you buy them?
The answer is right here in California Skincare Supply's online store. 
We carry Julie Lindh's microcurrent devices, as well as other skincare tools and over 40 of the best name brands in skincare! We're a one-stop shop for estheticians. 
If you've never shopped here before, you'll need to register first. New customers get a coupon for a 10% discount and 500 loyalty points to be used on future orders. We sell at the manufacturer's lowest price and offer free shipping on orders over $500. Let's get shopping!
California Skincare Supply is a wholesale distributor of skincare products, supplies and equipment and sells to licensed professionals and other stockists. You will need to set up an account with our site, before you can see prices and buy. If you are new here, you can register below. 
Get the esthetician's edge here!
If you're a professional esthetician, dermatologist or cosmetologist, we invite you to join our community by registering on our site today. You will get access to over 40 of the best skincare lines, esthetician equipment, and supplies for professional use and resale – all at wholesale prices! 
Plus, you'll get our special CSS product training so you'll always know how to use and sell skincare products and services like a pro!
And if that's not enough, get 500 Loyalty Points  just for signing up that you can trade for a discount later, as well as a 10% discount coupon to use on your first order! 
It's quick, easy, and free to join.