As orders to Shelter in Place and shut our public service business sweep across the country, California Skincare Supply wants to reach out and help Estheticians and their clients fight fear, stay in business, and keep their skin looking tip-top! We are also pleased to announce Stay-At-Home Facial Kits!
Watch our Facebook Live recap with Jennifer of The Skin Games, all about how California Skincare Supply is working to help support Estheticians and their clients during the Corona virus pandemic. CSS is available to help and is offering to ship retail product directly to your clients for an $8 flat fee to help you stay in business, offer support, and continue generating revenue. Excerpts include us detailing:
our drop shipping option and free shipping for estheticians
tips and ideas for virtual consultations with your clients
a description of the FREE gift with purchase Staycation Facial kits being generously offered by Circadia by Dr. Pugliese and M.A.D. Skincare
ending with a tour of our warehouse and product lines.
Things to do while Staying Home:
See your clients their favorite products or help them find a new at-home regimen with our Drop Shipping special (see below), and get them a Stay-At-Home Facial Kit (also outlined below) – which you can help them with virtually!
Create virtual appointments where you help clients with the Facial Kits, recommend new products or a new Spring Skincare regime, or just check in and chat with them during these trying times.
Make future appointments with your clients for after quarantine
Update your website updates, plan out your social media campaigns, outline YouTube videos to make, etc.
Educate yourself and expand your product knowledge and facial techniques and protocols with the CSS Learning Center and YouTube demonstration videos and tips!
Call CSS directly for product guidance and help (1-800-500-1886)
Nurture yourself: it's okay to NOT stay busy, too. Give yourself a facial, take more baths, journal your feelings, drink plenty of water, reach out to friends via phone or text, start that meditation practice you haven't had time for.
Shipping Retail Products to your Clients directly for an $8 flat fee!
$8 Drop Shipping to your clients: We want to empower Estheticians to continue making retail sales and appointments, even from home! Get your clients the products they need, give them a facial consultation virtually, and keep your business afloat!
How To Order: Charge your clients your normal price for retail products, plus the $8 drop shipping fee.
Visit our website and place an order as you normally do, but change the delivery address to the client's address. Type "DROP SHIP" in comments section of your order.
Your clients will receive the order directly, with NO invoice or pricing info in the box. We will email the wholesale invoice to you.
And while supplies last…
Circadia Staycation Facial Kit GWP
Whenever you place a Drop Ship order of a Circadia by Dr. Pugliese retail product for your client, we will automatically include a Circadia Staycation At-Home Facial Kit!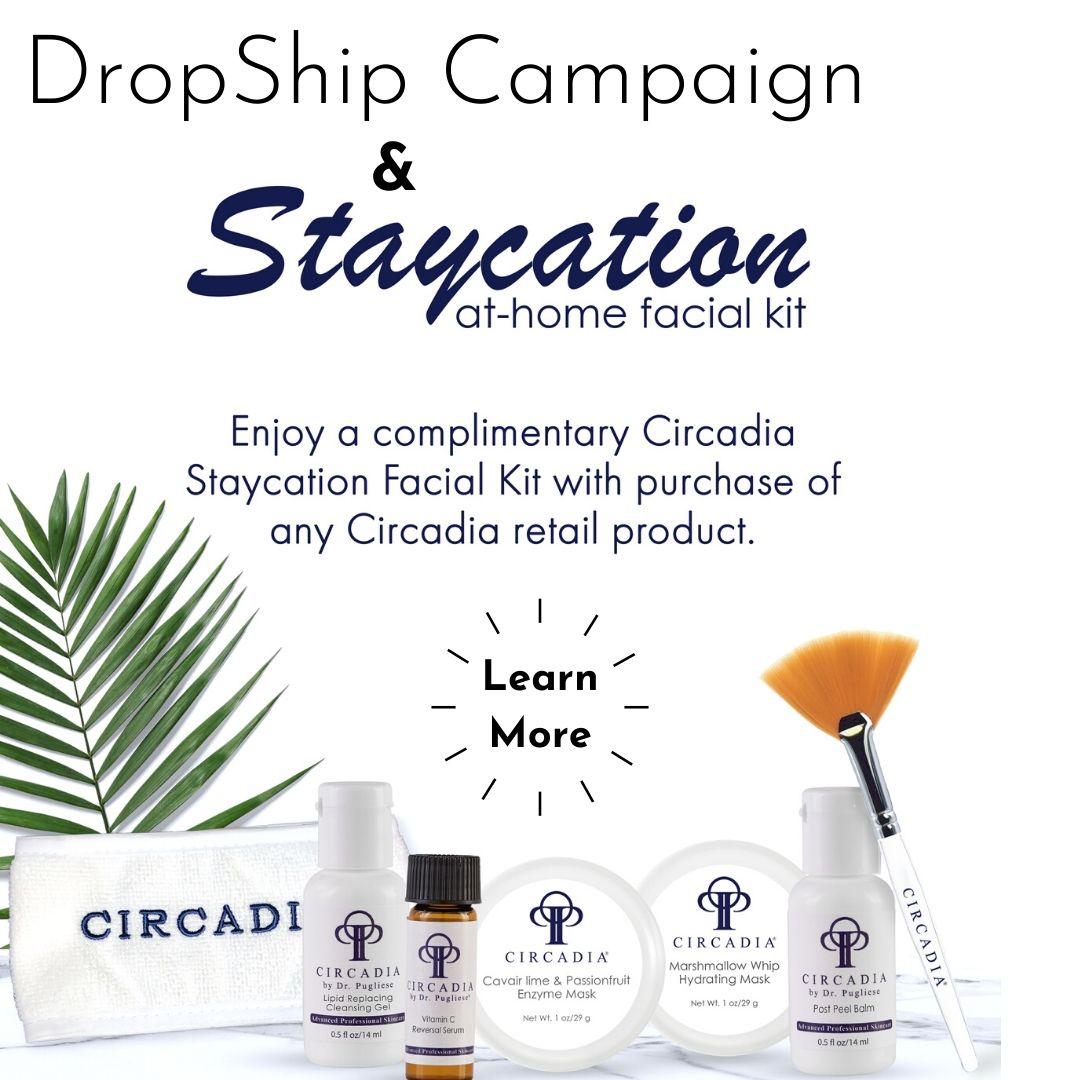 Lipid Replacing Cleansing Gel
Vitamin C Reversal Serum
Caviar Lime & Passionfruit Enzyme Mask
Marshmallow Whip Hydrating Mask
Post Peel Balm
The kits are valued at $50 and come with instructions. This is a great opportunity to schedule a Virtual Meeting with your clients using FaceTime or Zoom, where you can walk them through the steps or do the facial along with them. Consider adding value by giving them special tips about facial massage, follow-up product suggestions, and more!
M.A.D Skincare Stay Sane Facial Kit
Whenever you place a Drop Ship order of a M.A.D. Skincare retail product for your client, we will automatically include their Stay Sane Facial Kit! The kits are valued at $64 and also come with instructions.
Delicate Skin Cleansing Gel
Everyday Renewing Toner
Glycolic Mask (3)
Redness Rescue (3)
Radiant Brightening Mask (3)
Transforming Daily Moisturizer
*Similar Facial Kits coming from 2BBio Beauty and Shira Esthetics next week!
**While supplies last. No Drop Ship order minimum!
Free Shipping for Estheticians
CSS has extended our offer of Free Shipping on all wholesale orders!
How It Works: Place your online order as usual, but enter "FREE SHIPPING" in the comment section of your order.
We are all concerned about having to shut down and face uncertainty, but we are also remaining hopeful. This too shall pass. We will rebound together, stronger than ever.
---
Call us at 1-800-500-1886 for direct support Monday through Friday from 10am to 4pm (Pacific Standard Time)
Visit the California Skincare Supply website and register to access our wholesale professional products, Training resources, and the shipping specials!