From tweezing to waxing, sugaring, and shaving, hair removal is a beauty ritual that dates back centuries. However, while these techniques work to temporarily eliminate unwanted hair, today's esthetic professionals have an opportunity to offer something even better – and more permanent.
In recent years, new laser alternative hair removal methods are changing the game in terms of safety, comfort, cost-efficiency, and efficacy. This is particularly exciting news for clients who may be contraindicated for laser services, as well as for professional providers looking to expand their non-invasive hair removal offerings. 
So what exactly does non-laser hair removal entail, and, if you're a pro, how can it benefit your beauty business?
Today's blog has all the important info you need to know!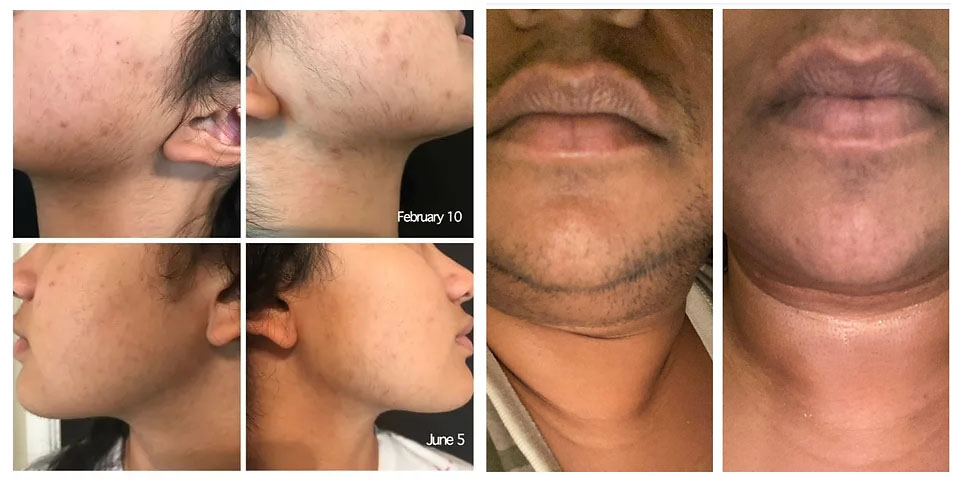 The Basics: What is "laser-alternative hair removal"?
Laser-alternative hair removal is a broad term referring to any procedure that removes unwanted hair, without the use of laser technology.
While laser-powered modalities are some of the most effective for permanently destroying active hair follicles, these types of treatments aren't always the best option for everyone, due to the fact that they require an extensive time and cost investment. They're also not appropriate for all skin and hair types, meaning individual results can vary greatly.
Some popular alternatives to laser hair removal include depilation methods like shaving – removing hair at the surface level – as well as epilation techniques that remove hair at the root – including waxing, threading, sugaring, and tweezing.
Prior to now, these methods have been considered temporary forms of hair removal, but thanks to new advances in esthetic technology, they don't have to be. 
Introducing Epilfree –  a new frontier in non-laser hair removal that can be used in conjunction with epilation to achieve more permanent results.
Epilfree's non-laser hair removal – How and why it works
To better understand what makes products like Epilfree as a laser alternative so effective, beauty pros will recall that the best hair removal results are achieved by working synergistically with the hair's growth cycle.
During the anagen phase, new keratin cells are produced in the hair follicle, and this is typically when new hair growth occurs. However, Epilfree works by targeting follicles during the anagen phase and interfering with the regrowth process.
Leveraging botanical extracts like Usnea Barbata, Cetraria Islandica, Boswellia Serata, eucalyptus, and bayberry, Epilfree's formulas are designed to be applied immediately following waxing, sugaring, threading, or tweezing, when the follicles are empty and at their most vulnerable. Doing so during that time allows the active ingredients to penetrate deeper into the skin, disrupting cell division and eventually eradicating new growth altogether.
There are many benefits to this approach including:
Benefit #1:
Non-laser hair removal minimizes pain and negative side effects
Because Epilfree is non-invasive and uses natural, plant-based ingredients, it is appropriate for use anywhere on the body. It's a great option for treating intimate areas, the underarms and other sensitive skin. It's also safe for all Fitzpatrick types, as it won't cause hyperpigmentation or increase photosensitivity.
Benefit #2:
Non-laser hair removal is effective for all hair and skin types
One particularly unique feature of Epilfree is its ability to deliver similar results to laser hair removal, but without limitations. Because it targets empty follicles, it can be used on any hair type – from fine vellus fuzz to thick, coarse terminal hairs – and any hair color, including blonde, red, or gray hairs.
Benefit #3:
Non-laser hair removal produces both instant and long-term results
Epilfree is considered to be a professional permanent hair reduction system that reduces hair growth up to 85%. Most clients will begin to notice a slight decrease in regrowth after the first few treatments, and significant permanent reduction after about 8-12 sessions.
Benefit #4:
Non-laser alternatives can enhance the outcome of other related hair removal services
For licensed beauty professionals who offer waxing, sugaring, electrolysis, or IPL, Epilfree isn't designed to replace these services. Rather, it integrates with your existing protocols to deliver even more impactful results. Once hair has been temporarily removed via these methods, application of Epilfree's serum formula is the final step to supporting long-term, permanent hair reduction.
Benefit #5:
Laser-alternative hair removal is budget-friendly for businesses and consumers
According to recent market research, laser hair removal sessions average anywhere from $150-600 depending on the areas being treated, and for most areas, multiple sessions will be needed to achieve permanent hair reduction whereas the suggested add-on price for an Epilfree laser alternative treatment ranges from $30-125.
Meanwhile on the business side, overhead for topical products is minimal compared to laser equipment and electrolysis devices, making laser alternatives a more accessible option for clients and an affordable investment for providers.
We love Epilfree's laser alternative hair removal products and protocols
Depending on your specialty hair removal services and the unique needs of your clients, the Epilfree system offers three different targeted topical treatment protocols:
EPILFREE Face Care – For the lips, brows, chin, and sides of the face
EPILFREE Body Care – For the chest, back, legs, arms, hands, and feet
EPILFREE Intimcare – For Brazilian waxing, the bikini line, the abdomen and underarms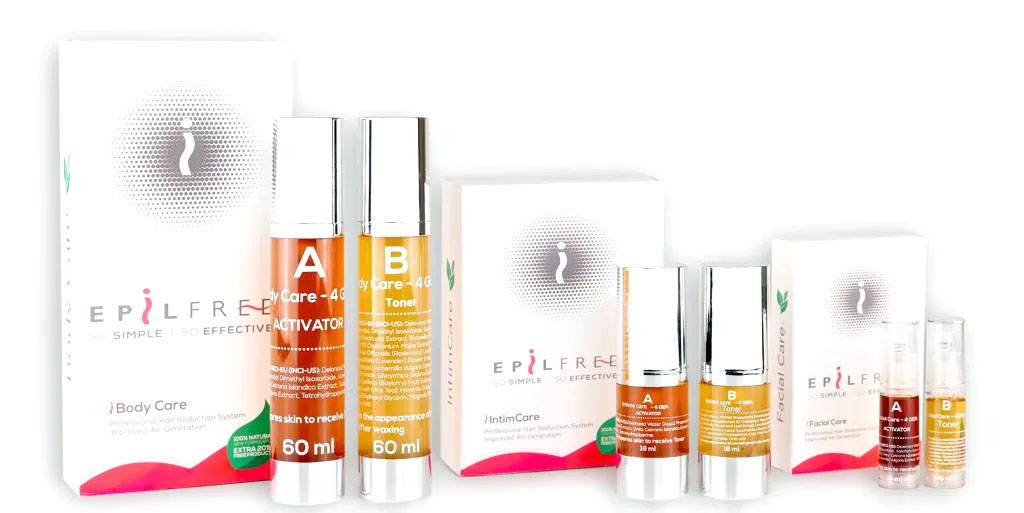 All three treatments are appropriate for use on all skin and hair types, without causing photosensitivity or negative effects like hyperpigmentation. We also recommend checking out their Full Back Bar kit, which contains all three treatments, home care products, and marketing materials.
To add any Epilfree treatment to any hair removal service, the process takes just two steps. Once the hair is removed from the follicle via waxing or sugaring, simply apply the serums as directed and allow them to sit on the area for six hours post-appointment. Once the product has been absorbed into the follicles, it works to inhibit anagen phase activity, and with subsequent treatments, begins eradicating hair growth.
P.S. Our beauty business pro tip is to introduce your clients to the benefits of Epilfree as an upgrade package or an ala carte enhancement to your existing hair removal offerings.
Alternatively, you might also consider including Epilfree with all hair removal treatments and increasing your price points accordingly. Just be sure to always consider the added value of permanent hair removal vs. temporary hair removal, when pricing and marketing your services.
Watch an Epilfree chin treatment in action…
The Breakdown: Answering your other questions about Epilfree
Do you need a special license or certification to offer permanent hair removal?
While permanent hair removal methods like IPL or laser hair removal do require advanced licensure, the Epilfree system only requires certification by an Epilfree professional trainer.
How does non-laser hair removal differ from laser hair removal?
Although both laser hair removal and laser alternatives can achieve similar results, laser hair removal tends to be more costly and limited in its ability to address certain hair types. For example, because laser hair removal modalities target pigmented hair, it can be ineffective for fine or light-colored hair. They also carry a greater risk of potential side effects, including skin irritation or damage, and post-inflammatory hyperpigmentation.
For this reason, Epilfree treatments are an excellent substitute for clients who are contraindicated for laser services or simply seeking a more non-invasive alternative.
How many treatments are needed?
For best results, Epilfree recommends a series of 8-12 sessions in order to support permanent secession of hair growth. This is mostly because the hair growth cycle is not consistent for every follicle, and only about 10-15% of hairs will be in the anagen phase at one time. It's also worth noting that certain hormonal imbalances can cause hair growth to be more persistent, meaning more frequent visits and additional treatments may be needed to achieve permanent results.
Are there any contraindications for laser-alternative hair removal with Epilfree?
For the most part, Epilfree is appropriate for almost everyone, however, it is not recommended for use on pregnant or breastfeeding clients. It should also be avoided anytime the skin is irritated or damaged, due to the fact that it contains some active botanical ingredients.
As with any topical formula, in the event that application causes red spots or rash, you will want to discontinue use until any adverse reaction subsides.
How do systems like Epilfree compare to over-the-counter topical products for hair removal?
A commonly asked question some clients may have is whether or not Epilfree is a depilatory cream, similar to those sold to consumers. For this reason, you will want to be sure to educate your clients on the differences.
Though both types of products reduce hair growth, they go about it in different ways. Epilfree works by infusing the follicles with natural ingredients that inhibit new growth, while depilatory creams use an acid-based formula to break down keratin in the follicles. The latter is considered risky for certain skin types and compromised skin, as it has the potential to cause irritation, damage, and even chemical burns.
If you're a professional esthetician, dermatologist or cosmetologist, we invite you to join our community by registering on our site today. You will get access to over 40 of the best skincare lines, esthetician equipment, and supplies for professional use and resale – all at wholesale prices! 
Plus, you'll get our special CSS product training so you'll always know how to use and sell skincare products and services like a pro!
And if that's not enough, get 500 Loyalty Points  just for signing up that you can trade for a discount later, as well as a 10% discount coupon to use on your first order! 
It's quick, easy, and free to join.