When it comes to transformative skincare, many of us tend to think of technology-driven devices like IPL or microcurrent. However, for esthetics professionals who seek a different approach, some of the most powerful tools in your practice could be your own two hands.
In recent years, facial massage has seen a surge in popularity, with an increasing number of celebrities citing it as their go-to skincare treatment. It's also trending in online search queries as more consumers seek to experience the results for themselves.
With this in mind, now is the perfect time for beauty pros to brush up on their best moves and start introducing clients to the magic of facial massage. To help you get started, here are a few dos and don'ts to consider.

DON'T underestimate the efficacy of facial massage in your professional practice
Although there's a common misconception that face massage is the "fluff" portion of a facial, this couldn't be further from the truth.
When added to professional protocols, facial massage can enhance just about any treatment and, quite frankly, boasts enough benefits to qualify as a skincare modality all on its own. Here's what we mean:
Benefit #1: Facial massage boosts circulation to the skin tissue
By stimulating blood flow to vessels near the surface of the skin, massage modalities are a non-invasive but highly-effective way to increase the delivery of oxygen and nutrients to the skin cells.
Benefit #2: Facial massage encourages lymphatic drainage
For troubleshooting numerous concerns – including dullness, puffiness, dark circles, discoloration, and inflammation in the skin – lymphatic drainage massage works to access the body's natural filtration system, which is closely connected to skin health.
Benefit #3: Facial massage targets common aging concerns
In the short term, increased blood and lymph circulation has the effect of plumping the skin, minimizing fine lines, and giving it a healthy, youthful glow. But additionally, with consistent treatment, facial massage can help to support collagen and elastin the skin, keeping it tight, toned, and lifted for the long-term.
Benefit #4: Facial massage releases wrinkle-forming facial tension
Another factor that contributes to fine lines and creases in the skin is tension in the facial muscles, and that's where facial massage comes in. As the muscles are treated to intentional touch and techniques that facilitate release, the skin follows suit and fine lines may become less noticeable.
Benefit #5: Facial massage promotes deep relaxation
Even if relaxation were the only benefit of face massage, this would be reason enough to include it in every treatment. In scientific studies, facial massage has been shown to greatly reduce emotional distress and activate the sympathetic nervous system (source), supporting mind, body, and the skin simultaneously.
DO understand the benefits of different types of facial massage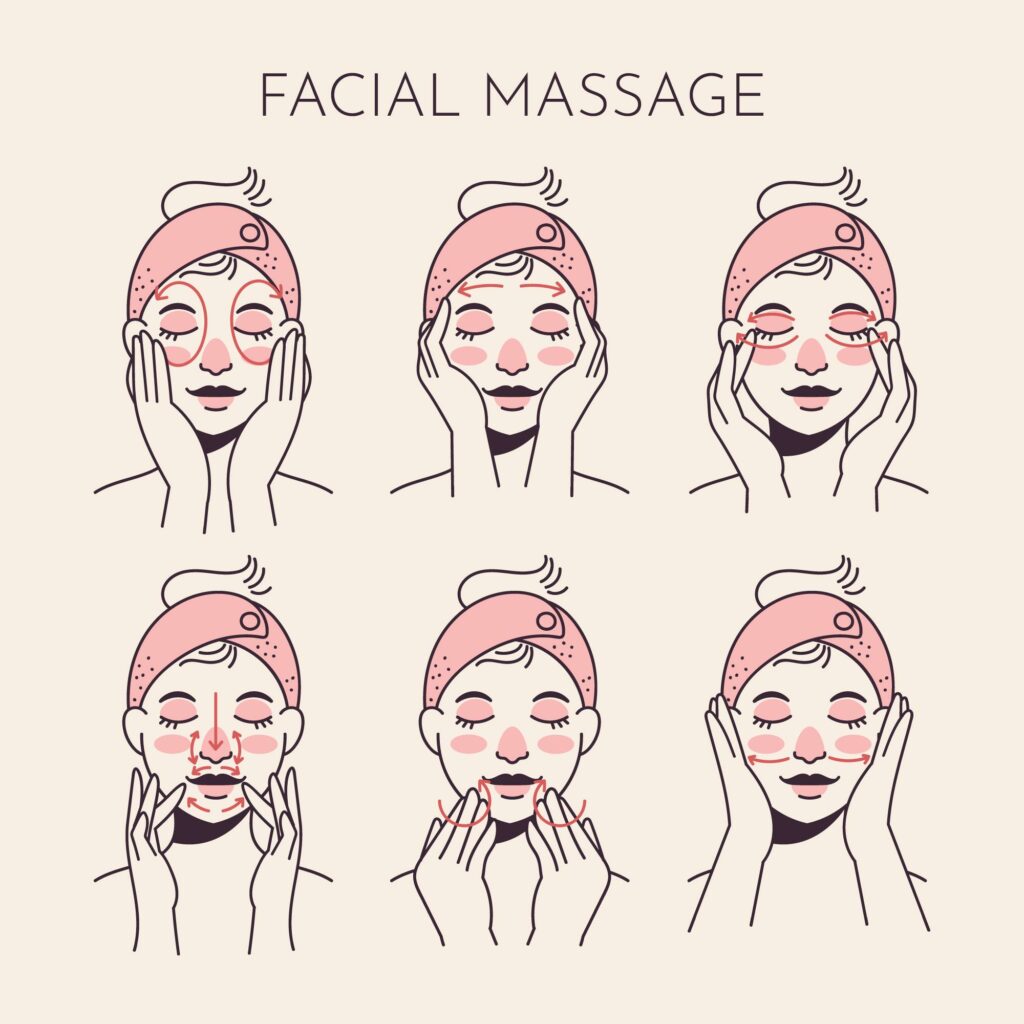 To get the best results from face massage in professional skin treatments, choosing the right types of massage will be key. If you are new to facial massage it's a good idea to start with just one method. Then, once you feel confident in your technique, you can begin to pursue the study of others and even begin to mix modalities.
A few of the most popular types of facial massage include:
Manual Lymphatic Drainage – Though most facial massage techniques facilitate lymphatic drainage, MLD is a specialized technique that uses very light pressurized movements to stimulate the lymph system. It is ideal for calming inflammatory skin conditions like acne, but can really benefit all skin types.
Gua Sha – Owing to roots in Traditional Chinese Medicine and ancient beauty rituals, gua sha is a type of massage using a flat stone tool to stroke the skin, encouraging circulation and lymphatic drainage. In sculpting protocols, it works well to reduce puffiness and leave the skin looking perfectly contoured.
Connective Tissue – Working to reduce and release tension in the facial muscles, connective tissue is an advanced type of facial massage that entails gently and strategically stretching tight fascia. It can be a great go-to for age management as it promotes circulation to the skin and encourages rejuvenation at the cellular level.
Lifting Massage – Lifting massage incorporates elements of lymphatic drainage and connective tissue massage but is additionally focused on intense effleurage movements to energize the skin. It may also incorporate advanced techniques like buccal massage to release tension in the jaw and create a natural facelift effect.
Acupressure – Not to be confused with acupuncture – which uses needles to access various meridians in the body – facial acupressure works on the same principles but uses only the light touch of the fingertips or a facial massage to address the skin holistically promoting balance in the body.
To see a few of these massage styles in action, be sure to check out this video featuring award-winning esthetician and owner of Trin Spa Skin & Wellness, Katrina Yokoyama. A few of the techniques she utilizes in her treatments include gua sha, meridian massage, lymphatic drainage, acupressure, Lomilomi facelift, and others.
She also shared that one of her favorite tricks is to incorporate cold therapy into her facial massages by keeping tools like a gua sha stone in the fridge.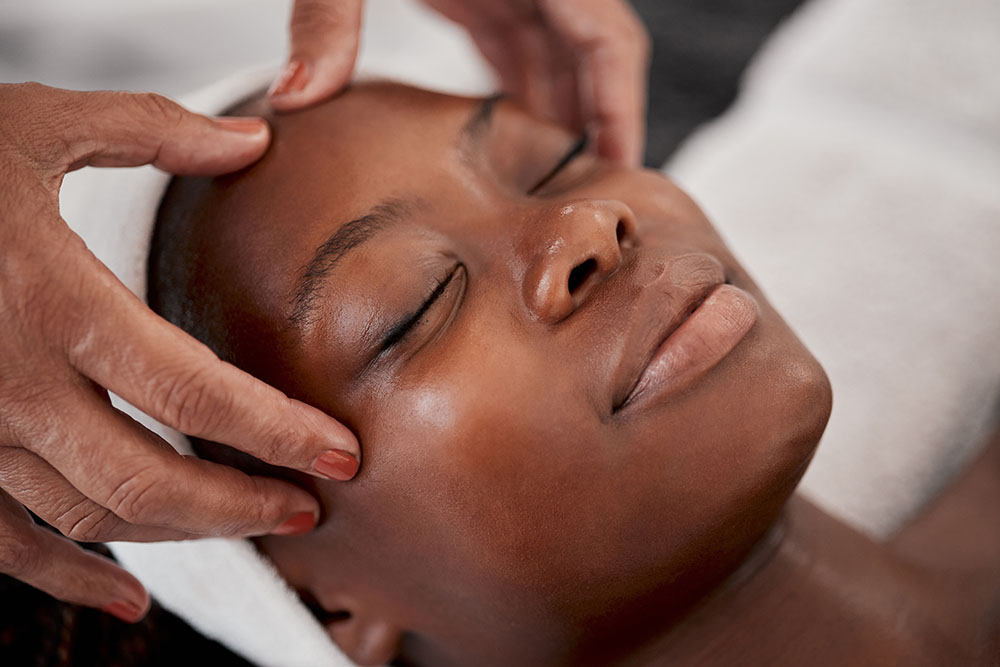 DON'T go hands-on without doing your homework
Although pros like Yokoyama make it look easy, mastering facial massage takes a lot of practice and acquired knowledge of proper technique.
Rather than winging it, continuing education in facial massage is strongly recommended and can really help to set you apart in your market. A few options for becoming an expert yourself include obtaining advanced certifications, attending specialized training, shadowing other industry professionals, or taking online courses.
DO pair facial massage with other modalities
There are many ways to creatively incorporate facial massage into your offerings as a skincare professional. If you use technologies like microcurrent, radiofrequency, and LED, facial massage is a very synergistic addition that can uplevel the results or your existing protocols.
You can also develop specialized treatments leveraging multiple modalities to target specific concerns. Some examples of this include blue light LED + lymphatic drainage for acne, microcurrent + connective tissue massage for a red carpet facial, or a glow-boosting service featuring red light + gua sha.
DON'T forget to use supportive products
For the most part, facial massage is considered safe and has no known negative side effects. However, to avoid any damage or irritation to the skin, most techniques will require the use of a medium such as a massage cream or oil. Doing so prevents friction and allows for seamless movement along the surface of the skin.
Additionally, because face massage techniques facilitate absorption of any topical products applied, we recommend using formulas that are especially hydrating and nourishing to the skin. A few of our favorites include:
Facial Massage Crème by Prana SpaCeuticals
A nutrient-rich botanical blend that doesn't dry up during massage, and leaves behind only a silky smooth finish.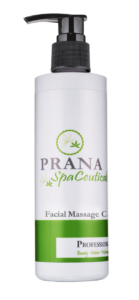 New customers get 10% off their first purchase!

We sell Prana SpaCeuticals at the manufacturer's lowest allowed price! 
Massage Serum by Prana SpaCeuticals
A luxe, skin-replenishing formula that can be combined with massage creme or on its own for added slip during facial massage.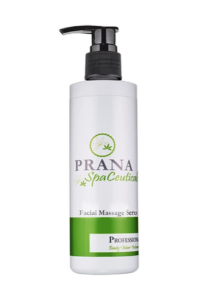 New customers get 10% off their first purchase!

We sell Prana SpaCeuticals at the manufacturer's lowest allowed price! 
DO encourage clients to include face massage as part of at-home care
As you begin introducing your clientele to the benefits of facial massage in the treatment room, it's likely that they'll be curious to try some of the techniques for themselves.
What this means for skincare professionals is an opportunity to collaborate with your clients, and instruct them on basic techniques. You may also wish to start your clients off with at-home tools that are complementary to your services, such as a roller tool or vibrating massage wand. While at-home massage doesn't replace professional treatments, it can be an excellent way for clients to maintain the effects between visits.
DON'T be afraid to sneak a little facial massage into every treatment step
If you aren't sure how best to add massage to your skincare services, one easy way to approach it is to apply facial massage principles throughout your process. For example, you could add a few lymphatic massage moves to your cleansing routine, or perform an acupressure sequence over a facial mask.
DO be sure to show off your massage skills on social media
For skincare professionals who offer facial massage, showcasing your treatments can make for impactful marketing. Videos of face massage tools and techniques tend to trend well, and draw extra engagement on social media.
So with this in mind, don't be shy! Sharing a few quick clips to your business' platforms builds trust with new potential clients, and also serves as a simple reminder to regulars of why they love your facial treatments so much.
DO share your tips and tricks with the CSS community
If you are looking for opportunities to improve your technique and connect with other professionals who share your love of facial massage, the CSS Facebook group is a great resource. Join us to learn about upcoming trainings, product launches, and so much more!
Register Here to Get the Esthetician's Edge
If you're a professional esthetician, dermatologist or cosmetologist, we invite you to join our community by registering on our site today. You will get access to over 40 of the best skincare lines, esthetician equipment, and supplies for professional use and resale – all at wholesale prices! 
Plus, you'll get our special CSS product training so you'll always know how to use and sell skincare products and services like a pro!
And if that's not enough, get 500 Loyalty Points  just for signing up that you can trade for a discount later, as well as a 10% discount coupon to use on your first order! 
It's quick, easy, and free to join.