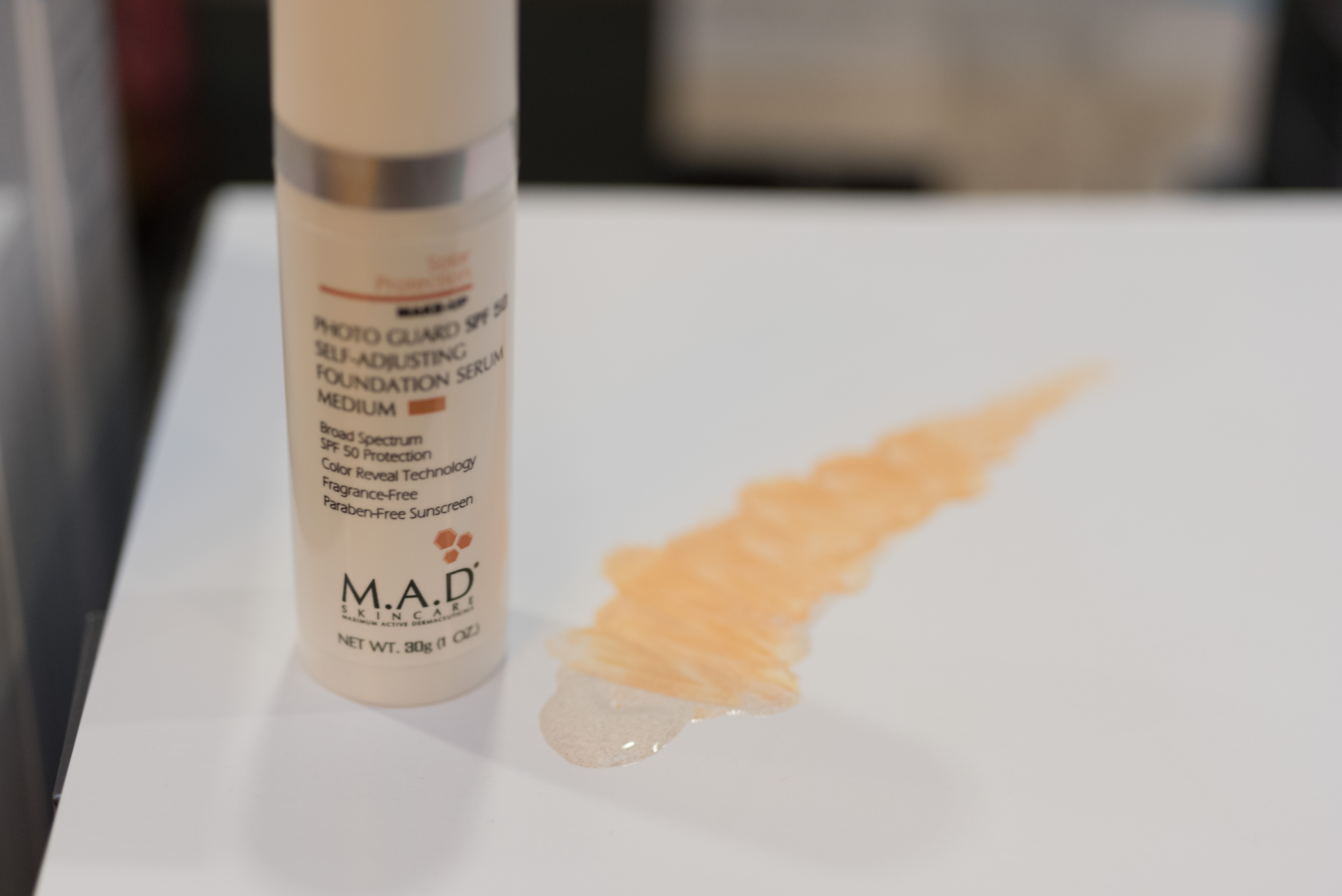 Let go of those awful memories of thick, globby, heavy "suntan lotion". It's a new millennium and sunscreens have evolved! Gone are the days of thick, greasy, lotions that coat the skin. You can kiss goodbye those heavy lotions that made applying make up nearly impossible.
Skincare companies today are working overtime to develop sunscreens that consumers will enjoy wearing. They're spending enormous amounts of money in research and development to create products that are cosmetically elegant and effective. These new, sophisticated sunblocks not only protect, they moisturize, enhance, and rejuvenate the skin.
5 Winning Sunscreens Your Clients Will Love
Photo Guard SPF 50 Self-Adjusting Foundation Serum-Medium By M.A.D. Skincare
This self-adjusting foundation serum [shown in Image above] in Neutral provides a moisturizing yet non-greasy liquid foundation with SPF 50 and recommended for fair to neutral skin tones.
Hyper Sheer SPF 50 Matte Finish Daily Moisturizer By M.A.D. Skincare
A top of the line treatment that has been specially designed to de-stress, repair and protect against these harsh environmental factors. Nourish your skin with this sheer, lightweight SPF moisturizer, ideal for those seeking a matte finish.

Light-Day-Sunscreen-broad-Spectrum-SPF-37 Circadia-by-Dr-Pugliese
This award winning photo stabilizer Solastay® S1, reduces sensitivity issues commonly associated with UV absorbers. Innovative antioxidants Lipochroman-6 (TM) and Preventhelia (TM) effectively prevent damage to DNA proteins caused by UV exposure. Provides optimal UV and environmental protection.
PROTECT™ – Natural Protection Face and Eyes SPF30 – Enjoy the Sun Safely™ by Atzen
Safe daily moisturizer with protection from UVA, UVB, UVC (full spectrum), and pollution in any climate. Easy to apply, safe around eyes & for very sensitive skin, post peels & surgery. Light cream, spreadable, invisible texture. Safe for children. Unscented. Water resistant for 80 minutes. Free of nano-particles.
France Laure Day to Day RevoluSolaire 30
This super gentle, fragrance free hypoallergenic daily SPF 30 moisturizer from France Laure, effectively protects against external damage, preserving skin's integrity. Day-to-Day RevoluSolaire works to effectively maintain lipidic and hydric balance while fighting against photo-ageing.
Create A Sunblock Pop Up Shop
It's normal for a client to have more than one type of sun protection. You can now offer your spa clients an array of sun protection that will suit their varying needs. Gone are the days where women only had a single option for sun protection.
Our 5 Winning Sunscreens make the perfect assortment of products for a Sunblock Pop Up Shop in your retail area. When clients have a fun summer outing – you can suggest the Photo Guard SPF 50 Self-Adjusting Foundation Serum-Medium By M.A.D. Skincare, the perfect sunblock that offers an incredible self-adjusting foundation for a flawless finish. The Light-Day-Sunscreen-broad-Spectrum-SPF-37 Circadia-by-Dr-Pugliese, is an ideal option for men! They love its light feel and moisturizing qualities.
While these are just a few of the sunscreens that we can offer, we can help you build an assortment of sunblocks that your clients will love. We can help build your order from the different skincare lines that we offer. Call us a 1-800-500-1886 or email us.