California Skincare Supply isn't just any old esthetician supplier; we are a multi-generational, female-led, family owned business! The major success of our business can be attributed to my mother and founder, Mary Keller. After 33 years of marriage, Mary went from a stay-at-home mother to an entrepreneur. My mother's bravery allowed her to forge her own path within the esthetician field. At that time, being an esthetician wasn't a well-known career path, but my mother was determined. In 1986, Mary Keller opened Face and Body Studio with the primary focus on how to treat acne.
My mother's honesty and "straight shooter" attitude built her a strong client base. She told her clients exactly what she expected of them, including ways to improve their skin health. As a passionate esthetician, Mary was always looking for a way to improve the health of their clients' skin. She told them what products to purchase, the type of diet they needed, and how to maintain anything and everything that touched their skin, including what they should be doing with their pillowcases. By 1989 Mary was such a good esthetician and retailer, that she was approached to become a distributor.
As the spa business grew, my mom and I began to realize that estheticians needed continuing education like every other profession. Together we were able to fill the void for continuing aesthetic education with personalized help. So, we began a global search for a skin care brand to make a real difference for those suffering with severe acne.
California Skincare Supply started out as a distributor. However, when my mom retired, I felt we needed to become a specialized entity. So, when I formally took over the company, I hired a branding specialist and took 2 years to really craft what you see today as CSS. It was the best investment I could have made for this business.
Here are some tips for you to use to improve your own esthetician business:
1. Don't be afraid to sell yourself! You are your brand. People need to know who you are and what you stand for to feel comfortable becoming loyal clients. Today, people are so starved for attention, love, and a caring touch that when a client walks through your door, they want to know that they can trust you. They want to know that you will be providing them with the physical, emotional, and any spiritual help they may need.
There are a plethora of platforms you can use to sell your brand with social media today (Facebook, LinkedIn, YouTube, Instagram, etc…). In addition to social media, there are global industry specific competitions, such as the Skin Games. The Skin Games are a way to get your name out across multiple social media channels, as well as a way to network around the world.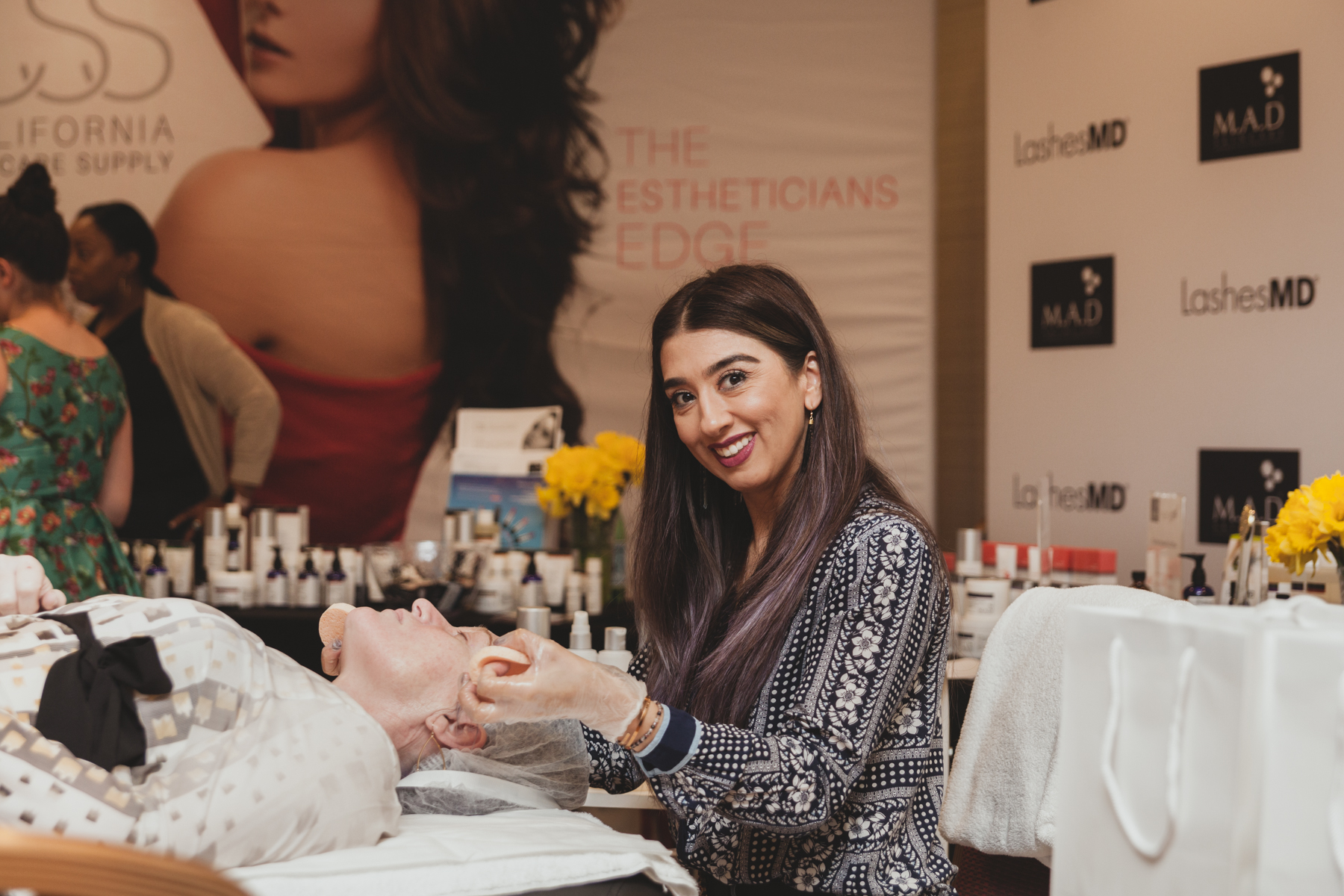 2. Your local networks are so vital! Referrals are huge within this business. Create partnerships with other estheticians as this will not only establish credibility for you within your specialty, but also create another alliance within the esthetician network. Reach out to local female-centered networking groups such as your local Chamber of Commerce and booths at local events.
Word of mouth is still one of the best ways to grow. When you receive positive results for your clients, they are going to share who helped them get their beautiful complexion. 99% of women are invested in purchasing some sort of skin product, and the last thing you want them to do is purchase something off of Amazon or at their local drugstore. That is doing a disservice to these women, who are investing their time and money to come see you, because it removes the personal touch only you can provide. Your knowledge and understanding of the products and services will help with increase word of mouth networking and your overall product sales.
3. Use result-oriented brands! You need to stand behind the products you are using. Knowing and loving your products makes sales second nature. If you don't believe in them, that shows. When you confidently talk about the product and its useful applications, the products sell themselves. When you talk about what you love it is infectious, and it makes people want to buy into the products. Brands that produce results build your confidence, and thus, your clients' confidence.
Don't be afraid to ask questions in social media groups and forums geared to estheticians and manufacturers. For example, the Esthetician Connection is a great group of about 25K members that supports new and seasoned estheticians, but doesn't allow any bullying or bickering. This can provide you with answers you are looking for about products, techniques, or growing your own business. The more you know, the better you are at your craft. By using social media to network amongst other estheticians, you are continually educating yourself and growing in the business world.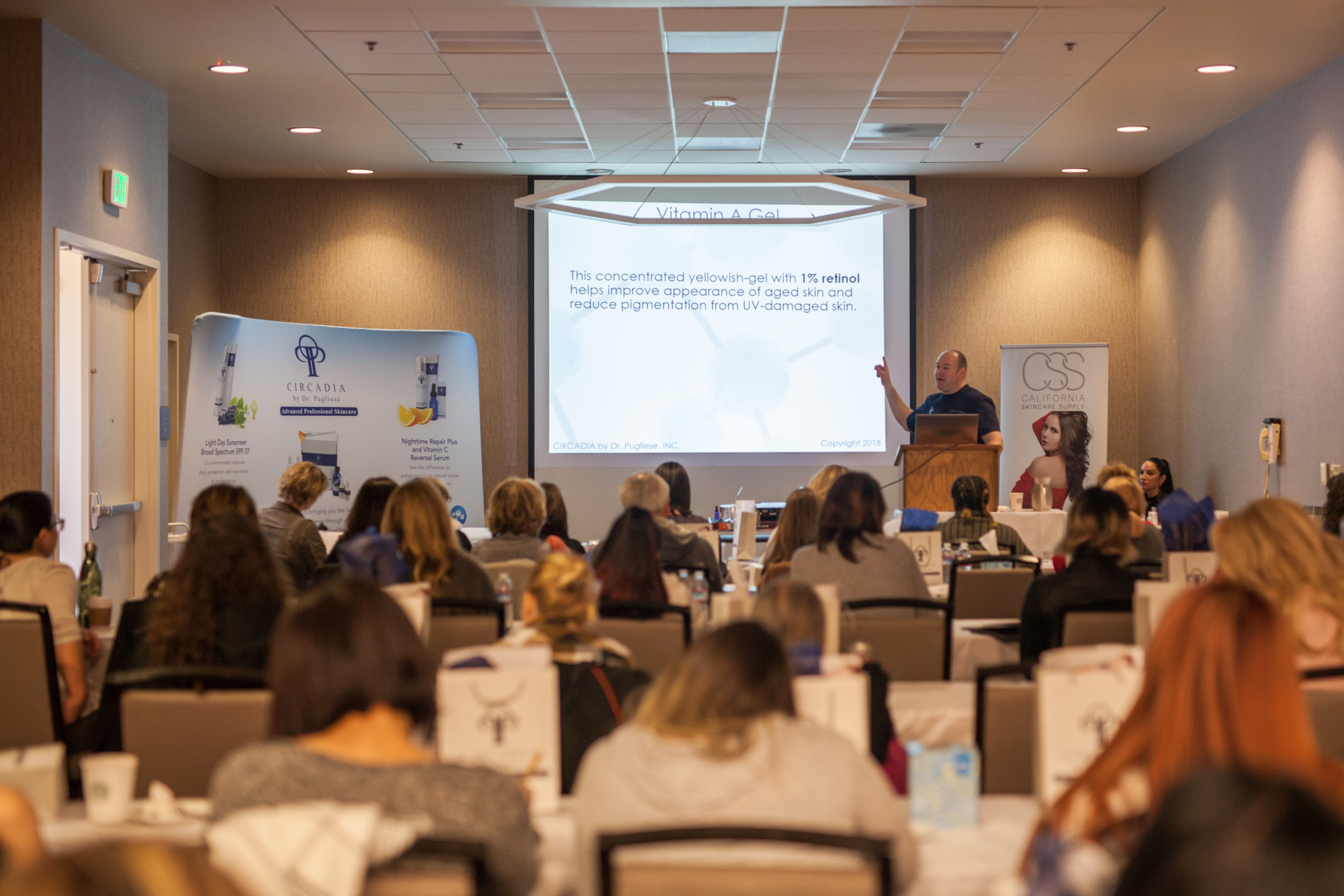 4. Never stop learning and growing! Try to attend at least one major trade show or NASNPRO event near you every year. These are wonderful places to network and learn about your field in a variety of ways. Trade shows host plenty of manufactures and offer many different classes. You can explore different brands you might want to purchase, and discover how to purchase and sell them.
NASNPRO is a trade show that focuses on education. There are only about 10-15 different venders there. The point of this trade show is for an esthetician to go and listen to professionals and experts in the field. It is a much more personalized approach to networking and growing as an esthetician. NASNPRO trade shows are held all over the country.
Trade shows, manufacturer classes, technique classes, and using Facebook forums are all great ways to continue your personal growth as an esthetician. Many distributors like CSS offer manufacturer classes that can be completed within the comfort of your own home. Click here to learn more about CSS learning center free classes. All of the classes are only 20 minutes long!
5. Set Boundaries! It is crucial for every walk of life that you establish strong boundaries for yourself. Being an esthetician is no different. Before you even start handing out your resume, you should know a few key things about what you are looking for in your career:
Where do you want to work? Day spa, med spa, salon, resort, cruise ship, private practice, or chain corporation
Who do you want to work for? (i.e. – yourself or others)
What type of treatments do you like to do? Facials, waxing, cosmetology, beauty consulting, skin therapy, etc.
What hours you want to work? (Full-time, part-time, etc.)
How much money do you want to make?
How you are going to handle "no shows" and cancellations? (i.e. – Contract clauses for clients)
The answers to these questions will help you find the best fit for yourself within the esthetician world.
Remember that people are coming to you to be touched. In our society we currently have more electronic interactions than person to person interactions. We are a unique field –we cultivate very personal relationships where you need to care for another person, but also make sure you care for yourself. This field relies on results, and those come from our interpersonal care.
6. Overcome your fears! This is easier said than done, but it is crucial in the esthetician field. You are looked at as an expert in all things skincare, and you need to exude that confidence. Some of you may be approaching this from a holistic approach and others from a clinical outlook; neither approach is wrong, and often they will be blended together to create a whole package. Be willing to branch out of your comfort zone. Learn about what you love – aromatherapy, chakras, different lymphatic drainage techniques, reiki— because there are so many techniques that will give you confidence and set you apart from the next spa or program.
7. Keep a positive outlook! There will be down time in this business. Sometimes it can take 2-5 years to have a fully booked schedule.
You can take classes like the free ones offered at CSS Education. They are only 20 minutes long, so they can fit nicely between clients and during those slow times.
Organize and plan! List out your goals. See where you are in respect to revenue and products on hand. Review everything from your daily operations (i.e. how your room is set up to how your products are displayed) to how much revenue you are generating. What is working and what isn't working? Make sure you give yourself time to reflect and grow, and hopefully these tips will help you.
To learn more about all that CSS has to offer click here for more details. When FB Messenger opens click the

GET STARTED

button and you're in!