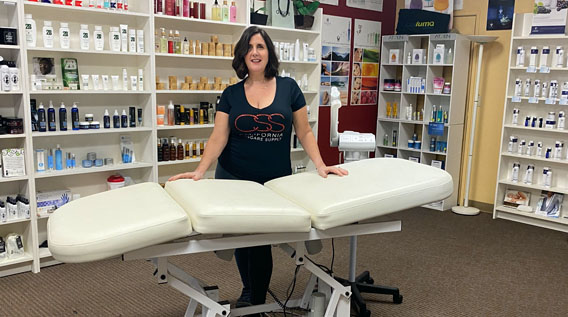 What Kind of Facial Bed Do You Need, and Which Are the Best? We Review Them for You.
It is well known that a quality, sturdy, comfortable facial bed is must-have equipment for independent estheticians, spas, and salons. In fact, having a facial bed that offers comfort and stability can attract a larger clientele.
How does one choose the best facial bed for their business so they can deliver the perfect experience for their clientele?
Well, that's exactly why we are writing this blog – to help you choose the very best facial bed for your business so you can be confident with your choice.
Investing in a facial bed is a big decision, and hopefully one that you will be happy with for the next 15 – 20 years. We will discuss:
The different options for facial beds
The factors you need to take into account when deciding on the right facial bed for your spa, and
Finally, we will tell you what our favorites are from our equipment inventory.
Start With a List of Your Salon, Practice, and Personal Requirements
We suggest that first off you make a list of your requirements by answering the following questions.
What type of treatments will you be offering with this facial bed?
Do you need it to lay flat, rotate, sit up?
Do you need it to have wheels, or be portable so that you can take it on location?
Does it need to be quiet?
Do you have a tight space?
Do you need the facial bed to have adjustable height?
Do you need to be able to lift up the back rest?
Do you need hydraulic or electric functions?
Do you need your facial bed to handle a larger weight limit?
Do you want it to come all assembled?
What is your budget? But keep in mind that clients can easily feel when something is quality, just like you can tell when driving a car if it is a quality vehicle.
Once you have the answers to those questions, then choose the facial bed that best matches your requirements.
What Kinds of Facial Beds Are There to Choose From?
1. Electric Facial Beds
Cost: $1800 to $4000
Pros
They offer the most comfort for both the client and the esthetician.
All adjustments will be handled easily with a handset allowing for the backrest and leg rest to adjust up and down.
Electric facial beds also offer more padding.
They will lower to a very comfortable height to make it very easy for a client to get onto the bed.
They will also raise to a height that makes services like leg waxing, massage and lash extensions much easier on the Estheticians or therapists back.
Most electric beds are also very quiet and smooth in adjustment transition.
Cons
Price – Generally electric facial beds are going to set you back more than other facial beds.
You will need an outlet on the floor near the bed. Make sure the bed does not sit on the electrical wire causing the wire to split and cause a repair or replacement of the wire.
If you work in an area that is prone to frequent power outages, your electric facial bed will be stuck in the position it was in when the power went out.
Our Favorite Electric Facial Beds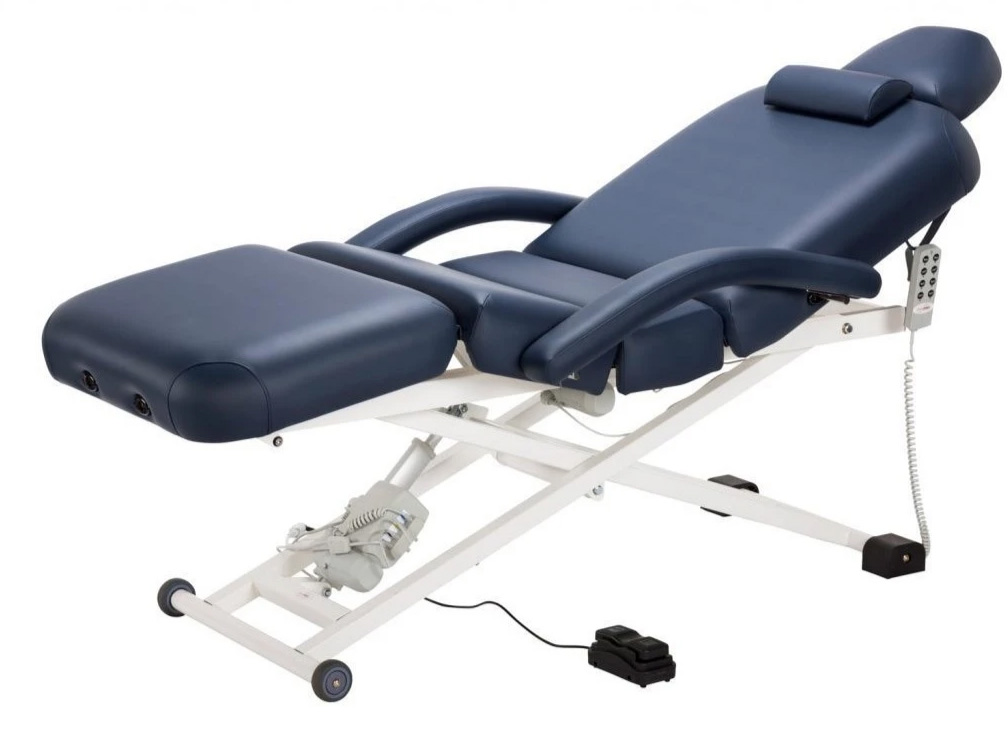 Kelli's Pick – Equipro Royal
Equipro's Royal offers the advantages of a massage table and an all-purpose facial, depilation and body care bed. It is fully electric with a height adjustment from 17" to 39'. It has four cushions for added comfort and comes with an adjustable crescent shaped headrest, regular headrest, armrest and neck bolster are also included. It is also completely quiet and comes in various colors! It also won't break the bank at $2025.00 Estheticians and other professionals can register to buy at wholesale and then buy the Equipro Royal facial bed at wholesale right here on our website.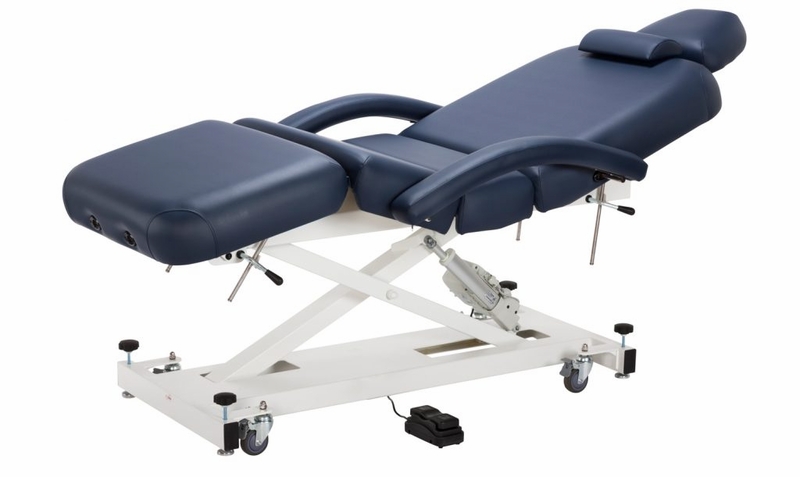 Jullea's Pick – Divine Table
This bed also offers the advantages of a massage and all-purpose facial, depilation and body care bed. It has a electric height adjustment from 22" to 39". The backrest and footrest are adjusted manually. It has four cushions for added comfort and also comes with an adjustable crescent shape headrest, regular headrest, armrest and neck bolster. It is silent and comes in various colors. If you are on a tighter budget this bed comes in at $1795.00. Professionals can register to buy at wholesale on our website and then buy the Divine Table facial bed on our website here.
2. Hydraulic Facial Beds
COST: $1200 – $2000
Hydraulic facial beds have a foot pedal that raises and lowers the height of the bed and a mechanical system that raises and lowers the backrest and leg rest manually.
Pros
Hydraulic beds are good for smaller spaces especially if they adjust into a chair.
This creates more room for the client when arriving and getting ready to depart the room.
Some hydraulic beds will spin 360 degrees on a rotational base, making it a good choice for practitioners that need more mobility.
Also, hydraulic beds require no electricity.
Cons
Hydraulic facial beds are not nearly as smooth, quiet or effortless as electric beds.
The bed is both hydraulic and manual, meaning the backrest and footrest use a mechanical system that needs to be raised and lowered by the esthetician. This can be more physically challenging.
Our Favorite Hydraulic Facial Bed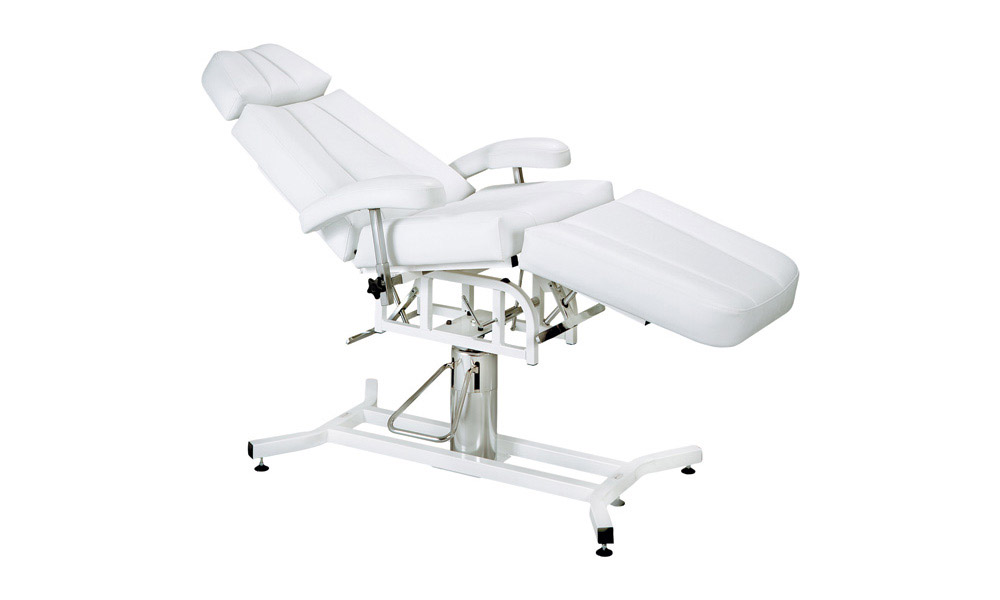 Kelli's & Jullea's Hydraulic Facial Bed Pick – Maxi Comfort
This bed is excellent for electrolysis, facials and depilation. It has an effortless hydraulic system and will swivel 360 degrees. It comes with an adjustable headrest and manual backrest and leg rest. It tilts 15 degrees for a lay-z-boy position so it is excellent for smaller spaces and it comes with a two-year warranty. You can also special order this facial bed in various colors. This bed is also affordable at $1790.00. Professionals can register to buy at wholesale on our website and then buy the Maxi Comfort facial bed here.
Pneumatic Facial Beds
COST: $800 TO $1000
Pros
They combine an airlift system to raise and lower the height with a mechanical system to raise and lower the backrest.
They are more affordable because they don't require a motor or electricity to accomplish the height adjustments.
Cons
Pneumatic facial beds have to be set at maximum height and then adjusted down. If you need to bring the client back up, the client will need to get off the bed so the esthetician can raise it back up. Think of it like an office chair or esthetician stool, you have to lift your weight off of it to bring it up but to lower it is simple.
Our Favorite Pneumatic Facial Beds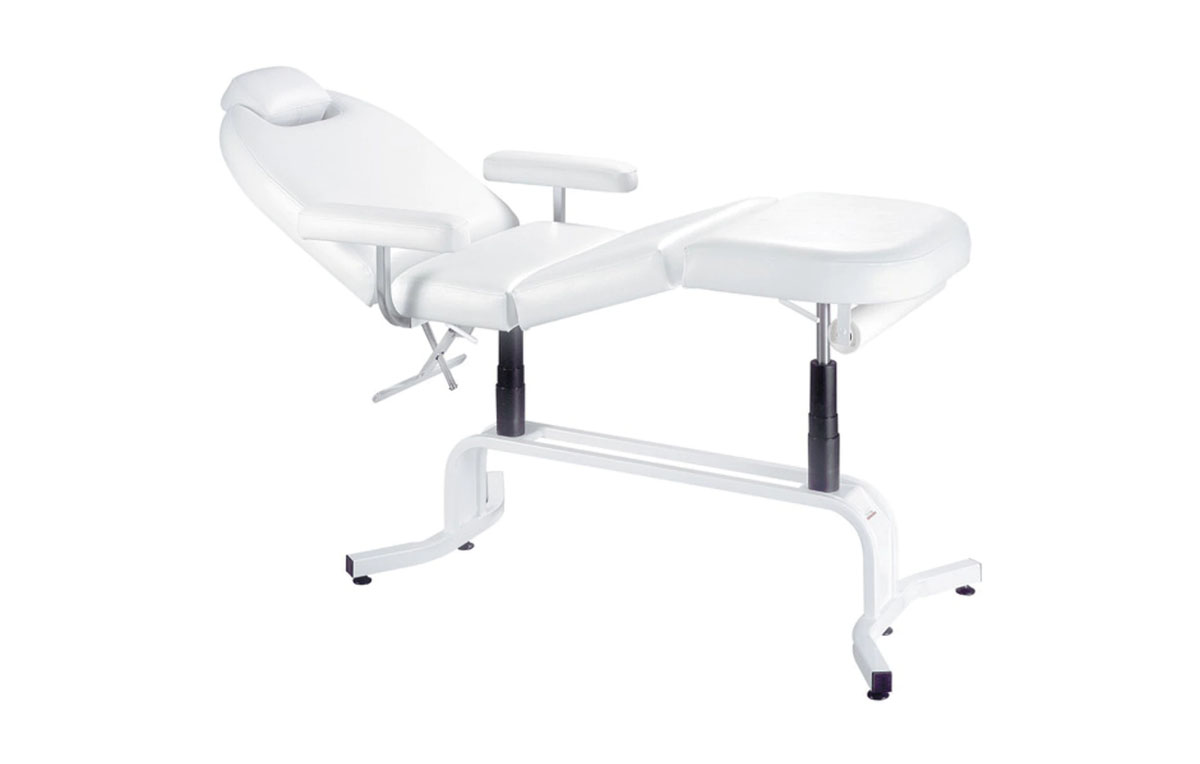 Kelli's Pneumatic Facial Bed Pick – Aero Comfort
This multi-purpose treatment table is recommended for facials, body treatments, electrolysis and depilation, and features an effortless air-lift system and is very stable. It has an adjustable head cushion and offers ease of access for face and neck. A quality product made of ultra white and ultra resistant vinyl material with four cushions. This facial bed will run you $1090.00. Professionals can register to buy at wholesale on our website and then buy the Aero Comfort here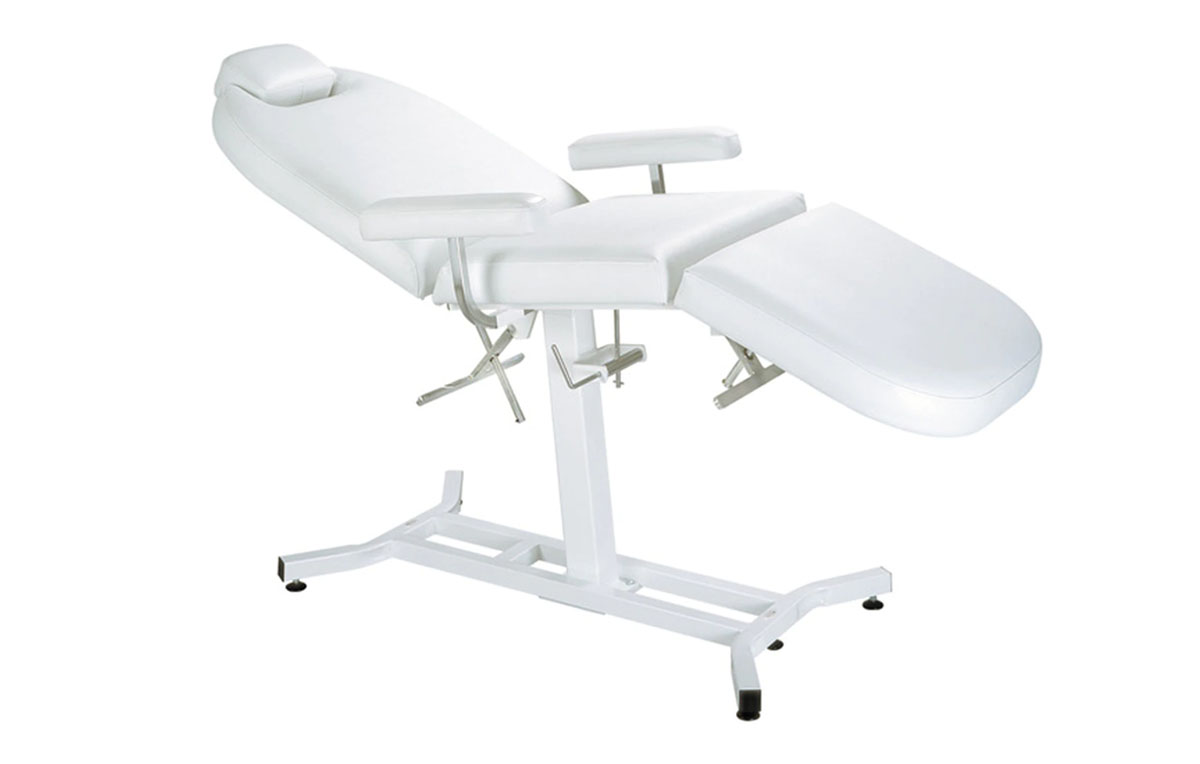 Jullea's Pneumatic Facial Bed Pick – Poly Comfort Deluxe
Poly Comfort Deluxe Facial Bed: This multi-purpose facial bed is adjustable and has a special tilt system for increased comfort. It features an adjustable headrest, rounded corners to facilitate facial massage, and ultra-resistant vinyl material. If you are on a tight budget, this bed is an excellent choice at $895.00. Professionals can register to buy at wholesale on our website and then buy the Poly Comfort Deluxe here.
Portable Facial Beds
COST: $400 TO $500
Portable facial beds, are just that – portable. These make an excellent choice for estheticians and massage therapists who travel for on-site treatments.
Our Favorite Portable Facial Bed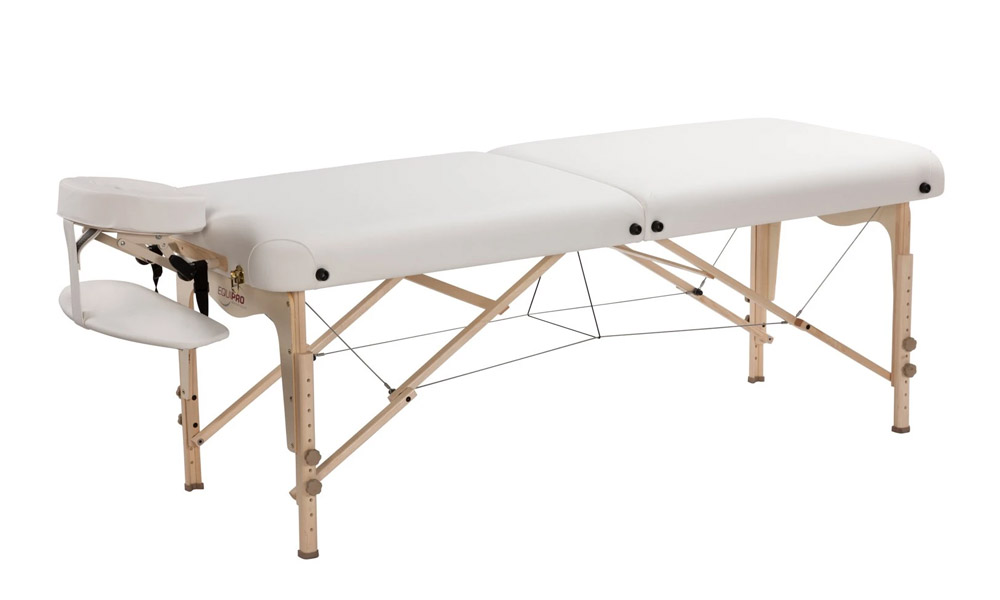 Kelli & Jullea's Portable Facial Bed Pick – Shiatsu Folding Massage Table
One thing that differentiates Equipro's portable facial beds is their cable system that houses the integrity of the bed. A stainless-steel cable system keeps the bed as sturdy as a fixed facial bed in a room, and it doesn't feel as though you are laying on a portable bed. This bed is extremely easy to set up and fold back up. It is height adjustable; the leg assembly offers security locks; it is wider at the leg base to increase stability and has reinforced corners. The material is stretch vinyl, soft touch and oil and stain resistant. We have had our portable shiatsu folding massage table for 16 years and it has seen many trade shows and shipping containers and is still holding strong! This bed will cost you $405.00. Professionals can register to buy at wholesale on our website and then buy the Shiatsu Folding Massage Table here.
These are the essential options for each facial bed style and will help you make the best choice for your spa, salon or facial room.

Now let's talk about Equipro – our favorite facial bed brand.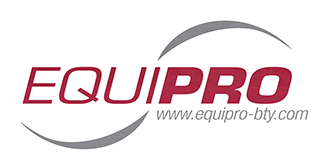 Equipro – Our Favorite Brand of Facial Beds & Why
California Skincare Supply has distributed Equipro Esthetic Equipment for 30 years. We have been honored to be their distributor for many reasons, the main reason being quality.
Life Expectancy
Facial beds made by Equipro have a 15-to-20-year life expectancy compared to facial beds manufactured overseas that come with a 1-to-5-year life expectancy. In fact, 65% of new purchases from Equipro are from customers that have had bad experiences with facial beds from overseas. This is where it becomes crucial to have a company who you can count on.
Cost and ROI
The return on investment with Equipro is what makes Equipro Facial beds so valuable. You can easily double the lifetime of your equipment and reduce any problems by at least 50% by paying 5% – 15% more than a similar product imported from overseas.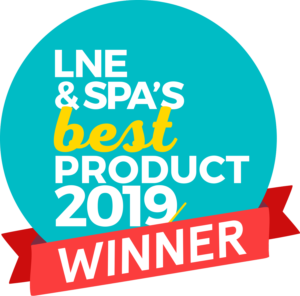 Manufacturing Quality
Equipro's facial beds are better quality, and are not mass produced. They make one facial bed at a time and manufacture their own parts, thus alleviating the necessity for them to rely on other manufactures for parts. Their metal is thicker, their engines are German made, and hydraulics are Italian made. All the electrical components are CSA & UL approved and all equipment is manufactured in Montreal, Canada.
Parts Replacement
Equipro promises that if a facial bed is discontinued, which rarely happens, they will continue to replace parts for up to 20 years. Everything is modular so you can replace it yourself. You do not need to be a mechanic to replace a Equipro part on your facial bed, you can do it on your own but we are of course here to assist! Equipro does not sell on Amazon.
After-Sales Service & Warranty
Equipro offers a two-year warranty (parts and labor) on most of their esthetic equipment, a loaner service, after-sale service and a 24/7, 365 days a year telephone emergency line.
With Equipro's innovation, design and high technology standards, we are able to achieve our goal to satisfy the needs of our clientele with quality, dependable products.
What Do Facial Beds Cost to Ship?
The shipping costs will vary on your region but you should expect to pay anywhere from $350.00 to $500.00 in freight to have a Equipro electric or hydraulic bed shipped to you.
We will get two to three quotes to find the best rate and you will not pay any handling fees or customs tax.
Finally, Which Facial Bed Is the Créme de la Créme?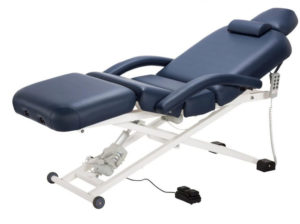 Our final pick would be the Royal Electric
We feel it offers everything you need, is completely electric and is still affordable. And who doesn't love the color royal blue although it comes in various colors to choose from.
You can buy the Equipro Royal facial bed in our store. 
Hopefully this helps. If you have any more questions feel free to reach out. We're always happy to get on the phone with you.
Buy Wholesale & Get the Esthetician's Edge
All You Need to Do is Register as Professional with California Skincare Supply
If you're a professional esthetician, dermatologist or cosmetologist, we invite you to join our community by registering on our site today. You will get access to over 40 of the best skincare lines, esthetician equipment, and supplies for professional use and resale – all at wholesale prices! 
Plus, you'll get our special CSS product training so you'll always know how to use and sell skincare products and services like a pro!
And if that's not enough, get 500 Loyalty Points  just for signing up that you can trade for a discount later, as well as a 10% discount coupon to use on your first order! 
It's quick, easy, and free to join.