The secret is out on the next frontier in skincare!
Intimate brightening is going mainstream and is poised to capture a significant portion of market share in the multibillion dollar industry for skincare and beauty services. What was once considered a niche service, or even taboo, has evolved in recent years to become a much sought after self care luxury.
For estheticians ready to embrace this growing trend and expand their service offerings, it's a perfect time to get on board. However, before you get started, you're going to want to get educated on the ins and outs of intimate brightening. Luckily, brands like Prana SpaCeuticals are making it easier than ever, with products and protocols that eliminate any guesswork and specifically target intimate skin.
So what exactly is intimate brightening?
Intimate brightening can be used to describe services that address discoloration of intimate skin, but also extends to other areas, including the underarm area, inner thighs, and buttocks.
While many clients may be familiar with the concept of "anal bleaching", intimate brightening is a broader term that both is more accurate and also takes into consideration the versatility of treatment. Today's intimate skincare protocols have been expertly developed to deliver results safely and effectively, without the need for bleach or other aggressive ingredients.
The benefits: Why intimate brightening?
The primary purpose of intimate brightening is to address dark spots and discoloration that appear along the bikini line, the underarms, and any areas where the skin is especially delicate. Although it closely resembles hyperpigmentation, most discoloration in intimate areas is actually the result of hyper-friction from coarse hair, tight clothing, or skin rubbing against other skin. Over time, these factors can contribute to the deterioration of the epidermis, causing it to become darker and develop a rough texture.
Hyper-friction is very common and mostly harmless, but poses a cosmetic concern for women and men who regularly wax or shave these areas. Given the popularity of hair removal services in recent years, it only makes sense that more clients are seeking treatments to correct discoloration and create a more uniform skin tone.
Additionally, as more consumers adopt a whole-body approach to wellness, intimate brightening services can be considered an extension of any skincare, beauty, and self-care routine. 
Besides correcting discoloration, intimate brightening has other benefits – including:
Improved skin texture
Minimizing the appearance of scarring
Conditioning of the hair follicles which can help to reduce folliculitis and make hair removal easier.
The details: What's included in an intimate brightening service?
Intimate brightening protocols are quite similar to other skincare treatments but the biggest difference will be the use of products specifically for intimate care. For example, Prana Spaceuticals' Intimate Brightening System focuses on formulas that progressively target excess pigment without compromising the skin barrier or causing damage to sensitive skin.
Key ingredients in intimate brightening products include:
Lactic Acid – For exfoliation and hydration
Mandelic Acid – For surface brightening and reducing inflammation
Azelaic and Kojic Acid – For natural brightening benefits
Salicylic Acid – For dissolving excess oil and reducing inflammation
Tranexamic Acid – For targeting pigment and inhibiting tyrosinase activity
Glycolic Acid – For encouraging cellular turnover
All products in the Prana collection avoid harsh lightening agents like hydroquinone, or resorcinol, which could be potentially damaging to intimate skin. They also leverage botanical ingredients like papaya enzyme and licorice root, which are both gentle yet effective natural brighteners.
What does an intimate brightening service include? 
A typical intimate brightening service will include pre-cleanse and cleansing followed by several peeling steps to exfoliate. Following Prana's protocol, clients will then need to allow the peel to sit for several hours and continue post-treatment at home using additional products to complete the process. 
A few of our must-haves include:
Hoo Haa Cleanser – A gentle foaming wash formula that hydrates, helps digest dead skin, and prevents itching effects post-peel.
AHA/BHA Refining Mask – A targeted treatment mask that inhibits melanin production featuring kaolin clay, alpha-hydroxy acids, and salicylic acid.
Hoo Haa Lotion – A nourishing moisturizer that protects the skin, and provides additional brightening benefits.
Arnica Recovery Gel – A soothing and calming treatment that promotes the healing process, by reducing inflammation and irritation.
Intimate Brite Peel System – For professional use, this five-piece kit contains everything you need to perform intimate brightening services – including cleanser, cleansing solution, both peeling steps, and the AHA/BHA Refining Mask.
Intimate Brightening Home Care System – Following professional treatment, Prana's home care system keeps aftercare easy and on-point, with supportive products that ensure optimal results.
Intimate Collection | Intimate Brite Peel System
Intimate brightening products allow you to create a uniform color of the vaginal/anal area, inner thigh, under arms, and areola. Increase revenue with your Brazilian Wax clients by adding this much requested service to your menu.
Estheticians buy wholesale here. If you're a new customer you get 10% off!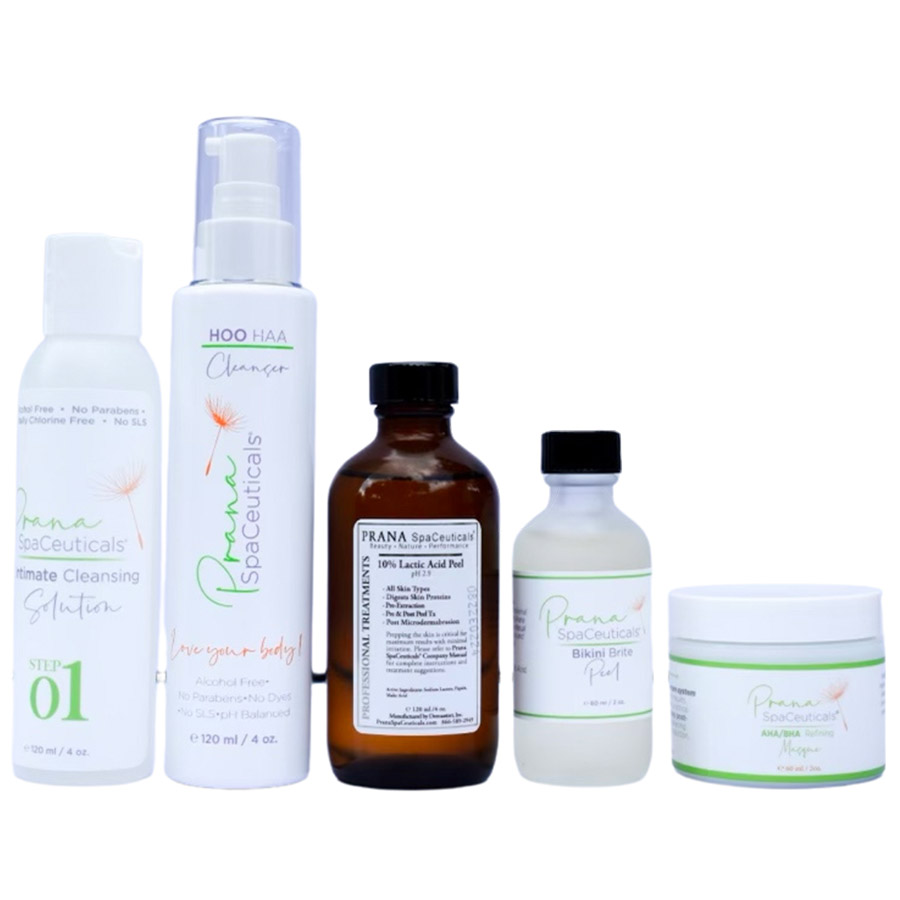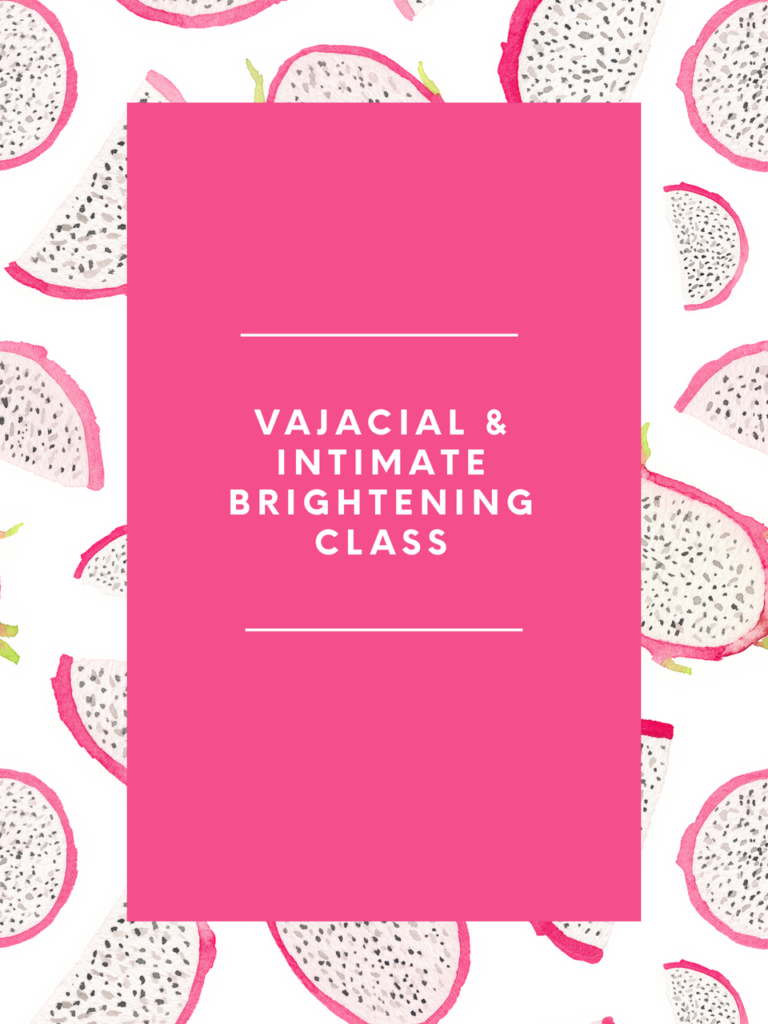 Esthies stick with us! We've got you covered!
Learn how to do intimate brightening!
Or don't wait for our next class. Get certified now! Watch a pre-recorded class & get certified in both Vajacial & Intimate Brightening Services.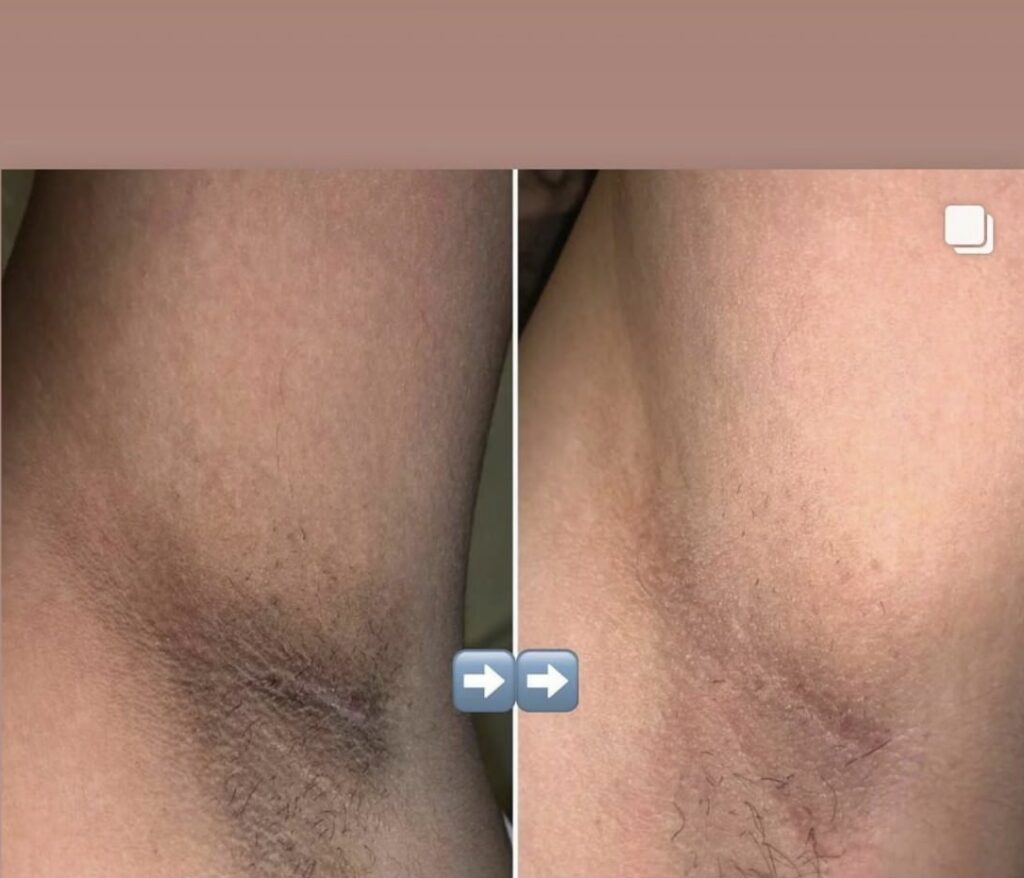 Next steps: How to build your intimate brightening business
For estheticians who offer body treatments, vajacials, waxing, sugaring, or other hair removal services, intimate brightening makes a perfect addition that will complement your current offerings and enhance results. Or, if your practice is typically focused around skincare for the face, intimate services can be an opportunity to introduce a whole new menu, attract more clients, and create additional revenue streams. To get started, we recommend the following:
Step One: Become an expert on all things intimate care
Although no additional licensure is needed to offer intimate brightening, getting trained to perform these services is a must. At California Skincare Supply, we offer specialized training to help you develop an acute understanding of proper technique and treatment. Getting certified is easy following our self-paced Vajacial & Intimate Brightening course online. Or check out our education page for even more opportunities to uplevel your skillset.
Step Two: Invest in products that are specifically for intimate care
Because intimate skin is especially sensitive, using the wrong products or modalities can cause serious damage. In order to keep things safe and simple, we love the Prana Spaceuticals Intimate Brightening System, which was designed with both professional and at-home care in mind. All products from Prana's intimate collection are specially formulated to promote pH balance, and protect sensitive skin.
Step Three: Create an atmosphere that's clean, comfortable, and professional
If you are looking to corner the market for intimate skincare, cultivating client trust is also essential. Before opening up your books for your new services, consider the following: Is your treatment space warm and welcoming to clients who may feel nervous or anxious? Can you talk openly with your clients about intimate care and address their concerns in a way that feels non-judgemental? For intimate services, providing a positive experience is everything.
Step Four: Be prepared to talk about home care
As with all skincare services, optimal results will be achieved with appropriate aftercare and this is particularly true of intimate brightening. Because you are performing a peeling protocol on sensitive areas, clients will need products that support the recovery process and protect their skin post-procedure. Some best practices for getting your clients on board will be to discuss recommendations during your initial consultation, and follow up with detailed instructions at the end of each appointment.
Step Five: Sell your services with confidence
Once you have completed training and are set up for success in the treatment room, you will want to design a thoughtful marketing plan that reinforces trust around intimate brightening. While it's okay to have fun and be creative in introducing your new services, we suggest including a good balance of educational content, answering any frequently asked questions and providing a detailed explanation of benefits. Your clients want to know that they're in good hands, so don't be humble – position yourself as the expert!
Final Thoughts Before You Go
As the demand for intimate skincare continues to increase, licensed beauty professionals will be at the forefront of providing advanced services like intimate brightening, but proper training and product knowledge is key to carving out your niche in the market.
At California Skincare Supply, we are excited to see what the future holds and are here to support your business with educational resources, professional products, and more. Be sure to follow us on social media and join our Facebook community for the latest industry updates!
Frequently Asked Questions
Intimate bleaching involves the use of chemicals, such as hydroquinone or kojic acid, to lighten the skin in the intimate areas. These bleaching ingredients are not formulated for the intimate areas where there is a direct pathway to the bloodstream.
On the other hand, Prana's entire line of intimate brightening products are formulated for the intimate areas and are hydroquinone and bleach free. Brightening occurs through exfoliation and second-generation peptides and acids that are proven safe for brightening the intimate areas.
There are some things you should avoid after your treatment:
No showering for 24 hours
Avoid strenuous and sexual activities for 72 hours
Don't shave or wax for 72 hours
It can last forever. However, if you continue to get hyper-friction, it can reappear and you may need refreshers. 
Get the Esthetician's Edge!
If you're a professional esthetician, dermatologist or cosmetologist, we invite you to join our community by registering on our site today. You will get access to over 40 of the best skincare lines, esthetician equipment, and supplies for professional use and resale – all at wholesale prices! 
Plus, you'll get our special CSS product training so you'll always know how to use and sell skincare products and services like a pro!
And if that's not enough, get 500 Loyalty Points  just for signing up that you can trade for a discount later, as well as a 10% discount coupon to use on your first order! 
It's quick, easy, and free to join.