Acids are a girl's best friend –
When that acid comes in a chemical peel, that is.
Learn about what makes a great chemical peel, what they are made of, types of peels an esthetician can and cannot do, and see befores and afters! When we're done, we'll tell you where estheticians can buy the best chemical peels on the market at wholesale!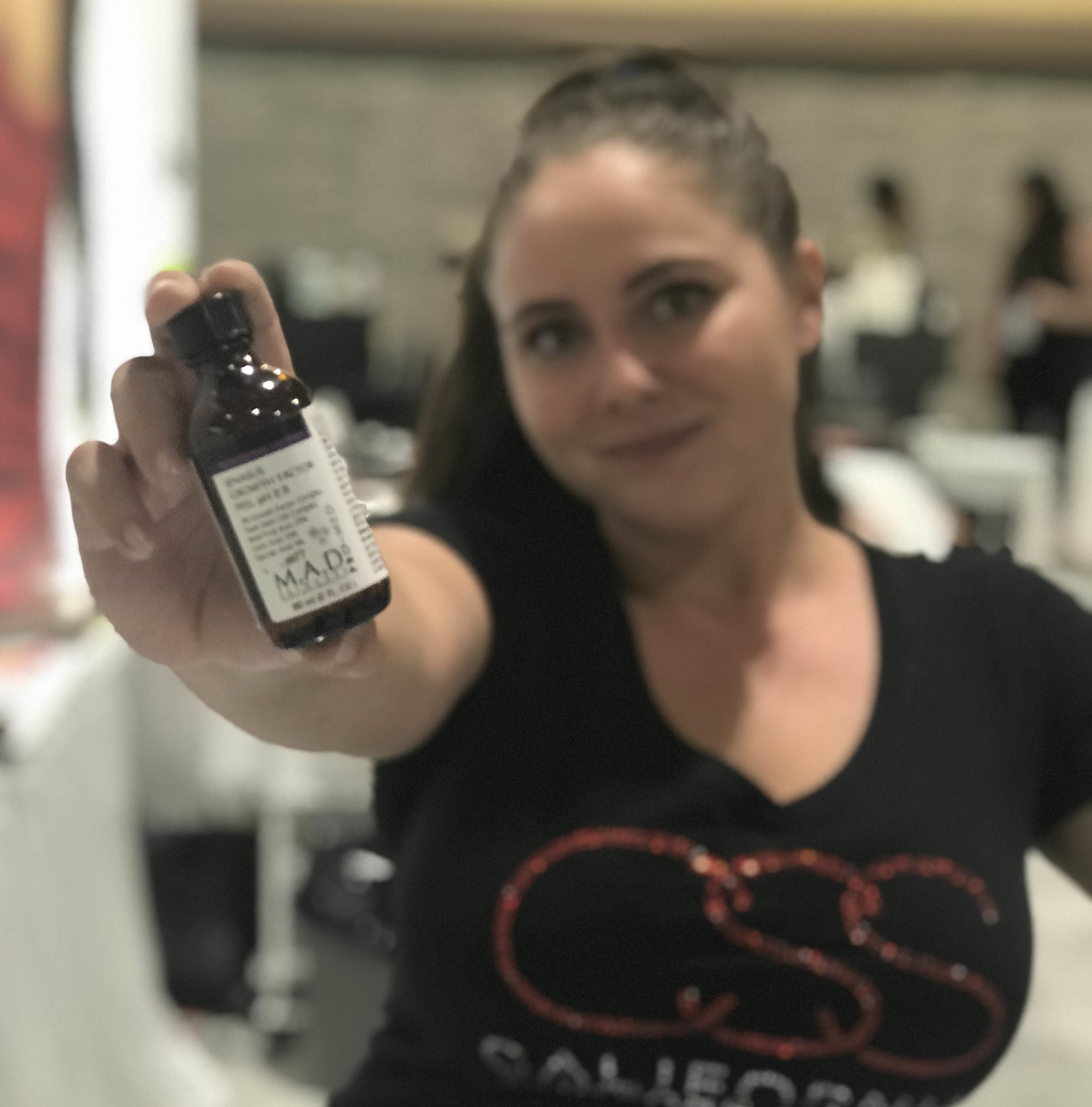 Exfoliation & esthetician – can't have one without the other
Exfoliation involves the removal of the oldest dead skin cells on the skin's outermost surface. As estheticians we incorporate exfoliating products or equipment devices that exfoliate in almost all facial services.
Our skin typically sheds dead skin cells every 30 days or so to make room for new cells. Sometimes dead skin cells don't shed completely causing dry, peeling skin and or clogged pores. Also, as we age our cell turnover slows down leaving excess dead cells on the surface causing dullness, discoloration, rough appearance and breakouts. Chemical peels to the rescue! 
And rescue they do. Check out this before and after chemical peel photo and testimonial for M.A.D. Skincare's chemical peel!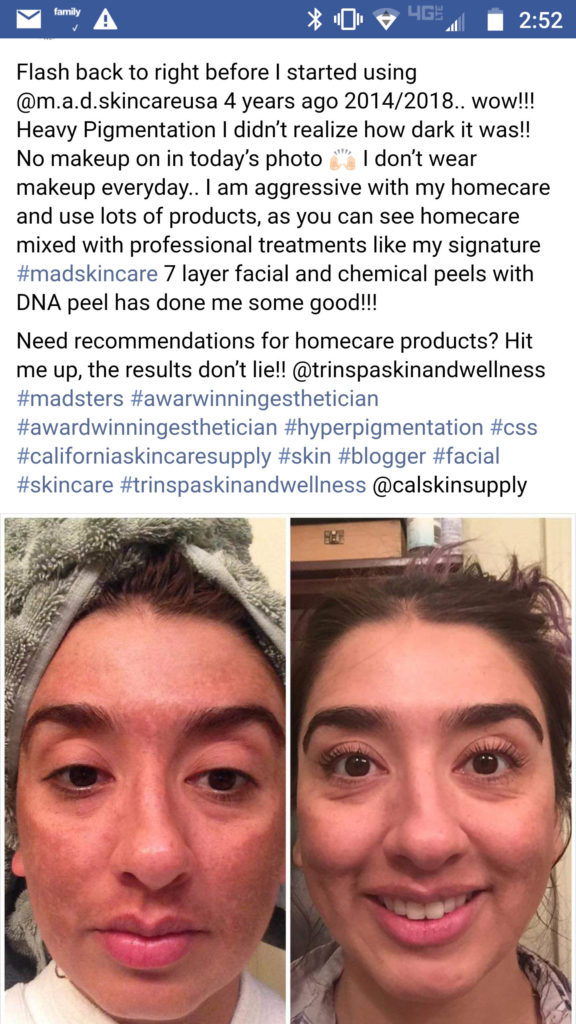 There are 3 types of exfoliants (a chemical peel is a type of exfoliant), and estheticians love them all! 
In this blog we will mainly focus on chemical peels, but the three types of exfoliants estheticians use most are as follows.
1. Physical Exfoliants
Physical exfoliation involves any product or device that manually removes dead skin cells while rubbing, scrubbing, scraping etc. This can be achieved many different ways. Scrubs are easy and convenient, Gua Sha is another simple tool. Microdermabrasion, ultrasonic skin spatula and sonic cleansing devices all get the job done!
2. Enzymatic Exfoliants
Enzymes are a natural exfoliant typically derived from fruits (papain from pineapple & bromelain derived from papaya). They typically don't contain acids. Enzymes dissolve and digest keratin proteins which act like glue and hold old skin cells to the surface. Enzymes increase healthy cell turnover and are an excellent choice for sensitive, inflamed skin.
3. Chemical Peels
Chemical Peels are loved by estheticians. There are many types of chemical peels to choose from and we are devoted to them all!  Why? Because they…
Improve the look of fine lines and wrinkles
Smooth scarring
Help with discoloration and hyperpigmentation
Help with congestion and breakouts
Brighten the overall skin tone
Boost collagen production
What are chemical peels made of?
The answer is acids. That's not a word we generally like to use when we talk about skincare treatments because the word acid conjures up all kinds of horrible thoughts. But in this case, these acids are our beauty friends.
Administered by professionals, or even with at-home treatments by the right brand that has gone to great lengths to see that they are safe, there is very little risk to adverse side effects.
This is especially true with the types of chemical peels that estheticians are licensed to administer since they don't go as deep as the chemical peels you can get from a plastic surgeon.
Now let's dive a little deeper into these various acids and their benefits.
Alpha Hydroxy Acids (AHAs)
Chemical peels containing Alpha Hydroxy Acids (AHAs), are very popular. AHAs are water soluble and typically come from sugary fruits. Common AHA's include the following 5 acids.
Glycolic Acid (AHA)
Glycolic Acid is the smallest α-hydroxy acid. This colorless, odorless, and hygroscopic crystalline solid is highly soluble in water. Glycolic acid is found in some sugar crops. Because of its small molecular size, Glycolic acid readily penetrates into the skin working to break the bonds between the outer layer of skin cells removing the lipids that hold dead skin cells together.
The Molar Mass is 76.05 g/mol
Glycolic acid helps stimulate the production of collagen, smooth fine lines and wrinkles and reduce pore size.
Lactic Acid (AHA)
Lactic acid is an organic compound with the formula CH₃CHCOOH. In its solid state it is white and water-soluble. In its liquid state, it is colorless. It is produced both naturally and synthetically. Lactic acid is also found found in milk and pickled vegetables.
The skin doesn't normally peel with a lactic acid application.
The Molar Mass is 90.08 g/mol 
Lactic acid helps improve the skin's natural moisture factor and is excellent for brightening dull skin tone.  It is particularly good for hyperpigmentation and is great for sensitive skin. 
Malic Acid (AHA)
Malic acid is a naturally occurring substance found in many fruits and vegetables, and is largely responsible for the sour taste found in apples and pears. Malic acid belongs to the AHA category and is generally very gentle.
The Molar Mass is 134.0874 g/mol
Malic acid exfoliates dead cells on the outermost layer of the skin and promotes cell turnover, it is also excellent for brightening skin tone and is a great choice for sensitive skin.
Citric Acid (AHA)
Citric acid is also an alpha hydroxy acid and used to promote skin peeling and collagen production.
Citric Acid works by exfoliating the upper layer of dead skin cells to help clean pores, even skin tone and soften and smooth the skin. Citric acid is naturally found in citric fruits. Molar Mass: 192.124 g/mol
Citric acid has protective antioxidant, and corrective anti-aging effects to help reverse visible signs of photodamage.
Mandelic Acid (AHA)
Mandelic acid, another alpha-hydroxy acid (AHA) named after the German mandel (almond) and derived from the hydrolysis of an extract of bitter almonds. 
It is perfect for treating all skin types and is especially great for sensitive skin and darker Fitzpatrick's. Since its molecules are larger than those found in glycolic acid and other alpha hydroxy acids, mandelic acid takes longer to penetrate the skin's surface. This makes it less likely to cause irritation. The Molar Mass is152.1473 g/mol
Mandelic acid is used in treating common skin problems such as photo-aging, irregular pigmentation, and acne.
Tartaric acid
Tartaric acid is a white crystalline organic acid that occurs naturally in many plants, most notably in grapes. It is another alpha hydroxy acid.
The Molar Mass is 150.087 g/mol
Tartaric acid is mainly used for skin lightening and is excellent for treating melasma.
Multi-fruit Acids (AHA)
Multi-fruit acids, these botanical extracts deliver five natural AHAs to the skin: Lactic Acid (from Bilberry), Glycolic Acid (from Sugar Cane), Citric Acid (from Orange and Lemon), and Malic and Tartaric Acids (from Sugar Maple)A
These AHAs are commonly used to treat skin conditions such as rough skin, surface wrinkles and fine lines. Recognized for having exfoliating properties, AHAs leave the skin with a smooth and radiant appearance.
Beta Hydroxy Acids (BHAs)
Beta Hydroxy Acids (BHAs) are oil soluble. They travel deep into the hair follicle and unplug and reduce excess oil. The most common BHA is  salicylic acid.
Salicylic Acid (BHA)
Salicylic acid is the only beta-hydroxy acid used in skin care. It accomplishes the same goals in skin care as alpha-hydroxy acids such as lactic acid and glycolic acid, but it is used in a much weaker concentration. Acne care products may contain as much as 30% alpha-hydroxy acids, but the same action is achieved by 0.5% to 2% salicylic acid.
The Molar Mass is 138.121 g/mol 

Salicylic acid is a strong comedolytic, helping to unclog pores and decrease the amount of oil in the skin. Salicylic acid peels are an excellent choice for treating acne.
Now that we have all those wonderful acids to help us look our best, what next? Well, manufacturers have combined them into blends for us that serve different purposes and price points. Typically we define these types of peels by the depth they penetrate the skin.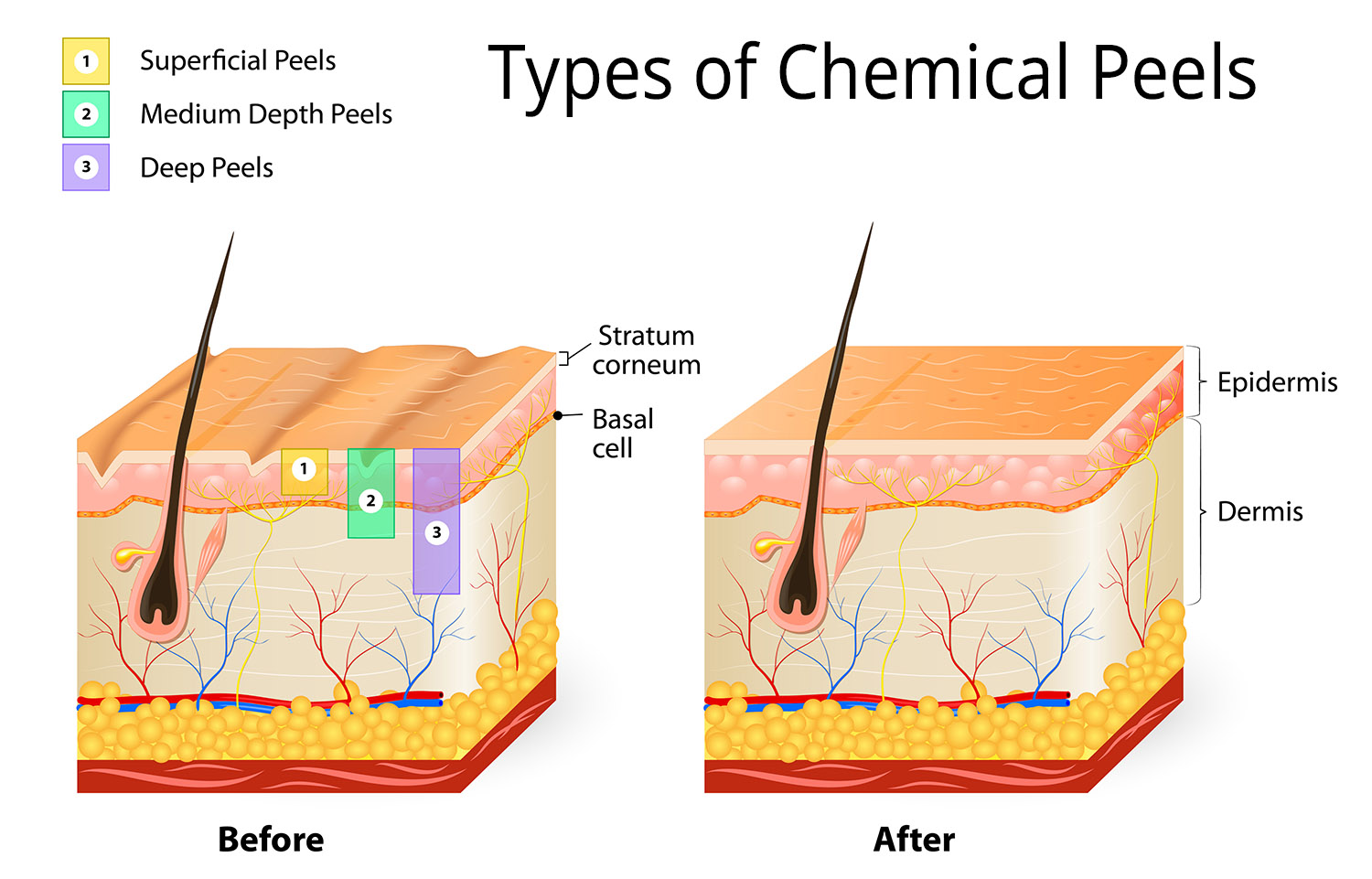 Superficial Peels
Superficial peels are also called "lunchtime peels" they are quick to administer and have little downtime. Some superficial peels are even safe enough to do at home. So here at CSS we sell a variety of superficial chemical  peels for resale.
They are called superficial because they exfoliate just the top layer of skin.
The downside is that because it is such a mild treatment, this peel must be repeated several times to see results. The cost for one treatment is appealing but it can quickly add up.
Medium Depth Peels
Results can be achieved much more quickly with medium depth peels. These must be administered by a professional.  There is some discomfort or slight stinging, with a peeling process that follows and typically lasts a few days. Visible results can be seen in one to three treatments. 
Medium depth peels are good for reducing fine lines and wrinkles, reducing hyperpigmentation, sun spots and freckles, controlling acne, and improving the appearance of acne scars.
Deep Peels
Deep peels, as their name implies, remove damaged skin cells in the deeper levels of skin. As a result, they can dramatically reduce the appearance of wrinkles and acne scarring. They are much stronger and more painful and usually can only be performed once. They are followed by weeks of downtime and often require skin prep for weeks or months prior to treatment. Deep peels definitely require an investment in time, money, and personal commitment. 
Can estheticians give chemical peels?
Estheticians can perform both superficial and medium-depth peels. They cannot perform deep peels unless under the direction of a doctor or dermatologist.
What does a chemical peel cost?
We saved the most-asked question for last. Whether you're a consumer or an esthetician who wants to know what they should charge, our answer is, it depends. It depends on the type of peel you get, where you live and work, how high the cost of living is, the business overhead, and what an esthetician can afford to provide the service for.
Rather than get into pricing details here, we thought we'd just share this article. They've done all the research so we didn't have to. 
AKA Maximum Active Dermaceuticals or M.A.D. Skincare
Now we'll highlight one of our favorite brands – M.A.D. Skincare. But first check out one of their before and after chemical peel success story below!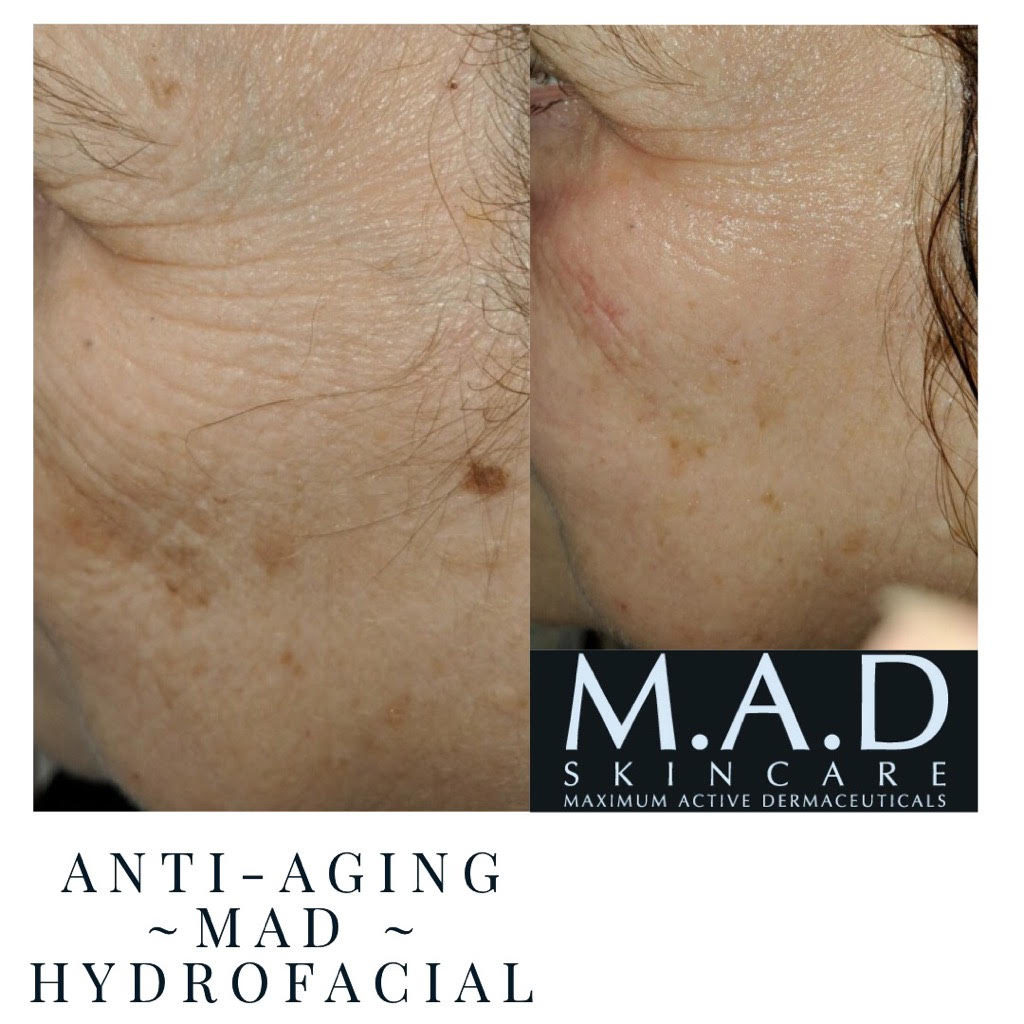 M.A.D Skincare chemical peels are designed to be stacked for multiple benefits all in one treatment!
M.A.D Skincare specializes in developing chemical peels that can be stacked so an esthetician can treat multiple skin concerns in one treatment. If this sounds exciting, and you like to be very creative in your treatment room, then M.A.D Skincare could be the perfect brand for you!
M.A.D Skincare offers twelve professional-only chemical peels. Six are water-based gel peels that are gentler and rarely cause flaking, and six are ethanol based Medi peels and behave stronger and generally cause peeling.
I suggest that you start out with the gel-based peels and experiment layering or stacking 2 or 3 of them.
Why would an Esthetician want to stack chemical peels?
Well let's say you have a client that is experiencing hyper-pigmentation, aging concerns and has sensitivity issues. With M.A.D Skincare you can treat all three concerns in one treatment. In this scenario, you could stack the following chemical peels from M.A.D Skincare, applying one layer of each:
Watch an Advanced Chemical Peel Layering Demo Here
Buy M.A.D.'s "Layering" Peels Here
M.A.D Skincare uses the following acids in varying strengths in their professional skincare peels: Glycolic, Lactic, Salicylic, Mandelic, Multi-fruit, Resorcinol & Azelaic. These acids are often combined with additional ingredients to calm, offer anti-inflammatory benefits and anti-oxidant benefits. Examples of these ingredients are, Vitamin C, Trinity Tea Complex, Licorice & Bearberry extracts, aloe, chamomile, curcumin and many more.
If M.A.D Skincare peels sound interesting – and THEY ARE – find all M.A.D Skincare here.
Finally, where's the best place to shop for chemical peels at wholesale?
Right here. Where else?
Of course, we'd say that, but there's a benefit to shopping right here. California Skincare Supply distributes over 40 + professional skincare lines available to licensed Estheticians at wholesale, and we have dozens of chemical peels to choose from – all in one place so you don't waste time going from one site to another. Wouldn't you rather be peeling? I thought so. 
Beauty awaits! Let's get to it!  
Buy Wholesale & Get the Esthetician's Edge
All You Need to Do is Register as Professional with California Skincare Supply
If you're a professional esthetician, dermatologist or cosmetologist, we invite you to join our community by registering on our site today. You will get access to over 40 of the best skincare lines, esthetician equipment, and supplies for professional use and resale – all at wholesale prices! 
Plus, you'll get our special CSS product training so you'll always know how to use and sell skincare products and services like a pro!
And if that's not enough, get 500 Loyalty Points  just for signing up that you can trade for a discount later, as well as a 10% discount coupon to use on your first order! 
It's quick, easy, and free to join.