Hale & Hush is the only professional skincare brand that focuses solely on treatment and retail products for sensitive and health-challenged skin!
Hale & Hush has sensitive skin covered, from occasional sensitivity due to stress, environment, hormones, and chemical irritants, all the way to chronic sensitivity from serious health or disability challenges such as chemotherapy.
Hale & Hush founder Kris Campbell has been an educator and author on the growing sensitive skin-type demographic for over 10 years.
HALE – adj: free from disease or infirmity; robust; hearty
HUSH – verb: to calm, quiet or soothe
"NO" INGREDIENTS:
Hale & Hush's clean and pure products cut out ingredients known to be sensitizing or allergenic.
The "NO" group includes gluten, sulfates, parabens and other harsh preservatives, non-chiral ingredients such as dl-tocopherol, or any other known irritants.
They rarely add a scent to products. The natural smell of ingredients in the formula (such as a botanical oil) may result in a "scent".
Hale & Hush offers pro enzymes, gentle peels, facial masks, plus pro and retail cleansers, toners, moisturizers, sunscreen, and more, all designed specifically for sensitive skin!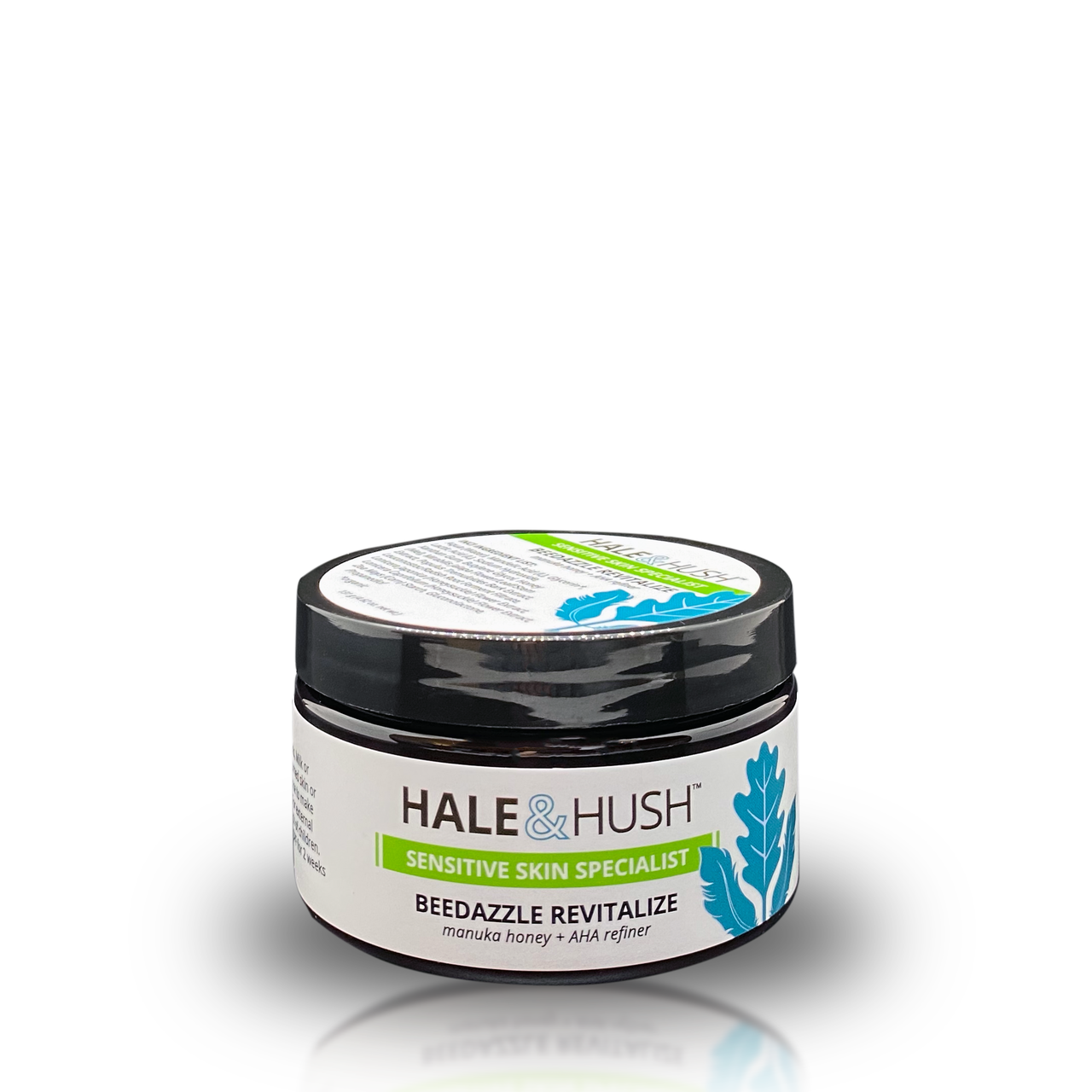 Hale & Hush BeeDazzle Revitalize
Offers rejuvenation without fuss or downtime by blending refinement and recovery in one unique formulation.

Sensitive-friendly AHAs (mandelic and lactic) refine skin's texture and complexion, while bioactive Manuka Honey supports healing with anti-inflammatory, antimicrobial, hydrating, and conditioning effects!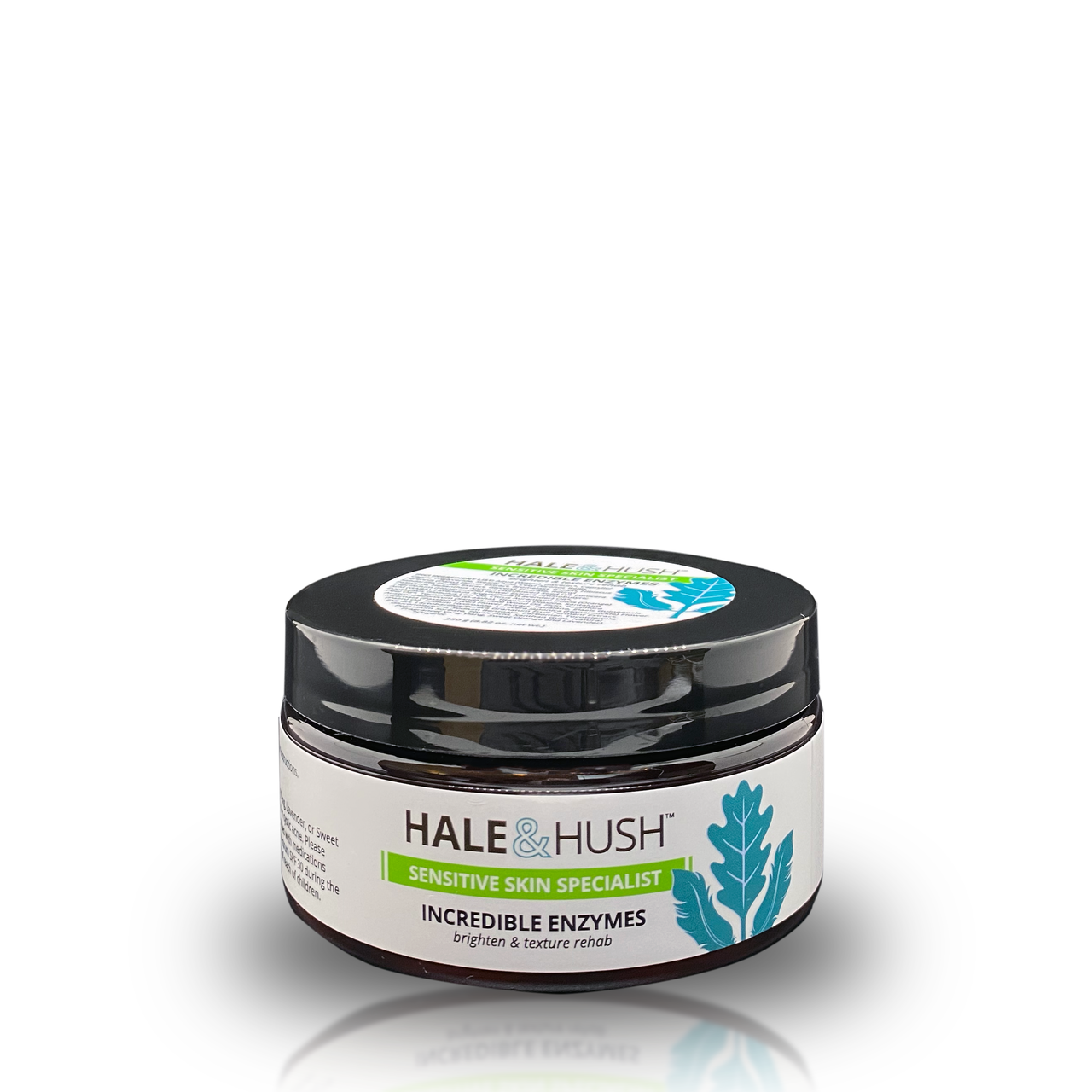 Hale & Hush Incredible Enzymes
Optimize skin's complexion at a surface and cellular level with a blend of botanical exfoliating enzymes and refinement assistants that work together to rejuvenate texture and tone for clarity that can be felt and seen!

Rejuvenates, exfoliates, clarifies texture, naturally lightens and evens skin tone with Papain, Bromelaine, and botanical extracts.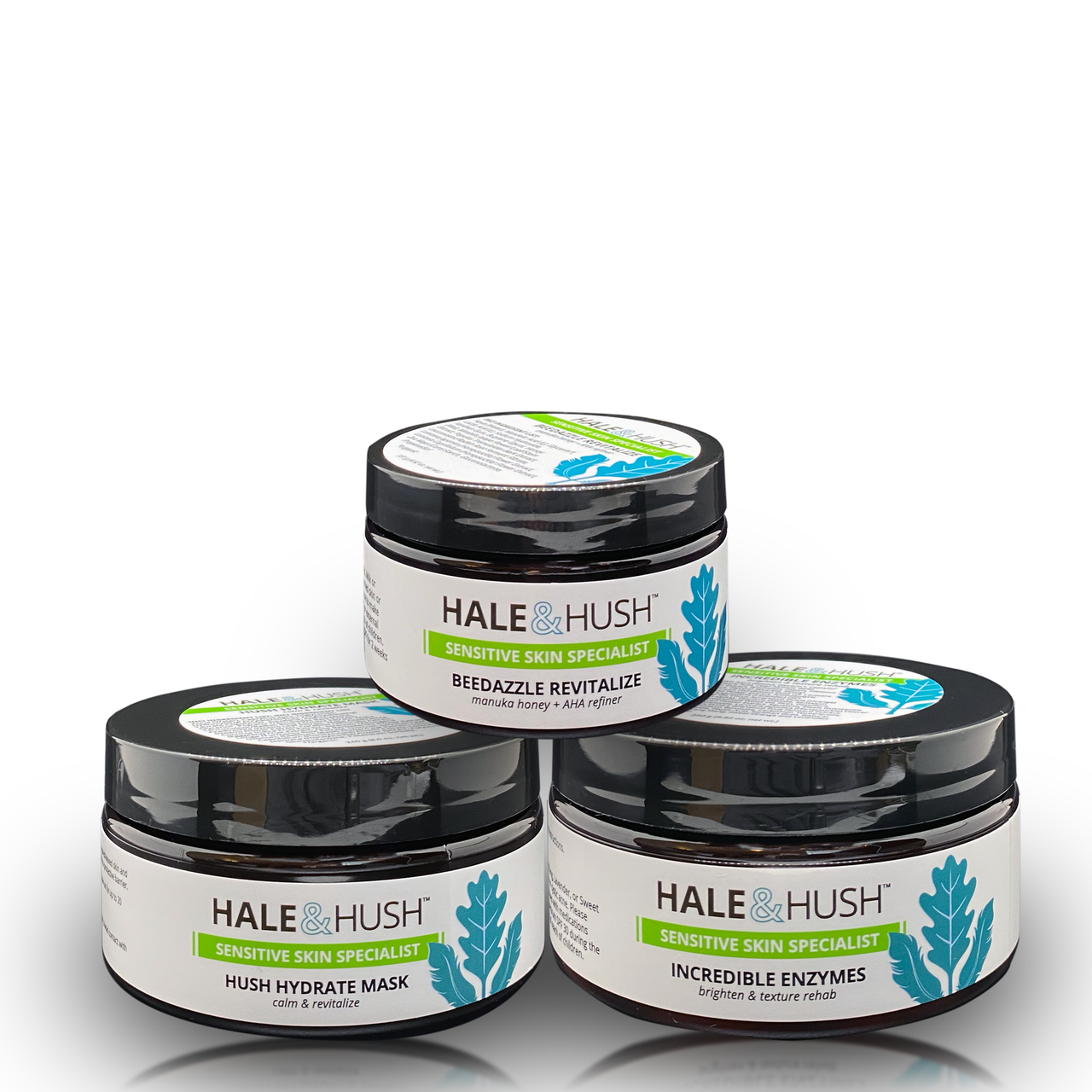 Hale & Hush Treatment Pro Kit
Get BeeDazzle and Incredible Enzymes PLUS the Hydrating Mask for a complete treatment room backbar system for sensitive skin!

The Hush Hydrate Mask is a delicate, moisturizing formula rich in botanical extracts high in antioxidants and inflammation fighters that bring peace to aggravated skin.

Most remarkable is the black rice extract, which studies have shown is a potent anti-inflammatory and anti-allergic compound.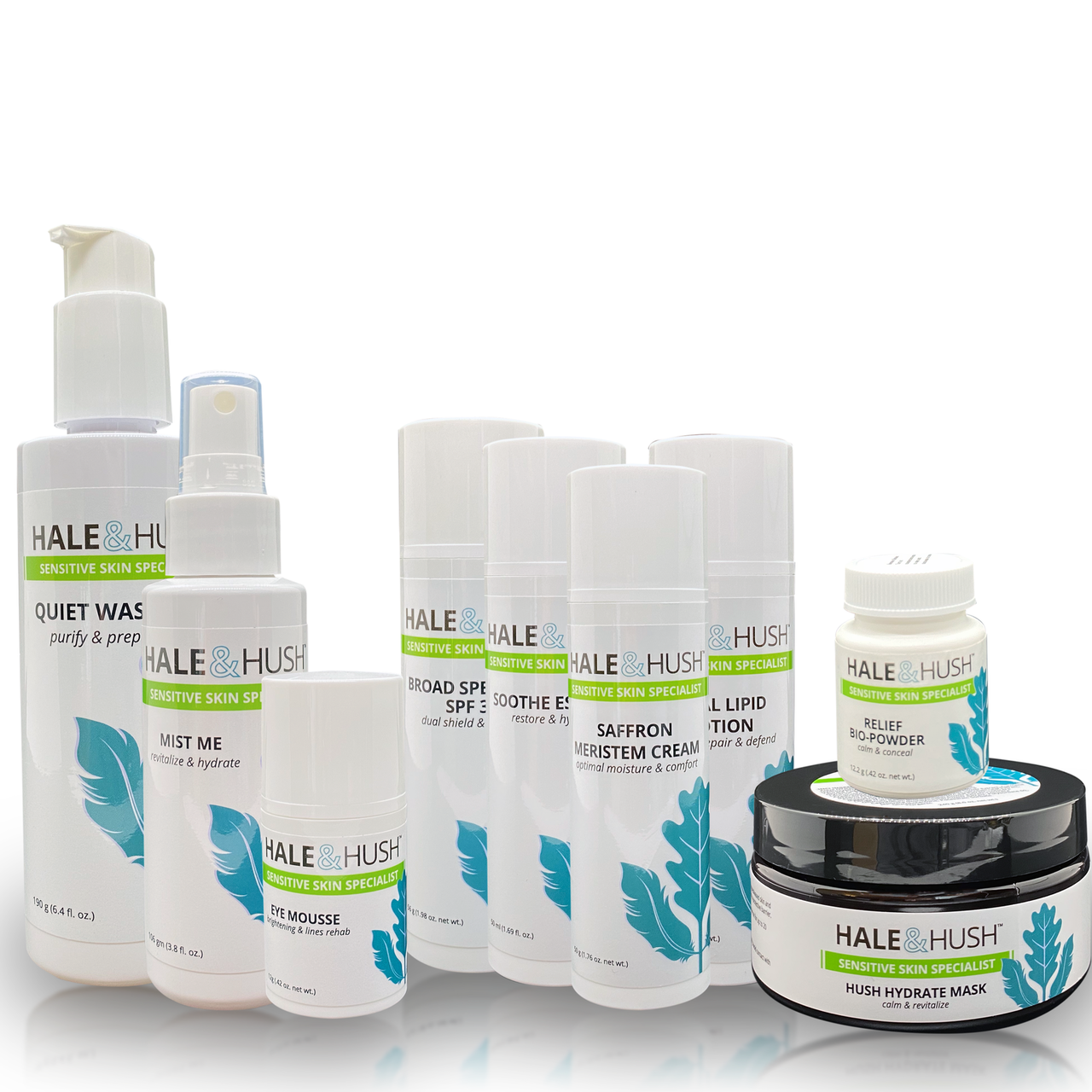 Try all the best of Hale & Hush and save over $40 off the individual wholesale prices!

Kit includes: Quiet Wash, Hush Hydrate, Mist Me, Broad Spectrum SPF 30, Soothe Essence, Saffron Meristem Cream, Vital Lipid Lotion, Eye Mousse, and Relief Bio Powder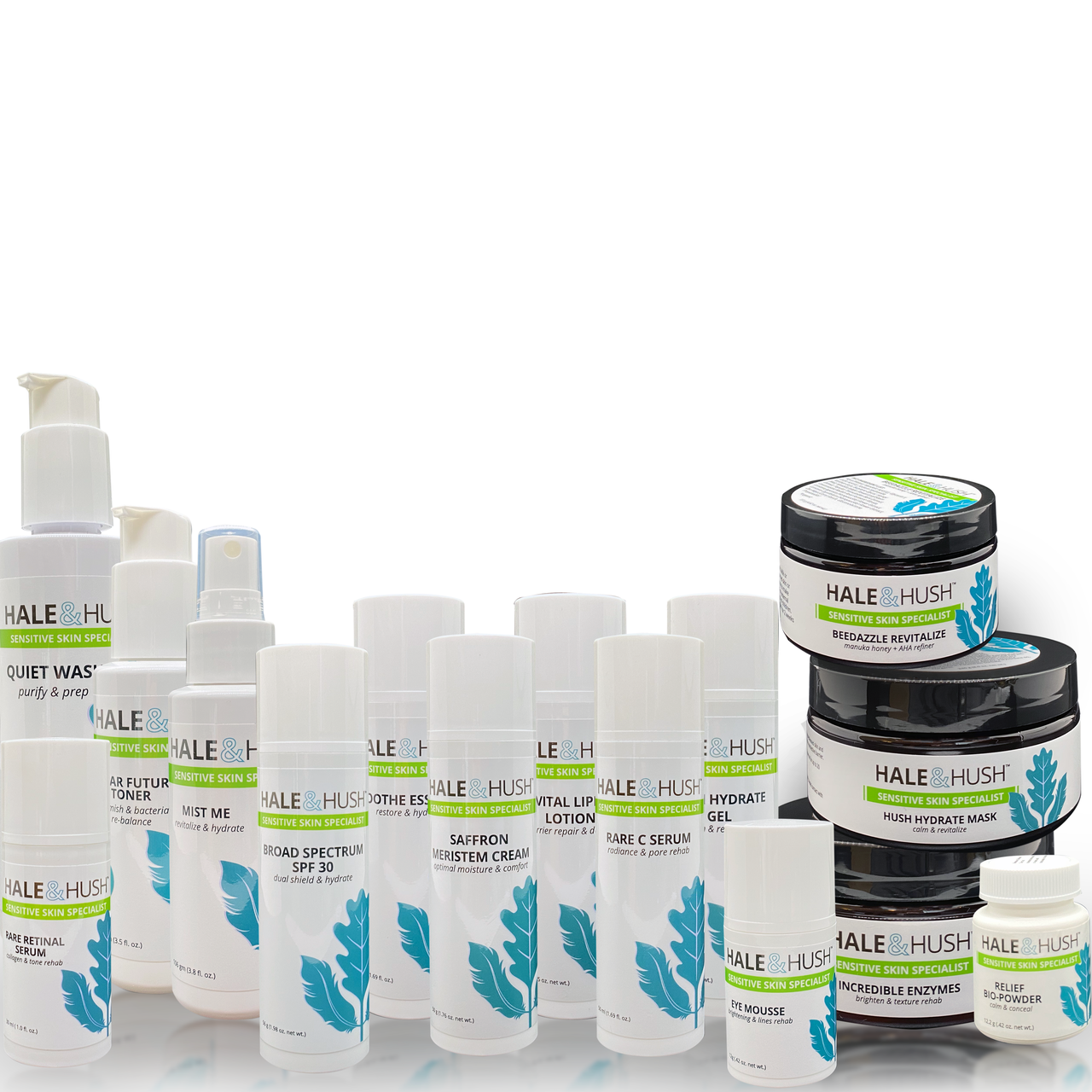 Hale & Hush Try It All Kit
Save nearly $100 on the full product line!

Quiet Wash, Hush Hydrate, Broad Spectrum SPF 30, Soothe Essence, Saffron Meristem Cream, Vital Lipid Lotion, Eye Mousse, Relief Bio Powder, Rare C Serum, Incredible Enzymes, BeeDazzle Revitalize, Clear Future Toner, Hush Hydrate Gel, Brilliant Eye & Lip Serum, Mist Me
Plus 2 samples of each retail item (except Brilliant Eye Serum)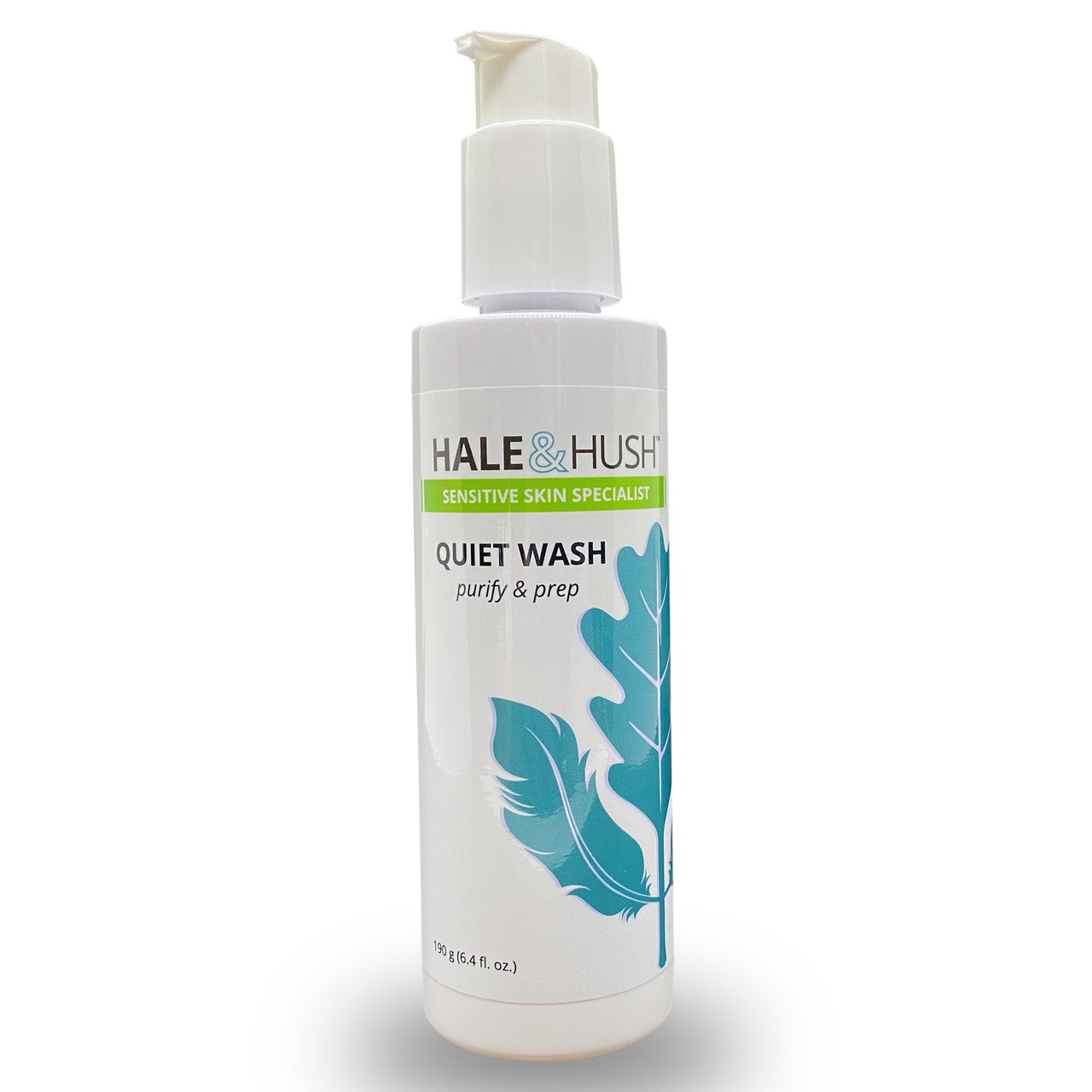 Quiet Wash (pro & retail sizes)
Quiet Wash showers skin with a gentle, expert blend of botanical extracts that combat the inflammation, irritation, itchiness, and redness common to reactive and sensitive skin.

Quiet Wash leaves skin clean, comfortable and calmly receptive to successive product application, for excellent sensitivity correction results. Knocks out inflammation and redness, gently fortifies cells and supports barrier function, and properly cleanses and hydrates while guarding skin from environmental toxins.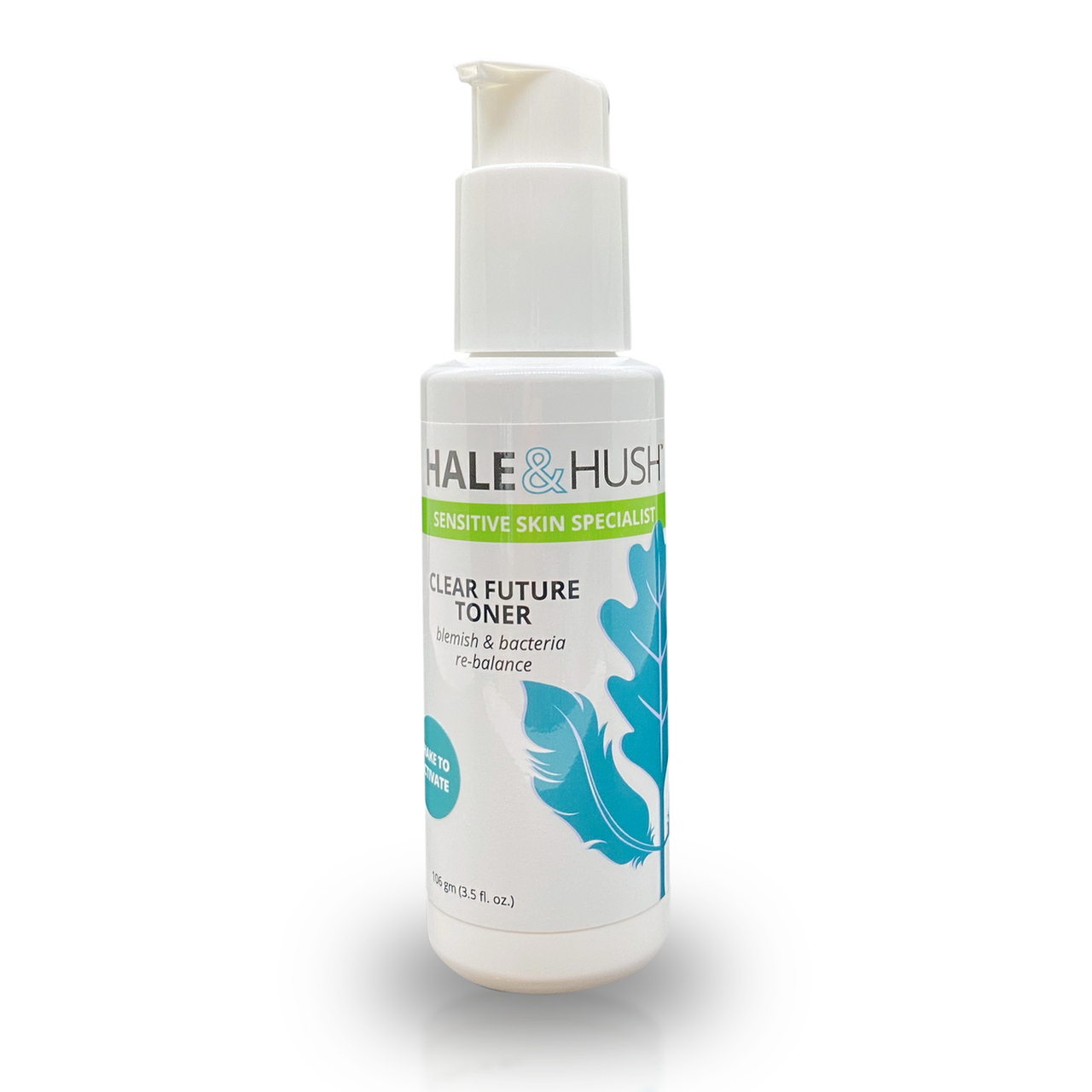 Clear Future Toner
Extend blemish- and oil-control beyond cleansing! Formulated to naturally clarify skin and shrink enlarged pores, while maintaining balance and comfort with probiotics.

This Tonic leaves skin cleaner, refreshed and more resistant to congestion and breakouts through the day or night with Salicylic Acid, neuropeptides, botanical extracts, and yogurt extract.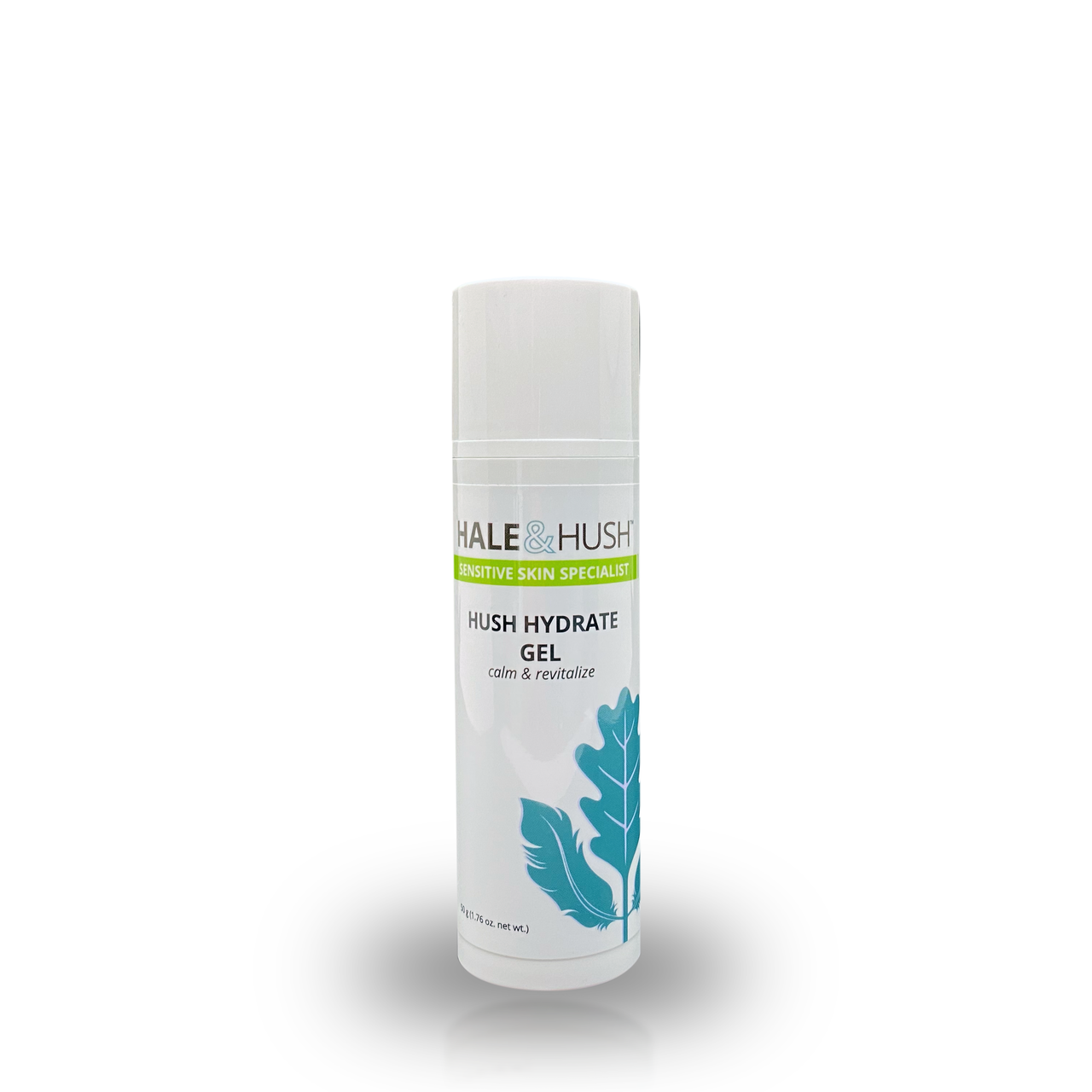 Hush Hydrate Gel
a delicate and moisturizing gel formula packed with botanical extracts, antioxidants, and powerful inflammation fighters. This gel contains a potent anti-inflammatory and anti-allergic compound found in black rice, proven to comfort aggravated skin.

Produces anti-inflammatory and anti-allergy effects to heal skin from the inside out. Supports protection against environmental damage, offering detoxifying and brightening benefits. Soothes and cools the skin immediately on contact.
*Can be used as a mask or a light weight moisturizer.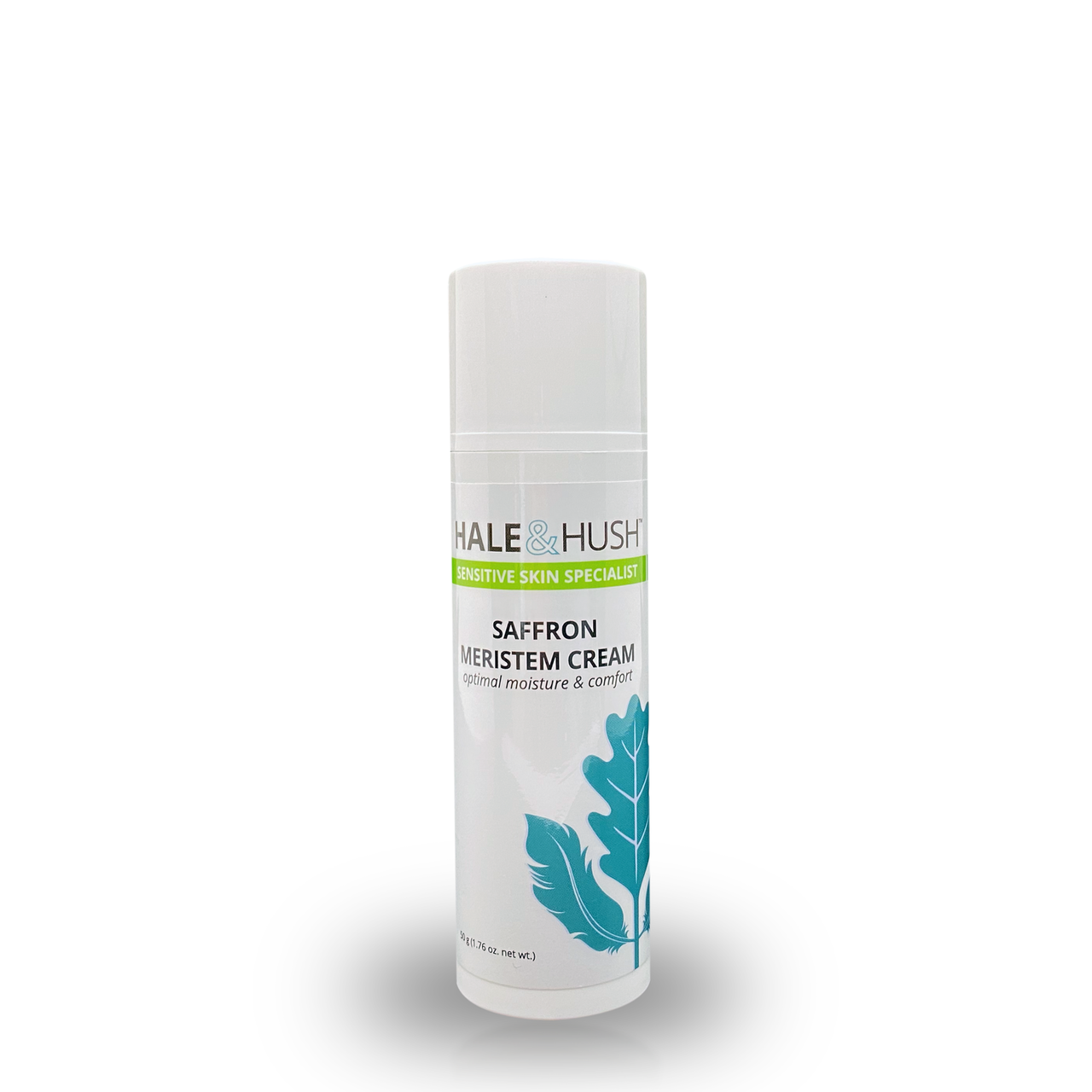 Saffron Meristem Cream
Hale & Hush is one of the first skin care brands to use Saffron Meristems. These plant stem cells contain all the power of Saffron to provide antioxidant, anti-aging and brightening benefits.

Saffron Meristem Cream is a luxurious comfort cream loaded with numerous ingredients for complete corneotherapy care of your dry, sensitive clients. Contains Shea butter and the special complexes to moisturize, calm redness and irritation, nourish and repair the skin barrier. Helps strengthen the stratum cornea in order to protect against daily wear and tear from environmental toxins.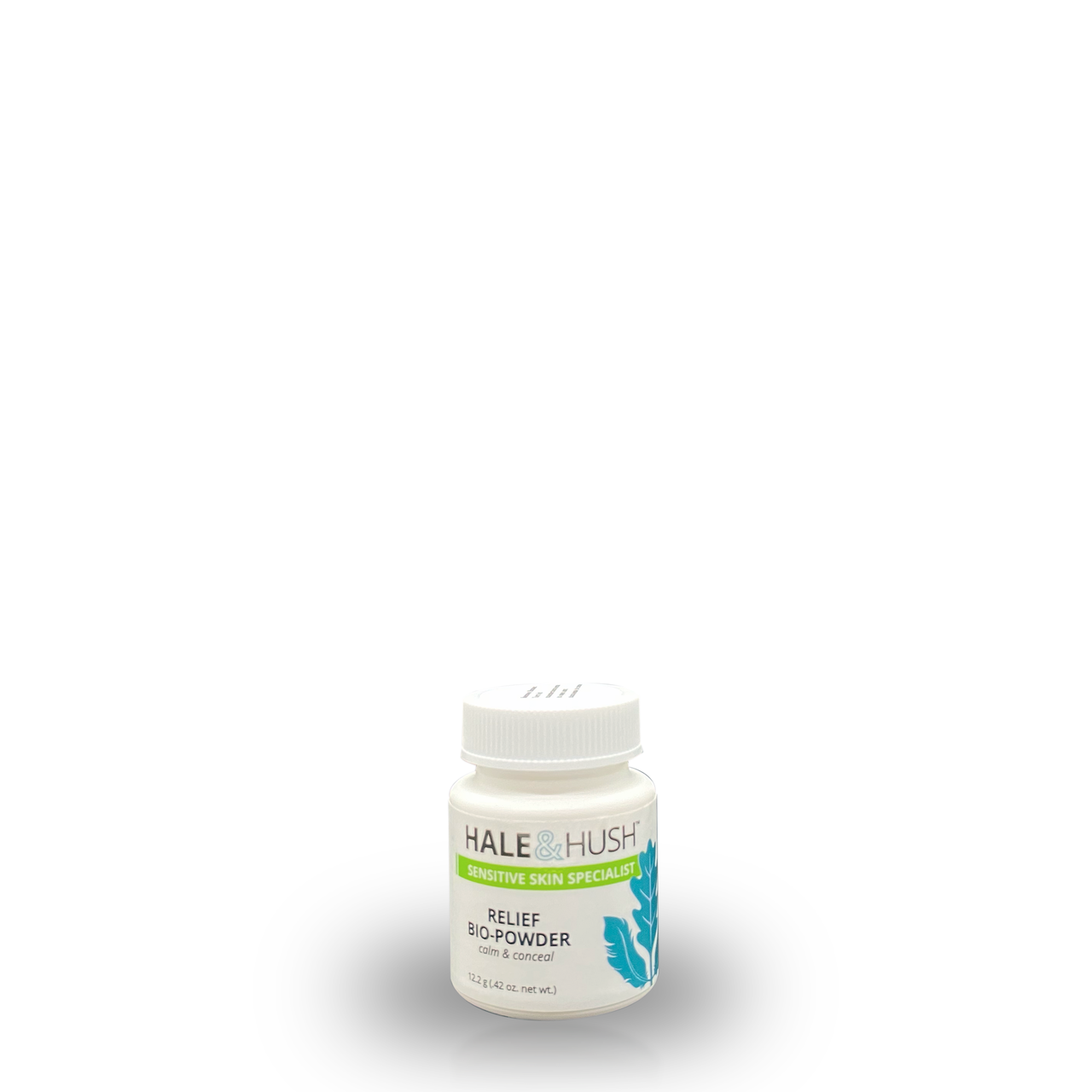 Relief Bio Powder
Another unique offering from Hale & Hush, this blend of eight botanical extracts makes for a a powerful dermatologist-tested sensitive skin aid.

With fast-acting abilities, it quickly rescues skin under attack from redness, irritation and itchiness. Relief Bio-Powder also helps conceal redness and, when water is added to make a paste, becomes a soothing mask!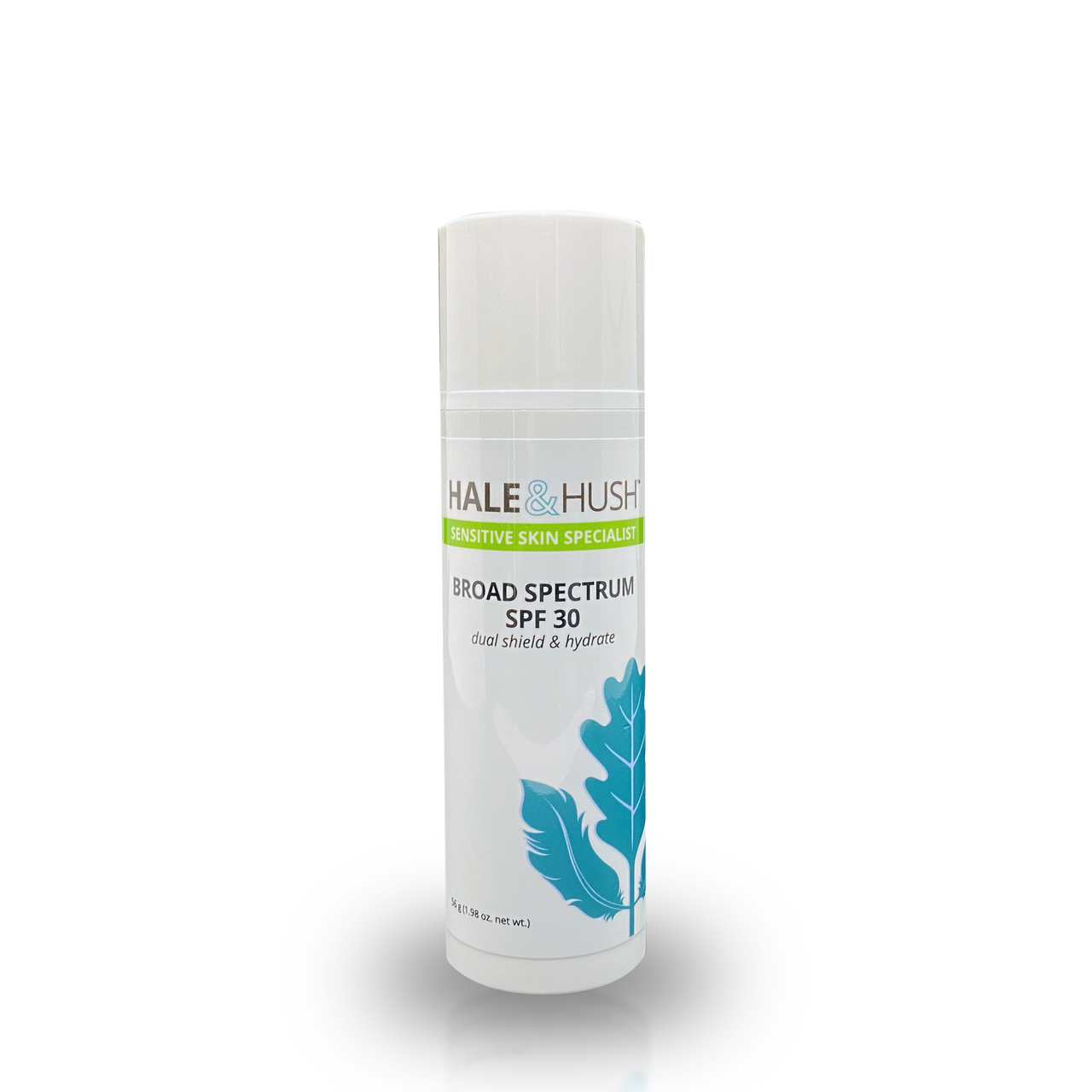 Broad Spectrum SPF 30
the perfect combination of sun, sensitivity and age defense. Natural Zinc Oxide provides chemical-free broad-spectrum UVA/UVB protection at the surface of the skin, while a specialized amino acid and algae blend provides UV protection at the cellular level. Skin is moisturized, calmer, and better equipped at resisting premature aging.

Provides chemical-free, broad spectrum UVA/UVB protection, brightens skin tone naturally, and provides anti-inflammatory, antioxidant, anti-aging benefits.
Find even more kits and products like the Eye & Lip Serum, Rare C Serum, Soothe Essence, or Retinol Serum at CSS!