That's right. Let's not discriminate.
Anyone with a face can benefit from a facial, even if it's covered in whiskers.
Let's face it (pun intended). Women have been spoiled by beautifying and age-defying facial treatments for years while men have frankly just gotten left behind. It's just not fair. It's time for them to save face too, don't you think?
Well, good news. They have options now, lots of options. Skincare for men can now be part of their daily routine.
Last month we wrote about men's skincare services, products and even spas that cater to men exclusively are really growing in popularity. Cheers to those men for demanding equal treatment. And cheers to estheticians for stepping up to the plate to give them the services their skin is thirsting for (pun intended).
This month we're going to go into detail on how you actually give a man a facial and then how they can continue reaping the benefits with a skincare routine at home.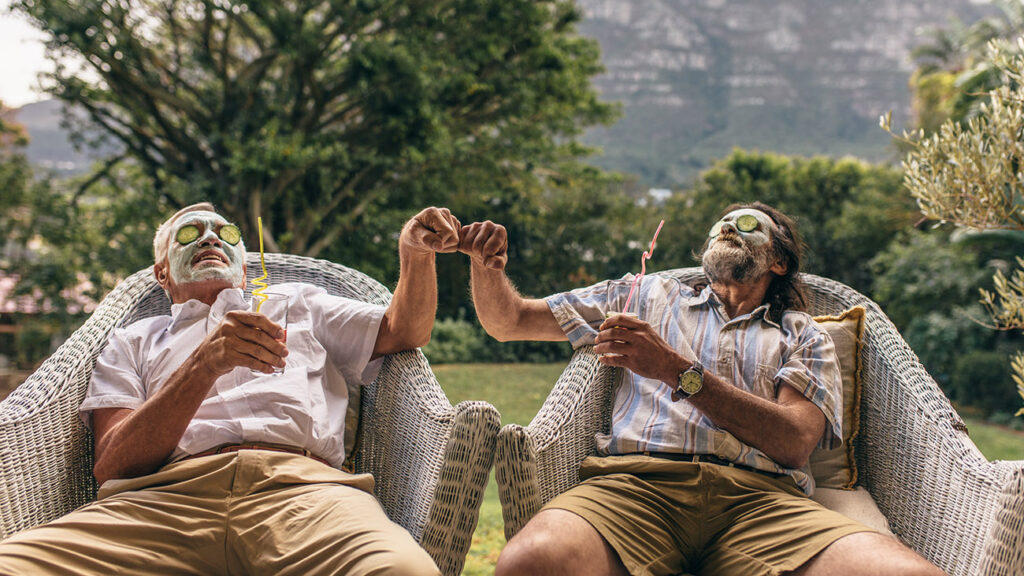 First, what to expect from a men's facial treatment?
Like most facials, a man's facial routine may involve deep cleansing, exfoliation with steam or hot towels, extractions, massage, facial mask, serums, and finishing cream. In addition, different modalities and machines can be incorporated depending  on what the esthetician recommends. We'll get into that below.
As with all facials, the benefits you can expect are stress relief (this is pampering after all but a facial also relaxes the muscles in the face), glowing, softer skin, acne and acne scarring reduction, and anti-aging benefits.
Ideally, men (and women) should get a facial treatment around every 4-6 weeks to maintain results and experience more anti-aging benefits over time. Yes, facials should be routine. 
Start with an assessment before you give a man a facial
A skin analysis is needed before a facial begins. The esthetician will make an assessment using a magnifying lamp, woods lamp or skin diagnostic tool to check the following conditions:
a breakout activity
skin dehydration AND dryness (too different concerns)
hyperpigmentation
dilated capillaries
black heads
deep and fine lines
white heads
any irritation, redness, and sensitivity
Keep in mind that not all men have the same type of skin. That's why it is important to check first any underlying conditions that may react to a treatment.
As an expert, you will then come up with a customized routine for your client's skin type.
Can men get a facial if they have beard?
Yes, and they should! Whether they have a short or a bushy beard, it is advisable for them to consider a facial treatment because the health of the beard is really contingent on the health of the underlying skin.
A professional men's facial will help exfoliate the skin and open up the pores. They might already be using beard oils and balms, but nothing beats a facial for the skin to look and feel great.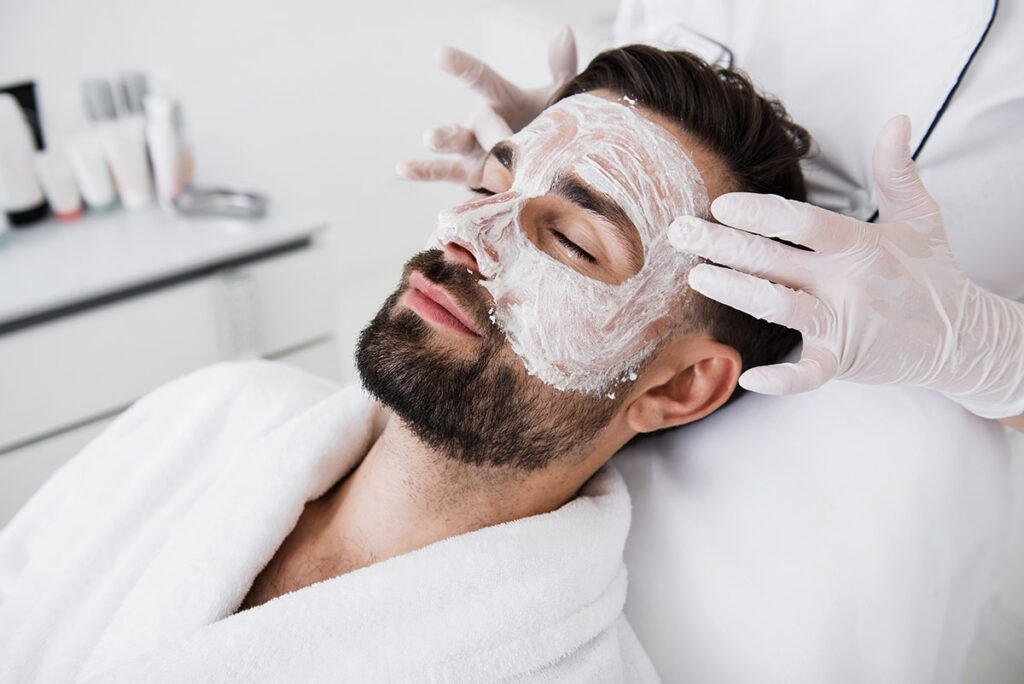 Learn this simple, professional facial routine for men
Now we're going to demonstrate the steps to give a man a professional facial in your spa or salon using the customized Gentleman's Beauty Box Facial from Prana SpaCeuticals. Follow along in the video below as we go through the facial routine.
Step 1: Cleanse skin with Gentlemen's Foaming Wash.
Step 2: Exfoliate with Purify Polish
Step 3: Massage with Beard Massage Oil.
Step 4: Apply AHA/BHA Refining Masque. Leave on 3-5 minutes before rinsing.
Step 5: Refresh with the Energizing Treatment Foam
Step 6: Finish with Purify Day Lotion (or more Beard Oil
Men's Facial Kit for Professional Treatments
Gentleman's Beauty Box from Prana SpaCeuticals
Click the button below to buy at wholesale all the products used in the video above, right here in our store.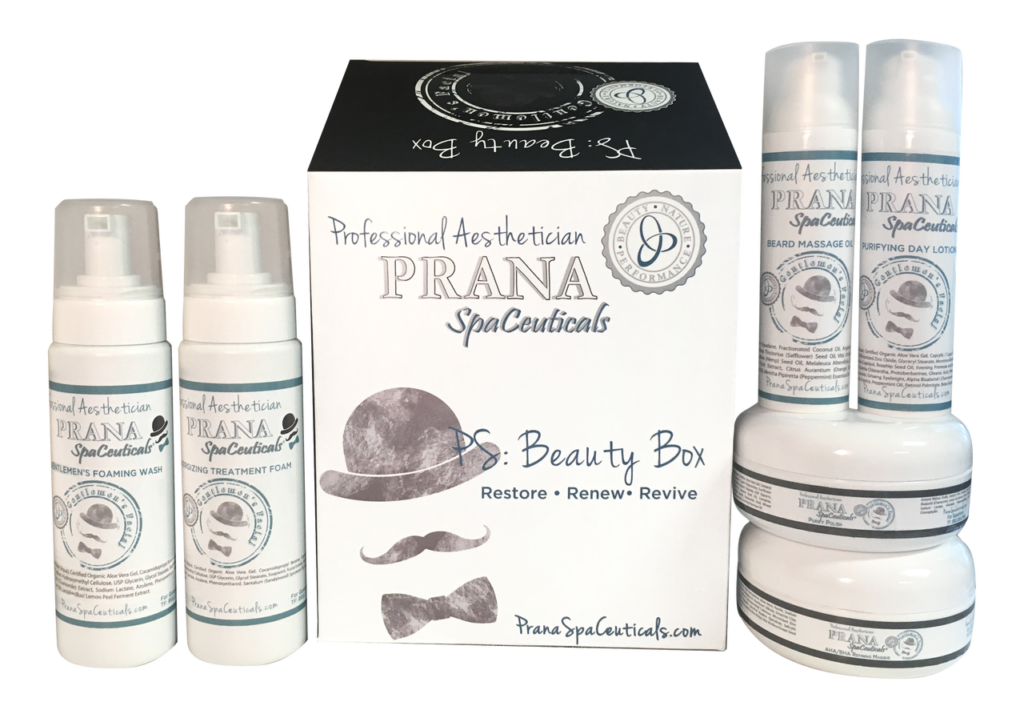 Once is never enough. Teach him this home facial routine to continue the benefits.
M40 is a skincare brand that caters to men and has everything he needs for a complete home facial routine.
For best results, use each product in the daily routine in this order: 
#1 Activated Charcoal Face Wash
Loosen dead skin cells
Stimulate new cells
Deep cleans dirt, oil, and bacteria
With organic aloe
#2 Post Shave Toner Aftershave
Contains five different AHAs
Exfoliates and prevents ingrown hairs
Soothes post-shave irritation with aloe, lavender water, and white willow bark
#3 Tripeptide Facial Repair Serum
Rebuild the cells and promote collagen production
For smoother, firmer, younger skin
With peptides, retinol, sodium, hyaluronate ferulic acid, vitamins C &E, Green tea, and Resveratrol
#4 Revive Eye Cream
Works to combat dark circles, wrinkles, and puffiness
With firming and detoxifying ingredients such as caffeine, peptides, hyaluronic acid, and plant stem cells
#5 Hydrate and Repair Daily Moisturizer
Hydrate, repair, and protect
Soften dehydration lines, age spots, wrinkles, and boost collagen
With peptides, amino acids, and hyaluronic acid
We sell all these in the "for resale" section of our online store where estheticians and other skincare pros buy at wholesale.,
Wholesale M40 for Men
Click the button below to buy all M40 men's retail skincare products to sell in your spa or salon.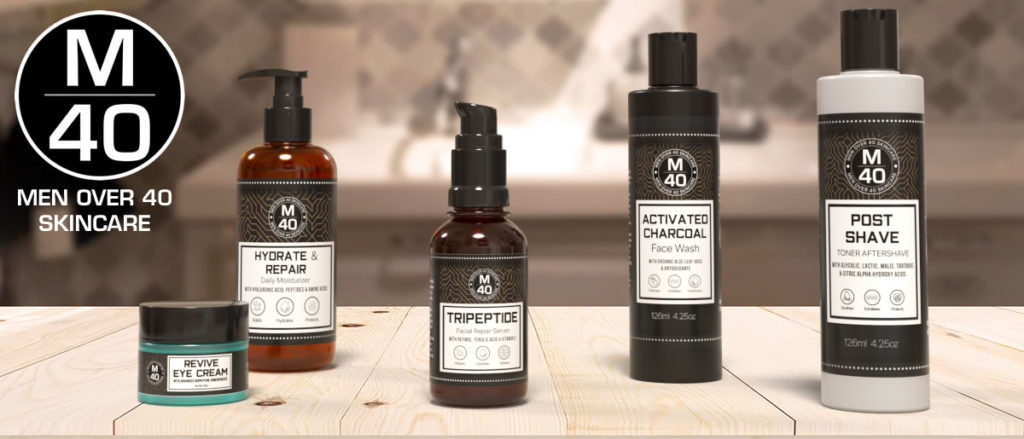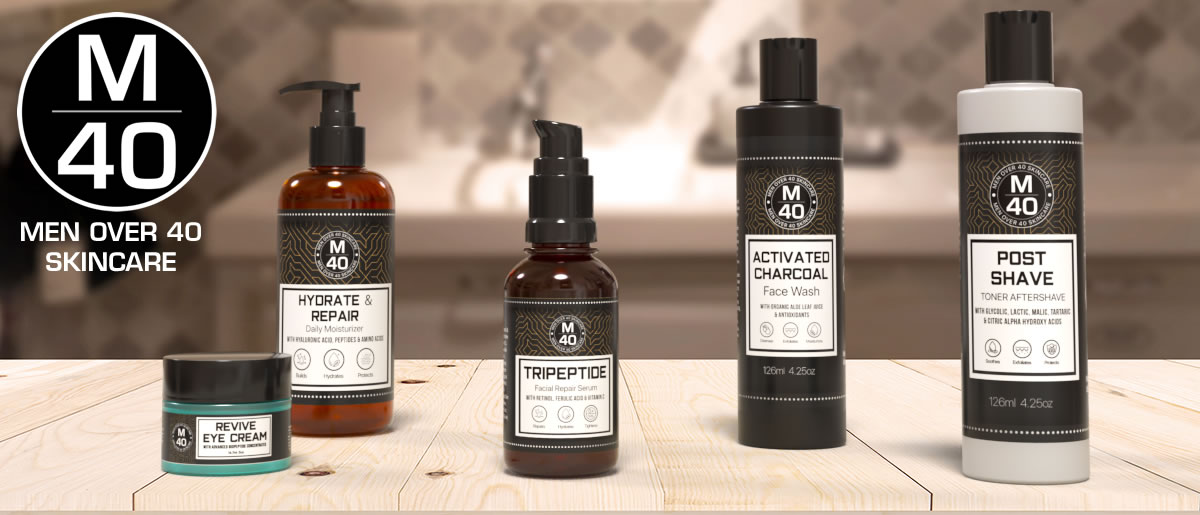 Ready. Set. Go! Expand your business with men's services!
If you're a skincare professional and have been planning to expand your business, or wondering how, offering men's skincare services is a great way to do that. Popularity and demand for men's skincare services and products is through the roof. That's not an exaggeration.

And hopefully now you know how to get started. The products may be different, as is the facial hair, but the method is the same. After all, skin is skin.
Also, California Skincare Supply is here to help guide you into this new field of skincare with training like this and live support in Facebook and on the phone.
And so you don't have to stress over what products to use or carry, we've already done the vetting for you and picked what we feel are the best men's skincare products for professional use in your spa as well as to be sold off your retail shelves so your male clients can continue with their facial routine at home. Click the buttons above to go shopping.
These are products we stand behind and so can you.