The reports are in. Men's skincare is definitely having a moment and estheticians need to get on board!
Just how much of a moment? Well, if market research is any indication, it's actually more of a movement and it's not going anywhere. If you're a skincare professional and have been considering expanding into this rapidly growing market, you're right on time. Read on for everything you need to know to grow your business and your clientele!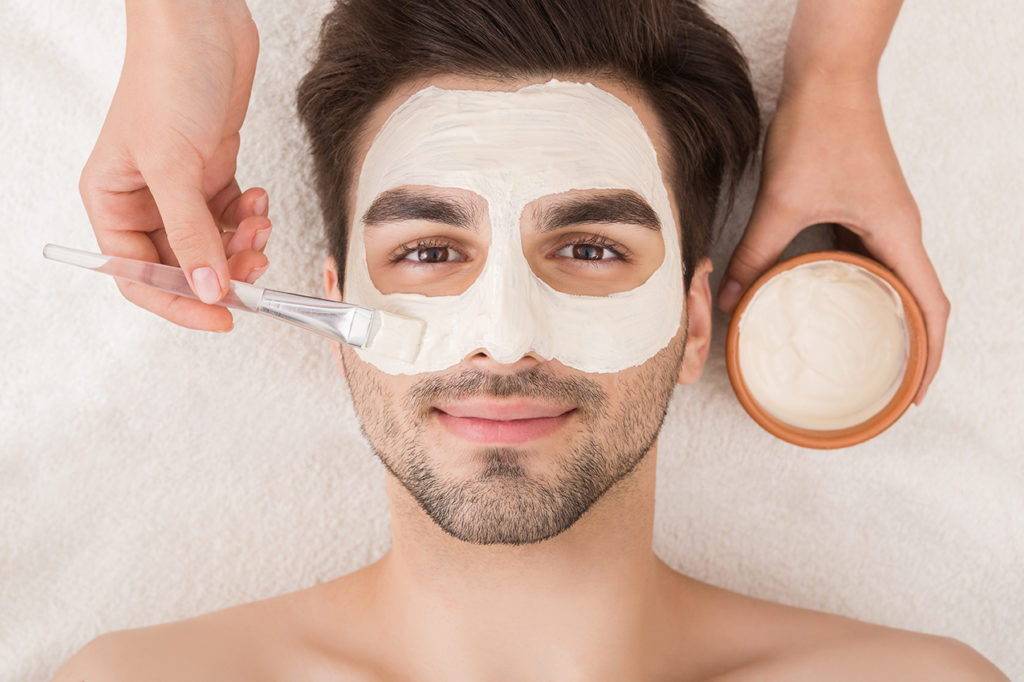 Facts and Figures – The Bull Market for Professional Men's Skincare 
According to Allied Market Research, an independent organization that studies industry trends, skincare products for men saw exponential growth just last year, with a 7% increase in sales.
This year, the category of men's personal care products is valued at $122 billion and predicted to hit $166 billion by 2022. And those numbers are only going to keep climbing. By 2030, research indicates that the market will increase to $276.9 billion, with a whopping compound annual growth rate of 8.6%.
You might be missing out on a sizable revenue opportunity for your business!
In other words, if you aren't already offering professional skincare and products for your male clientele, you might be missing out on a sizable revenue opportunity for your business. That's the bad news.
The good news is that there's still plenty of time to strike while the iron is hot. While Google queries for men's facials and other personal services are also becoming increasingly frequent, the number of providers actually catering to this trend isn't growing nearly as quickly.
In fact, at present, a large portion of the market share would seem to be going to independent over-the-counter brands and drugstore cosmetic labels, who have recognized the demand and are bringing more men's products to the shelves. Overall, this is positive for raising awareness and driving the market, but it still means that beauty professionals are missing out.
So how can you get in on the action? We have a few ideas. 
#1: Men's Facial Products
For growing your business with a male clientele, choosing the right products to retail is a perfect place to start. Chances are good that you already have existing male clients who frequent your business and they're going to need good home care. While you may already carry brands that are gender neutral, it's a good idea to incorporate at least a few options that are specifically designed and packaged for men. 
To help provide your clientele with a few good products, California Skin Care has partnered with M40, a new professional wholesale skincare line that has been formulated specifically for addressing the concerns of middle aged men.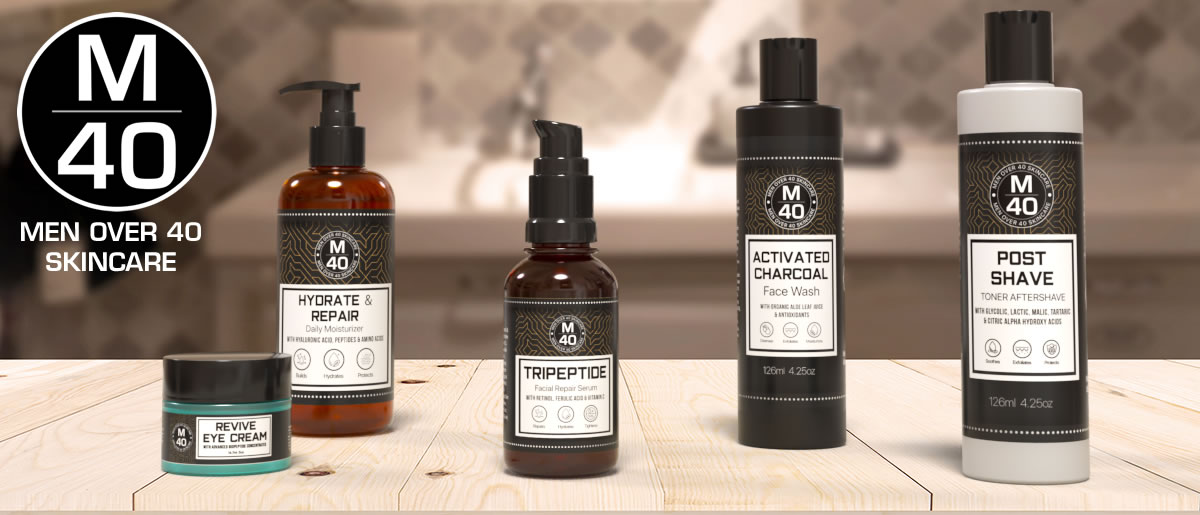 Favorites from the M40 line include:
If you're an esthetician or other skincare professional, you can buy men's facial products at wholesale right here! 
We also carry PRANA SPACEUTICALS Gentlemen's Facial Beauty Box kit that includes: –
Gentlemen's Foaming Wash
Purify Polish
Beard Massage Oil
AHA/BHA Refining Masque
Energizing Treatment
Check out our store for this facial kit or other Prana skincare products for men!  Professionals buy wholesale with CSS!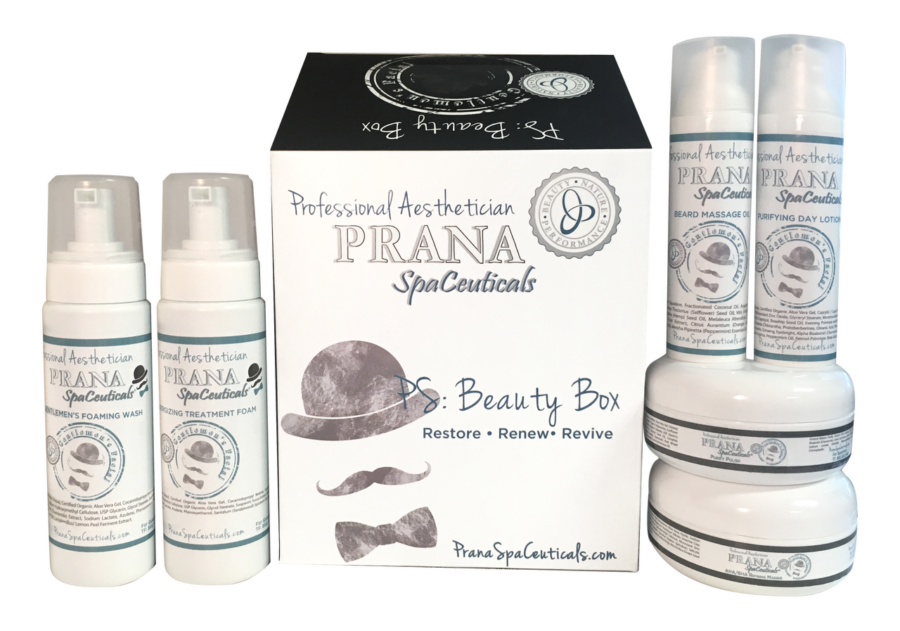 #2: Men's Facial Protocols 
When getting set up to offer men's services, many skincare professionals will find it helpful to get educated on the particulars of offering a "Gentleman's Facial", which may include everything from hot towel service to high tech gadgets. (Check out our new blog which shows you how to give a men's facial.) 
While no additional certification is required to specialize in men's facials and skincare, it's still a good idea to seek out continuing education in order to truly understand common concerns such as acne, tough skin texture, folliculitis, and beard care, which will be more common among your male clientele and require targeted treatment. Product knowledge is also a must, so that you can expertly answer questions and point your male clients towards the right routine for their skin. 
#3: Presenting Men's Facial Services to the Public 
Once you've got your products picked out and your protocols down, another important consideration should be how you present your business to potential male clients. From social media marketing and SEO, to the set up of your treatment room space, it is critical that men feel welcome in your business. 
This is a great opportunity to get creative and really zero in on your ideal client. Some examples of businesses that do this well are Hammer & Nails with their attention to upscale detail and old-fashioned vibes. Or check out one of the original man spas, We Do Men in Scottsdale, AZ with their fun, for-the-boys, atmosphere. e
If your practice serves primarily women, you don't need to overhaul your business completely. However, it's still a good idea to take a look at things like decor, promotional images, and even product packaging, through the eyes of a male customer and aim to create a space that is more gender neutral. 
#4: Create Partnerships to Help You Promote
If you're ready to bring more male clients on board, a good resource may be other adjacent providers in your area. Businesses like barber shops, massage therapists, golf resorts, sports bars, and men's clothing boutiques could be a great option for collaborating and forming a local network. 
Think about the places your ideal customer might frequent and don't be afraid to stop by with a few business cards. You might even consider offering a referral incentive, or teaming up with other local establishments to create a "Passport" program with discounts. Partnering up is a great way to build relationships with other business owners, attract new clients and create more community connections. 
Other Important Things to Know 
The CSS community is all about sharing resources and setting you up for success. If you've got a go-to tip for expanding your men's services, we'd love to hear from you. Be sure to join us in our Facebook group! Or better yet, register with our site to buy at wholesale and get free product training. 
Buy Wholesale & Get the Esthetician's Edge
All You Need to Do is Register as Professional with California Skincare Supply
If you're a professional esthetician, dermatologist or cosmetologist, we invite you to join our community by registering on our site today. You will get access to over 40 of the best skincare lines, esthetician equipment, and supplies for professional use and resale – all at wholesale prices! 
Plus, you'll get our special CSS product training so you'll always know how to use and sell skincare products and services like a pro!
And if that's not enough, get 500 Loyalty Points  just for signing up that you can trade for a discount later, as well as a 10% discount coupon to use on your first order! 
It's quick, easy, and free to join.