To help estheticians be informed and get answers for themselves and for their clients about microdermabrasion, a facial treatment that is in big demand, we've put together the following 2 groups of FAQs and answers. We also wrote a comprehensive blog post on microdermabrasion with most everything you need to know about the treatment and the equipment needed to achieve the best results. Be sure to check that post out as well.
Questions clients may ask professionals about microdermabrasion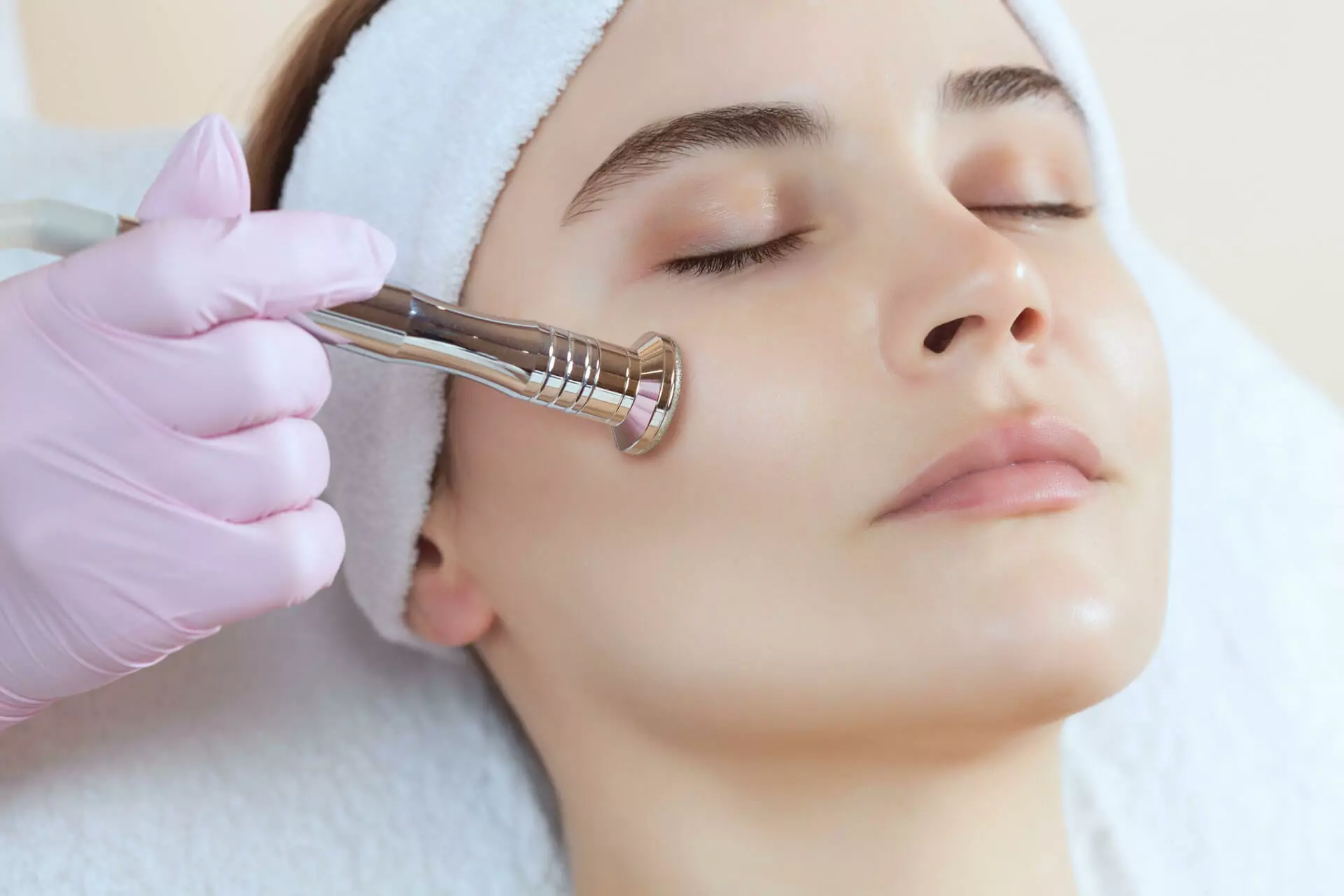 What are the benefits of microdermabrasion?
Microdermabrasion is a manual exfoliation treatment that removes buildup of dead or damaged cells on the surface of the skin. This process then stimulates healthy cellular turnover, which can work to improve a number of common skin concerns including dull skin, uneven texture, and signs of aging such as fine lines and wrinkles.
How many microdermabrasion treatments does it take to see results?
After just one session with microdermabrasion the skin will appear softer, smoother, and more radiant. However, a series of 6-8 treatments is recommended to see more cumulative benefits including reduced appearance of scarring, fewer fine lines and wrinkles, and more even skin tone.
How long do the effects of microdermabrasion last?
Initial results from a treatment with microdermabrasion will last for around 2-4 weeks in conjunction with the skin's natural turnover and regeneration cycles. For this reason, regular maintenance visits are recommended.
What does your skin feel like after microdermabrasion?
Immediately following microdermabrasion, the skin may feel slightly more sensitive or tender, however this sensation will be very temporary and subside quickly. Aside from that, the skin should feel softer, smoother, and more supple.
What does microdermabrasion cost?
The price of treatment will vary depending on your location and provider. On average, a session of just microdermabrasion may cost between $75-$150. Prices may reach upwards of $250 for a facial that includes microdermabrasion, in addition to other complementary modalities.
What should you not do after a microdermabrasion?
Following treatment, it is advised that you avoid direct sun exposure and excess heat to prevent any damage to newly exfoliated skin. Additionally, it is best to avoid other exfoliating treatments or products, including retinols or alpha-hydroxy acids, for about one week.
Is microdermabrasion good for older skin?
Microdermabrasion can be very beneficial for addressing aging skin, by helping stimulate rejuvenation processes. That said, if you struggle with lax skin or deep wrinkles, your skincare professional may recommend a different modality or course for treatment.
Does microdermabrasion stimulate collagen?
There is some evidence to suggest that microdermabrasion may help promote collagen production. In particular, certain microdermabrasion devices that utilize a suction or vacuum function can stimulate collagen by encouraging circulation and blood flow to the skin cells.
What products can I use after microdermabrasion?
After a microdermabrasion procedure, gentle, hydrating, and moisturizing products are best to promote repair and allow the skin to properly heal. At your appointment, your skincare professional will provide instructions for aftercare, including recommendations for specific products to use at home.
Does microdermabrasion hurt?
Microdermabrasion is non-invasive and should not feel painful. When performed by a trained professional, most people report experiencing only a mild sensation similar to having the skin scrubbed, or polished.
Can I wear makeup after microdermabrasion?
Yes! Following treatment, you may wish to wait about 30 minutes for any redness or sensitivity to subside. However, it should then be perfectly permissible to apply your usual makeup products.
How do I know that microdermabrasion would be good for me?
For the most part, microdermabrasion is appropriate for all skin types and can be beneficial for addressing common concerns and conditions. When seeking treatment, it is best to consult with a licensed skin care professional to determine how best to reach your skin care goals.
Are there microdermabrasion machines I can get for home use?
Although there are many devices on the market these days that mimic the exfoliating action of microdermabrasion, these types of products are not the same as a professional procedure and are, therefore, not recommended. For getting a safe, effective treatment, and the best results, choosing a licensed professional to perform microdermabrasion is highly advised.
The Diamonderm by Equipro that you see below is an example of a professional microdermabrasion machine that we sell here at California Skincare Supply. If you're an esthetician reading this blog, check it out. 
Diamonderm by Equipro
What it does: The Diamonderm is your diamond tip option for treating your clients to an effortless polished glow. This multitasking professional microdermabrasion machine makes the perfect manual exfoliation modality for completing your treatment room toolkit.
Why you'll love it: With three different ergonomic handhelds, variable settings, and nine different diamond tips to choose from, the Diamonderm allows for super customized treatment according to each client's unique needs.
Your Go-To Marketing Tagline for Estheticians
Ready for precision exfoliation? Book your Diamonderm Microdermabrasion facial with us ASAP!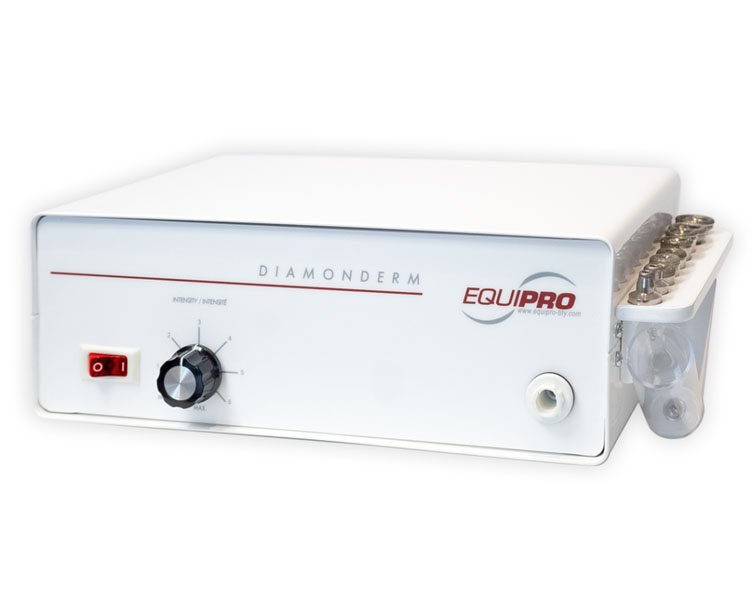 New customers get 10% off their first purchase!

We sell all microdermabrasion machines at the manufacturer's lowest allowed price! 
Answers estheticians need to know about microdermabrasion
How do you prepare the skin for microdermabrasion?
Before microdermabrasion, the skin should always be thoroughly cleansed and dried. If your scope of practice allows you to perform additional exfoliation, an enzyme treatment or peel may also be performed prior, if appropriate.
Will microdermabrasion remove acne?
Microdermabrasion is not able to remove acne and should never be performed over active acne lesions. That said, it can be a helpful acne management modality for preventing congestion, and addressing related concerns such as post-inflammatory hyperpigmentation, texture, or scarring.
Does microdermabrasion shrink pores?
Microdermabrasion does not shrink the pores. However, it can be beneficial for reducing the appearance of pores by removing dead skin and preventing any build up of debris that may be contributing to enlarged pores.
Is microdermabrasion better than a chemical peel?
Microdermabrasion and chemical peels are two different modalities for exfoliating the skin, but which is more effective will depend on the desired outcome for treatment. Microdermabrasion tends to be most appropriate for superficial exfoliation and removing accumulation of skin cells at a surface level, while chemical peels work deeper within the skin to affect cellular mitosis and turnover.
Does microdermabrasion get rid of blackheads?
Microdermabrasion is not able to accomplish the extraction of blackheads, but the exfoliation action of the treatment can be helpful for facilitating more effective manual extractions after the fact. It is also helpful for removing congestion which may prevent blackheads from developing going forward.
Can you do microdermabrasion around the eyes?
Microdermabrasion is not recommended for the eye area, as the skin around the eyes is too delicate. To avoid causing damage, you should not perform microdermabrasion past the orbital bone area.
What can go wrong with microdermabrasion?
If proper technique is not used – including holding the skin taut, and applying correct levels of suction pressure – microdermabrasion can have damaging effects including bruising, broken capillaries, and hyperpigmentation.
What is better for wrinkles – microdermabrasion or microneedling?
Both treatments can be effective for addressing wrinkles. The key difference is that microdermabrasion is considered to be more gentle, working at a surface level, while microneedling treats these concerns on a deeper level and is therefore more invasive.
Is it good to use both?
Because both microdermabrasion and microneedling are beneficial for addressing aging skin concerns, they tend to compliment each other very well. Depending upon your scope of practice and the goal of treatment, you may be able to perform both modalities in one session, or you may need to alternate between multiple sessions.
What is the difference between microdermabrasion and dermaplaning?
Microdermabrasion and dermaplaning are both considered manual exfoliation modalities for removing superficial buildup of dead skin. The biggest difference is that dermaplaning is accomplished using a medical grade scalpel tool, which works to additionally remove fine vellus hairs from the face.
Can microdermabrasion damage your skin?
When administered correctly by a trained licensed professional, microdermabrasion should not cause any damage to the skin. However poor technique or performing the treatment on skin conditions that are contraindicated, can have damaging results.
What are the side effects of microdermabrasion?
Microdermabrasion is non-invasive and should cause minimal reaction in the skin. Some clients may experience some redness or increased skin sensitivity immediately after, but these effects are temporary and usually subside within 24-48 hours post-procedure.
Who should not have microdermabrasion done?
Microdermabrasion is not recommended for those with sensitive skin, couperose skin, or inflammatory skin conditions like rosacea. Additionally, you will want to avoid performing microdermabrasion on clients with active acne, and use discretion when providing treatment to those with lax or sagging skin.
What skin conditions are best treated by microdermabrasion?
Microdermabrasion makes a great option for anyone looking to address conditions related to skin tone or texture, including dullness, discoloration, rough texture, enlarged pores, congested skin, or early signs of aging such as fine lines and wrinkles.
Got more questions about microdermabrasion?
Get the answers you need! Read our blog about microdermabrasion.