The Best Microdermabrasion Machines, Tips & Tricks for Professional Estheticians
Is microdermabrasion making a comeback? Or did it ever really go out of style?
In 2021, professional microdermabrasion machines seemed to continue to hold their own against other popular exfoliation modalities in terms of efficacy for addressing a plethora of skincare concerns. Plus, if the increased demand for newer and more sophisticated microdermabrasion devices is any indication, it is safe to say that microdermabrasion is as popular a protocol as ever in 2022 and beyond, and bound for classic status.
If you've been fielding more inquiries about microdermabrasion from your clientele, or just want to bring something fresh to your practice, a professional microdermabrasion machine is a great choice. Compared to other trending treatments, microdermabrasion remains a cost-friendly option that continues to attract clients and produce consistent results. Here is what estheticians, dermatologists, and plastic surgeons need to know.
This post is part of a 4-part series on trending "micro" facial treatments. See the other 3 blogs i this series: microneedling, microchanneling and microcurrent facial treatments.
What is microdermabrasion? 
Originating in Europe in the early 90s, microdermabrasion has become a tried and true modality in many an esthetician's treatment room. As professional manual exfoliation treatments go, microdermabrasion remains a popular option, as it is minimally-invasive and can be performed as an alternative to chemical exfoliation, while still producing beautiful results and addressing many common client concerns.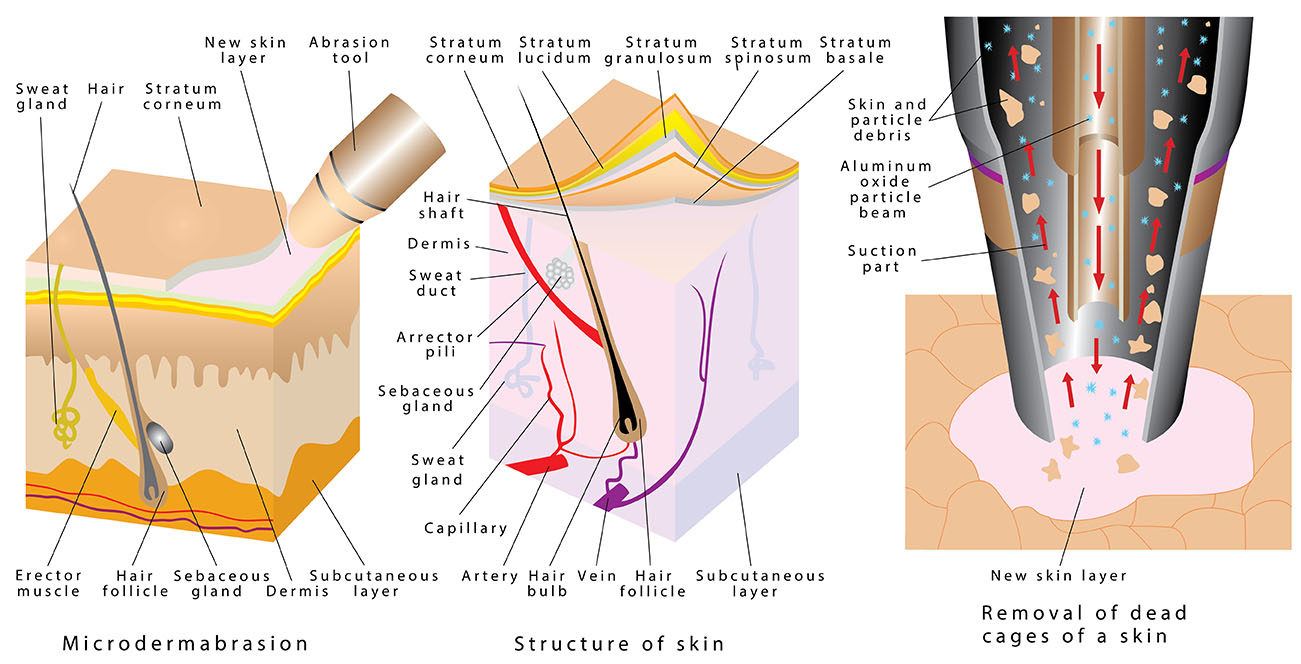 Microdermabrasion Magic: The Benefits 
Regardless of which machine you choose, professional microdermabrasion treatment has many multifaceted benefits for skin health. By exfoliating away unhealthy skin, microdermabrasion can work to improve congestion, blackheads, damaged skin, hyperpigmentation, enlarged pores, and rough skin texture. The vacuum suction additionally aids in promoting blood flow and stimulating circulation to encourage cellular turnover and rejuvenation. 

With repeated treatment, the benefits of professional microdermabrasion include: 
Diminished wrinkles and fine lines 
Smoother, softer and more supple skin 
Brighter and more even skin tone 
Reduced appearance of pores 
Reduced appearance of age spots and acne scarring 
Firmer, tighter skin 
A more radiant glow and rejuvenated complexion 
What does a professional microdermabrasion procedure include? 
Most microdermabrasion procedures require minimal preparation. Following your regular cleansing protocol, exfoliation with a professional microdermabrasion machine can be performed before or after any needed extractions. It can also be paired with other exfoliation modalities if your scope of practice and state board rules allow for it. After microdermabrasion, you may want to offer or include popular add-ons such as LED light therapy for boosting recovery time, or custom serums and a facial mask to enhance treatment benefits. 
It is also worth noting that good technique is a must for optimal results. Proper positioning of the microdermabrasion wand, vacuum pressure and crystal flow (if applicable) each play a vital role in assuring that the skin is properly polished and does not experience excess irritation. For best results, go at a steady pace and always be sure to check in with your client to ensure their comfort levels. 
 
How many microdermabrasion treatments are advised? 
Microdermabrasion works best with a series of multiple treatments, making it a great menu item to offer in a package series. If your client is new to microdermabrasion, you can educate them on the benefits of consistent treatment and progressive, cumulative results. Most experts recommend starting with at least two treatments per month for the first few months, followed by monthly visits for maintenance once desired results have been achieved. 
Although clients will see some instant improvement following their first microdermabrasion treatment, 6-10 treatments with a professional microdermabrasion machine are typically needed to see long-lasting results, including visible improvement to the skin's tone, texture, smoothness, and natural radiance factor. 
What are the side effects of microdermabrasion? 
Because microdermabrasion is minimally-invasive, it has few side effects and there is little to no downtime for clients following treatment with a professional microdermabrasion machine. Some clients may experience some initial redness or sensitivity for about 24-48 hours post-facial, while others will notice that their skin has just a bit of extra "glow." 
That said, because microdermabrasion is a professional exfoliation treatment, you should be sure to educate your clients on the importance of proper aftercare and sun protection. You might use this opportunity to help your client build their perfect homecare routine using the professional products you carry at your business, or send them with samples at their first appointment and follow up at subsequent visits to help them stay on track and achieve their skincare goals. 
What is the cost of a professional microdermabrasion treatment to the consumer? 
Although market averages will vary based on your location, the national average cost of a professional microdermabrasion treatment in 2020 was $167 according to the American Society of Plastic Surgeons. 
This is good news considering that microdermabrasion is inexpensive to perform. If priced correctly, the profit margin on a microdermabrasion treatment may be higher than some of your other menu items, making it an equipment purchase with good return on investment.
Depending on what your treatment includes, you will want to price your microdermabrasion facial accordingly. A simple lunchtime facial with just basic cleansing, exfoliation and finishing product may cost less, while a more elaborate 90-minute facial that includes multiple advanced modalities should command a higher price point. 
Which is better – microdermabrasion or chemical peel? 
A common question your clients may have is whether or not microdermabrasion is better than a chemical peel. To help address this query, you can explain to clients that while both treatments provide exfoliation, they are two very different methods of accomplishing it. 
While enzymes, alpha-hydroxy or beta-hydroxy acids have similar benefits to a professional microdermabrasion treatment for promoting cellular turnover and improving skin health, peels and other chemical exfoliation treatments tend to work deep within the epidermis, whereas microdermabrasion provides a more superficial exfoliation to the skin's surface. 
According to the Milady's Standard Fundamentals text for estheticians, microdermabrasion is still plenty effective compared to chemical peeling agents, with the ability to exfoliate the epidermis more effectively than a 30 percent AHA product.
Learn all about chemical peels here. 
How do professional microdermabrasion machines compare with home units? 
By now you may have seen that home microdermabrasion tools are starting to pop up on social media and on websites like Amazon. Although their ease of access and low price point may be enticing to DIY-ers, it's critical that your clients understand the dangers and disadvantages of using these types of devices. 
Not only are many of these gadgets not particularly effective, they may even be damaging to the skin in the hands of untrained consumers. As an expert in your industry, you are in the position to educate your clients on the importance of safety and the advantages of a professional treatment using top of the line equipment. 
There are two main types of professional microdermabrasion machines 
Diamond tip microdermabrasion machines use a suction wand for stimulating the skin, while also exfoliating away layers of dry surface skin with a rough, diamond-encrusted tip. This works to very quickly and effectively remove layers of dry, dead or dull skin. 
Crystal microdermabrasion machines on the other hand, work by spraying the skin with a mixture of high-grade microcrystals and then removing them – along with dead skin and surface debris – using a vacuum suction function. 
Which is better? Crystal or diamond tip microdermabrasion? 
When choosing the best professional microdermabrasion machine for your practice, there are a few key differences to consider. Crystal microdermabrasion is considered to be a deeper and more powerful exfoliation, making it a good choice for rough, textured, or mature skin. However, some crystal microdermabrasion can be a bit too intense for sensitive or inflammatory skin conditions such as rosacea and acne. 
Meanwhile, diamond tip microdermabrasion is considered to be a good option for practitioners treating a variety of skin conditions, as you can more easily control the precision of exfoliation, pressure, and suction. Most diamond microdermabrasion machines can be adjusted to provide a more or less aggressive treatment, depending upon your client's needs. They also tend to be more budget-friendly for small practices or solo estheticians. 
Why are estheticians buying crystal microdermabrasion machines less frequently?
The number one reason for this migration is simple: consumable cost. The crystals themselves need to be purchased separately and replaced fairly frequently. In addition, they come in varying grits for different purposes. That means you have to have a variety on hand. They're expensive to buy and expensive to ship because they are so heavy. 
With diamond microdermabrasion machines, however, you just replace the filter and occasionally the snap-on diamond tip. Consumable cost is very low. 
Crystal microdermabrasion machines are also harder to clean and maintain. The crystals that are blasted on the skin then need to be vacuumed up along with the dead skin cells. It is not all that uncommon for the tubing to clog. 
For these reasons, here at California Skincare Supply we recommend diamond tip microdermabrasion machines.  
The Best Microdermabrasion Machines for Estheticians
Equipro – One of our brands of choice for microdermabrasion machines
We're in love with Equipro dermabrasion machines. Heck, we're in love with Equipro in general. Because of its heavy investment in research and development and its strong commitment to quality, each piece of Equipro equipment is designed to last, provide optimal performance for many years, and give their customers the best return on their investment. As such, Equipro is one of CSS's brands of choice for microdermabrasion machines. We carry the model highlighted below. 
Diamonderm by Equipro 
What it does: The Diamonderm is your diamond tip option for treating your clients to an effortless polished glow. This multitasking professional microdermabrasion machine makes the perfect manual exfoliation modality for completing your treatment room toolkit. 
Why you'll love it: With three different ergonomic handhelds, variable settings, and nine different diamond tips to choose from, the Diamonderm allows for super customized treatment according to each client's unique needs. 
Your Go-To Marketing Tagline for Estheticians
Ready for precision exfoliation? Book your Diamonderm Microdermabrasion facial with us ASAP!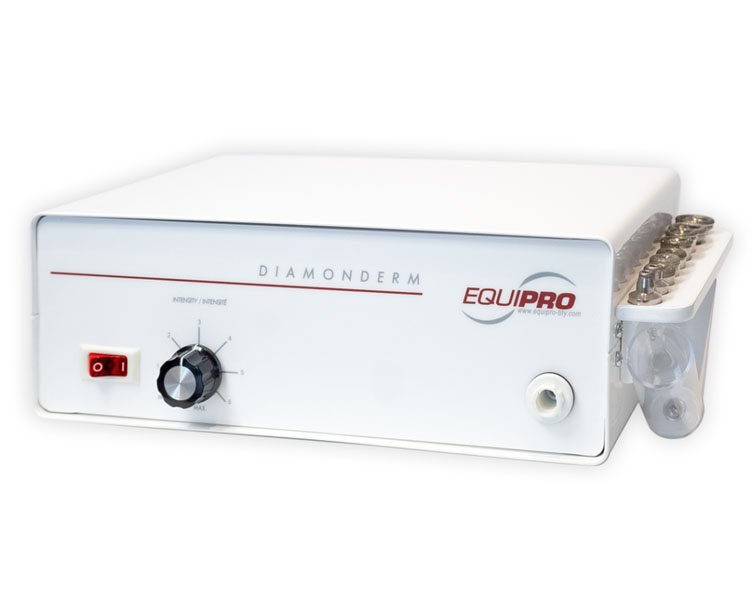 New customers get 10% off their first purchase!

We sell all microdermabrasion machines at the manufacturer's lowest allowed price! 
We love DermaJem for microdermabrasion too!
DermaJEM was founded by three industry veterans.  Their mission is simple, to inspire med spas and aestheticians to be the best. DermaJem's machines are easy to use, backed by a no questions asked 30-month warranty, come with a free live one-on-one training session, a 30-day return policy, and provide their customers with constant support.  
Here are the microdermabrasion machines by DermaJem that are available in our store today. 
The Ares 
What it does: The Ares is a 4 modality multifunction device that gives the skin professional the ability to have both Diamond dermabrasion and Hydro-dermabrasion on one device. This gives you the option to tailor your treatments to your client's needs. And choose the best form of exfoliation for them. 
Why I love it: Besides the exfoliation options, you have the benefit of the ultrasound and Cold therapy all in one device. With the ultrasound you can infuse the serum of your choice, help to increase microcirculation, reduce redness, and boost collagen production all while deeply penetrating your active ingredients. Cold therapy helps to soothe and calm irritated and inflamed skin, being ideal to use post exfoliation or extractions. Overall I love the flexibility the Ares offers.
Your Go-To Marketing Tagline for Estheticians
Get a clear, luminous complexion with our Ares microdermabrasion facial!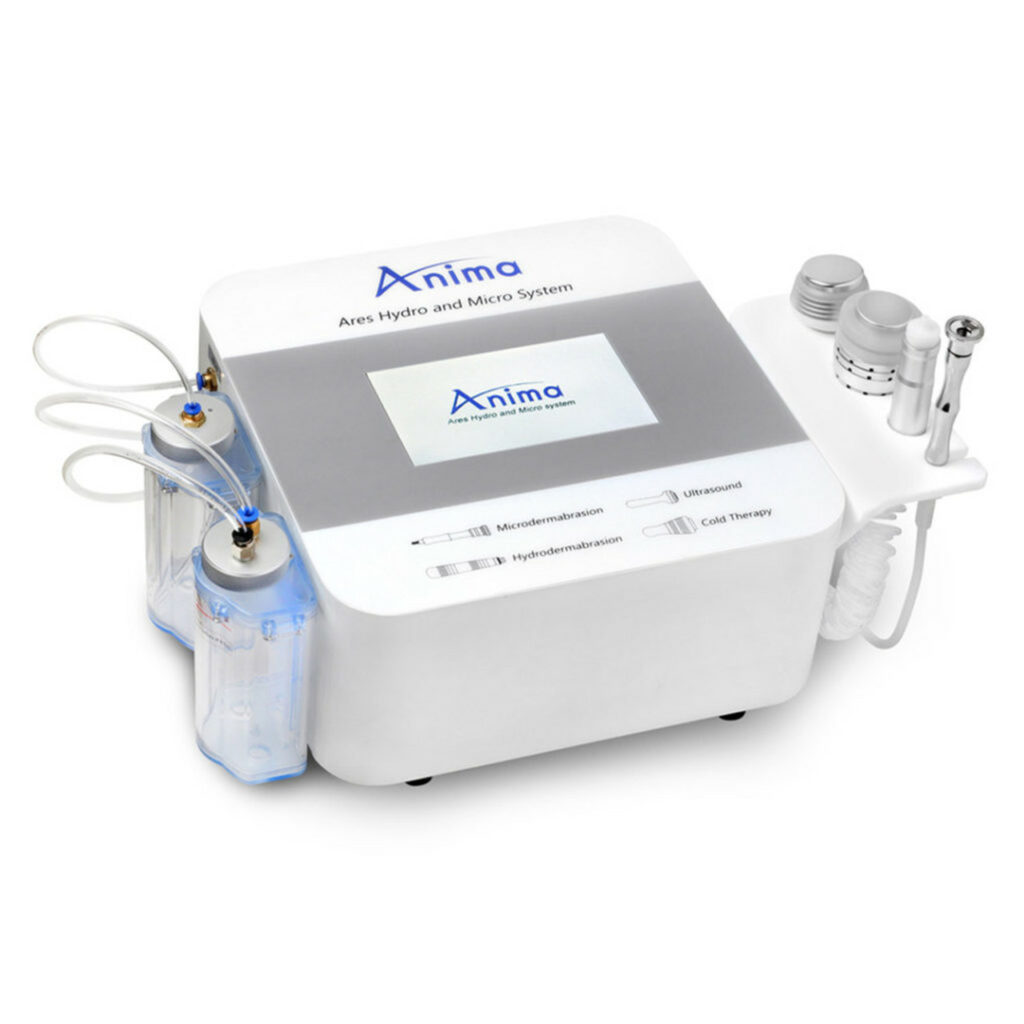 New customers get 10% off their first purchase!

We sell all microdermabrasion machines at the manufacturer's lowest allowed price! 
The Alto 
What it does: The Alto combines eight different modalities together in one powerful device. Microdermabrasion prepares the skin by deeply exfoliating and prepping the skin for deeper treatments like radio frequency or needle-free mesotherapy. You also have lymphatic drainage, cold therapy, skin scrubber  and others to really add variety and allow you to create customized treatments for your clients with low consumable costs.
Why I love it: It is so versatile and a great way to increase profits without adding more time to your treatment. Chances are all your clients can use one of the modalities on the Alto. You can create add-ons to your facial treatments with it that help to increase the cost of the treatment meaning that your $150 facial becomes a $200 treatment without you having to add more time to the treatment. It also allows for creativity so that you can create combinations of therapies and exclusive treatments to help drive your business and help you grow
Your Go-To Marketing Tagline for Estheticians
Get a facial customized for your skin's needs with 8 different treatment modalities and get the glow!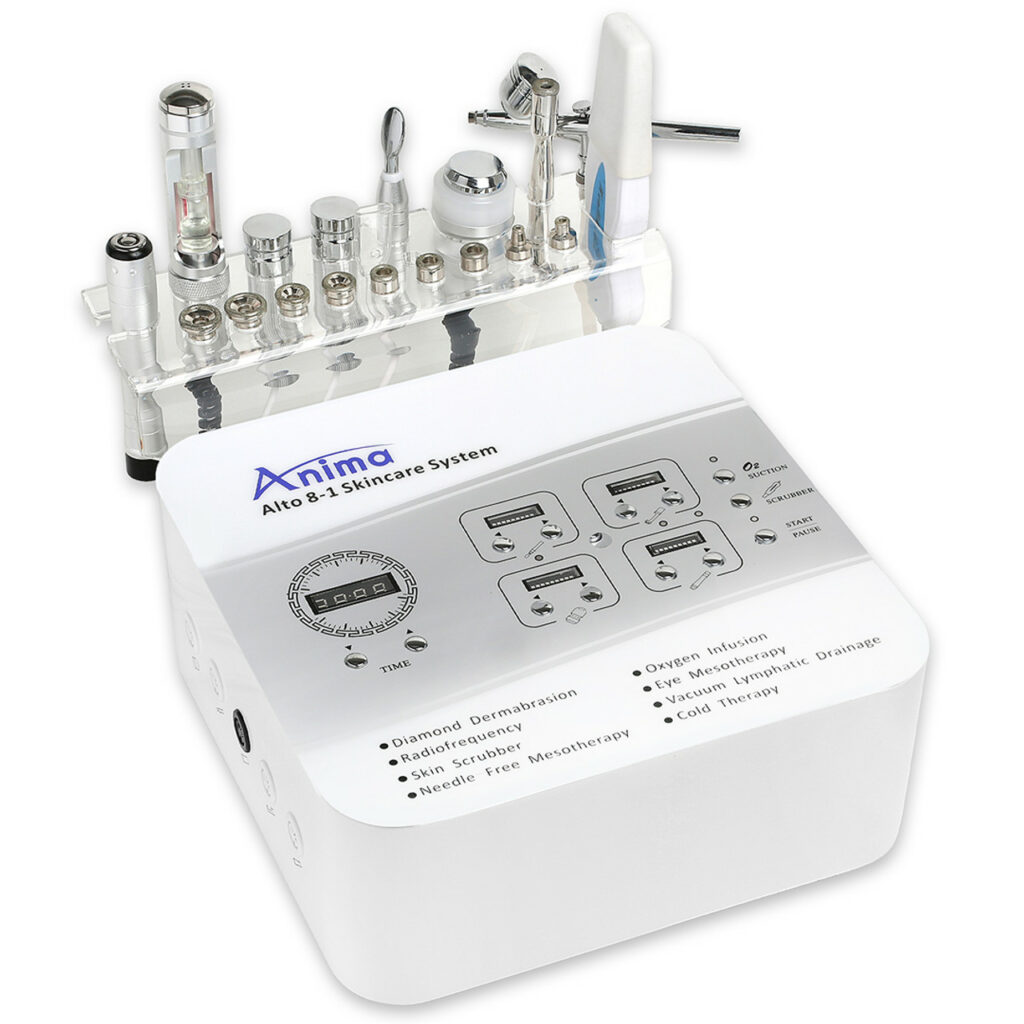 New customers get 10% off their first purchase!

We sell all microdermabrasion machines at the manufacturer's lowest allowed price! 
Selling the professional service
A few quick tips for estheticians to market microdermabrasion facials 
Once you've made the decision to invest in your professional microdermabrasion machine, your next step is getting clients excited about it. With a bit of effective promotion, you'll be able to fill your books quicker and attract more repeat customers for your new services.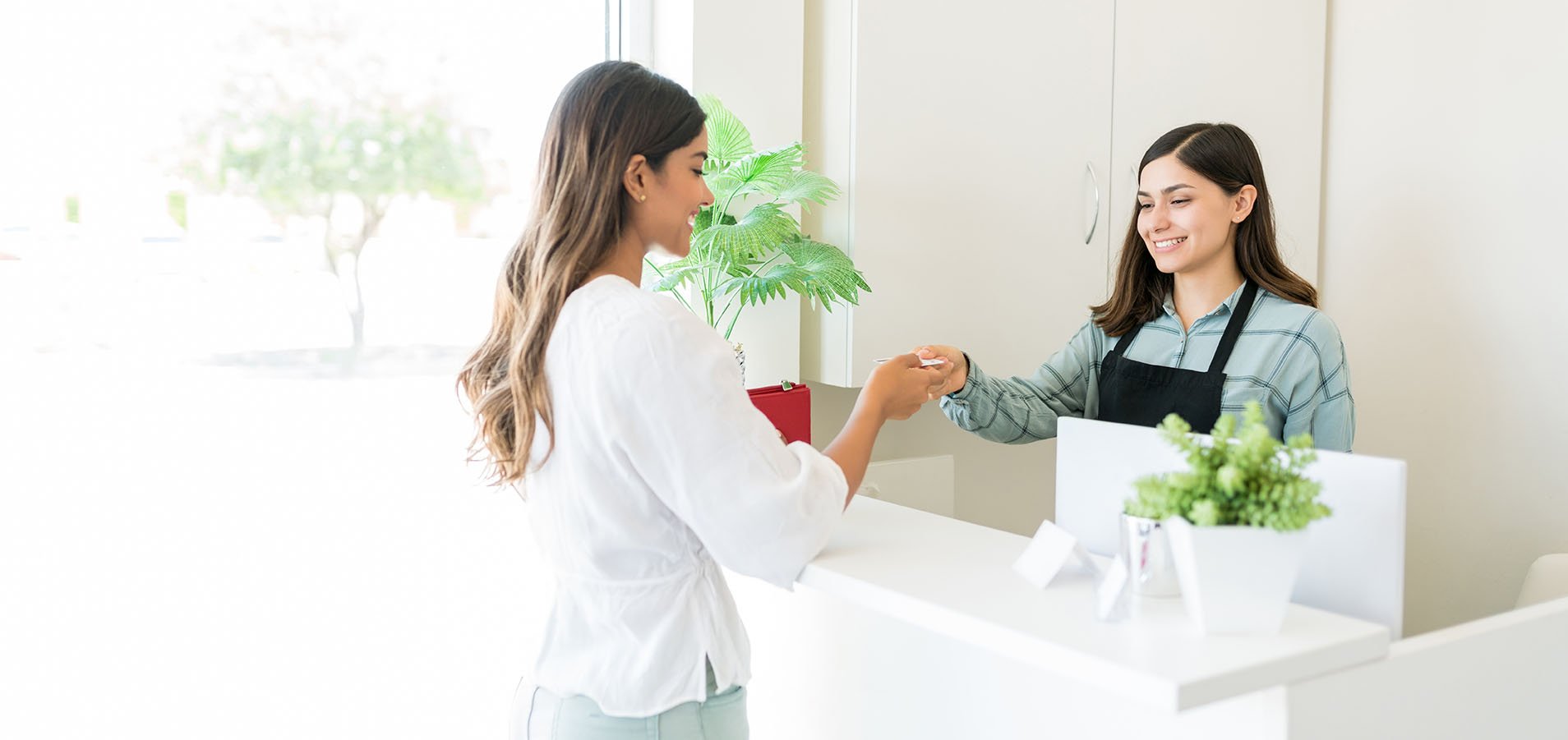 Microdermabrasion marketing tip #1:
Educate your clients – Nothing sells a new treatment quite like talking up the benefits. Before your new microdermabrasion machine even arrives, you can begin giving your clients the breakdown in newsletters, or while checking them out and scheduling their next appointment. The more clients hear about your new modality or service, the more confident they will feel in booking it next time. 
Microdermabrasion marketing tip #2: 
Get creative with your menu – For adding microdermabrasion to your offerings, there are endless possibilities for packaging it and incorporating it into your protocols. You could create an express treatment for introducing clients to a new modality or include it as an upgrade to your signature facial. Knowing that microdermabrasion works best in a series, you could also offer special packages that include multiple treatments, or even homecare to help your clients get on board and get better results. 
Microdermabrasion marketing tip #3: 
Show off your skills on social media – If you are active on Instagram, Tiktok, Facebook or other social platforms, consider posting about the perks of a professional microdermabrasion facial and don't be afraid to post video clips demonstrating how the machine works. (Using a demonstration model or with client permission, of course!) Microdermabrasion is a great service to highlight because it is visually very interesting. Clients and followers love getting an inside peek at what your services look like, and are more inclined to trust your skillset once they've seen you in action. 
Beware of cheap choices 
One more thing to be aware of when shopping for a professional microdermabrasion machine is that even professional devices will vary greatly in quality and efficacy. Beware of inexpensive $200 units purchasable on Amazon or eBay, as these machines are rarely manufactured with the same testing and quality standards as those sold by professional esthetics industry retailers. 
To get the best professional microdermabrasion machine for your investment you will want to look for reputable brands and retailers that offer customer service, warranty coverage, and continuing education. This is why we choose Equipro and Dermajem as our preferred skincare equipment manufacturers. 
You should also ensure that any equipment you purchase for your treatment room meets the requirements of your state board and is within your scope of practice. 
---

P.S. Looking for a place to chat about microdermabrasion and your other favorite treatment room tricks? How about learn how to use all this great equipment, skincare products and other professional skin care tools? 
Then check out the CSS community! We love sharing must-know info about the latest industry news, skincare tools, professional protocols, and more. Follow us in Facebook and Instagram and subscribe to our newsletter!