Everything estheticians need to know about microneedling
(If you're NOT a skin care professional, keep reading. Lots for you to learn here too!)
Do you know your micro modalities? As part of a special four-part series with California Skincare Supply, we're talking about the top 4 "micro" treatments every professional practitioner should be in the know about, when it comes to creating macro results.
Today, we're breaking down microneedling, which has become one of the most in-demand beauty services worldwide. We've got the full scoop, so read on for all the details on how it works, who it's for, and what you'll need to get started.
This post is part of our 4 part series on "micro" facial treatments. See the other 3 blogs in this series on microdermabrasion, microcurrent, and microchanneling facial treatments.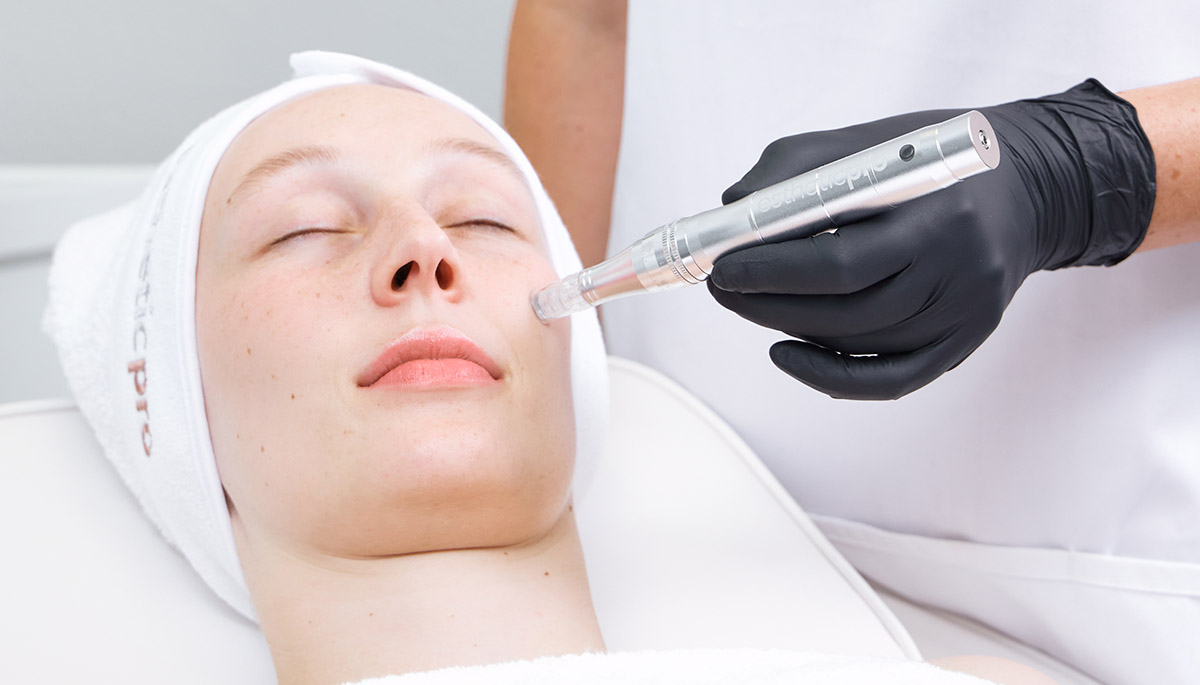 What is microneedling and what does it do?
In some practices, microneedling is referred to as collagen induction therapy, which is a very apt name and encompasses the primary goal of treatment. In a typical protocol, small, sterilized needles are used to administer precise microscopic punctures to the skin, evenly covering the area being treated. Doing so is a controlled way of creating micro injuries to the skin, which then stimulates a natural healing response.
As the skin recovers and regenerates following microneedling, new collagen is produced and deployed to the site of injury as part of the repair process. Additionally, creating small punctures in the skin provides an opportunity to deeply infuse topical serums or platelet-rich plasma, if deemed appropriate by the skincare professional.
The Microneedling Advantage
Key benefits and comparative analysis
Due to its ability to support skin healing, microneedling is very effective and efficient for addressing a number of skin concerns and conditions. For aging skin, it can help to plump and firm depleted tissue, minimizing fine lines as well as tightening and lifting lax skin. It's also been shown to work well to reduce the appearance of acne scarring, enlarged pores, and discoloration such as dark spots and other hyperpigmentation.
Compared to more aggressive surgical procedures and laser therapy, microneedling is known as a minimally invasive treatment requiring little to no downtime. That said, it does provide a more advanced approach over similar modalities such as microchanneling, in that microneedling devices penetrate the skin at a deeper level, and can be adjusted to various depths based on the overall goal of treatment.
What products, tools and training are needed to perform microneedling facials in your salon or spa?
Before getting started with microneedling, you'll want to familiarize yourself with your state board's rules and regulations. Some regulatory agencies will have specific guidelines regarding scope of practice, including which types of licensees are able to offer microneedling, and at what depth. If you are new to the technique, you will also want to attend training to ensure that you are well-versed on safely performing treatment.
Once you've acquired the necessary skill set, the good news is that microneedling requires minimal equipment and provides a substantial return on investment in the technology. Our favorite option for the treatment room is The Micropen by EstheticPro, which offers adjustable speed and other customizable features for every treatment. Users have the option to switch between microchanneling and microneedling, with single-use tips that can be installed for each individual service.
EstheticPro Professional Microneedling Pen & Starter Kit + Serums
What it does: In just 30 minutes, the EstheticPro microneedling pen will deliver natural results that require no heat, chemicals, or downtime. Your clients will achieve glowing confidence!
Why you'll love the pen: The EstheticPro is the best value professional micropen on the market. Its robust features and accessible price point are unmatched, making it the perfect tool for all professional estheticians. One tool offers 3 treatments- Nano infusion, microchanneling and microneedling!
Why you'll love the kit: The EstheticPro Microneedling Pen Starter Kit is the best way to get started with microneedling. It comes with everything you need to get started, including the pen and two different serums that are designed specifically to work with microneedling!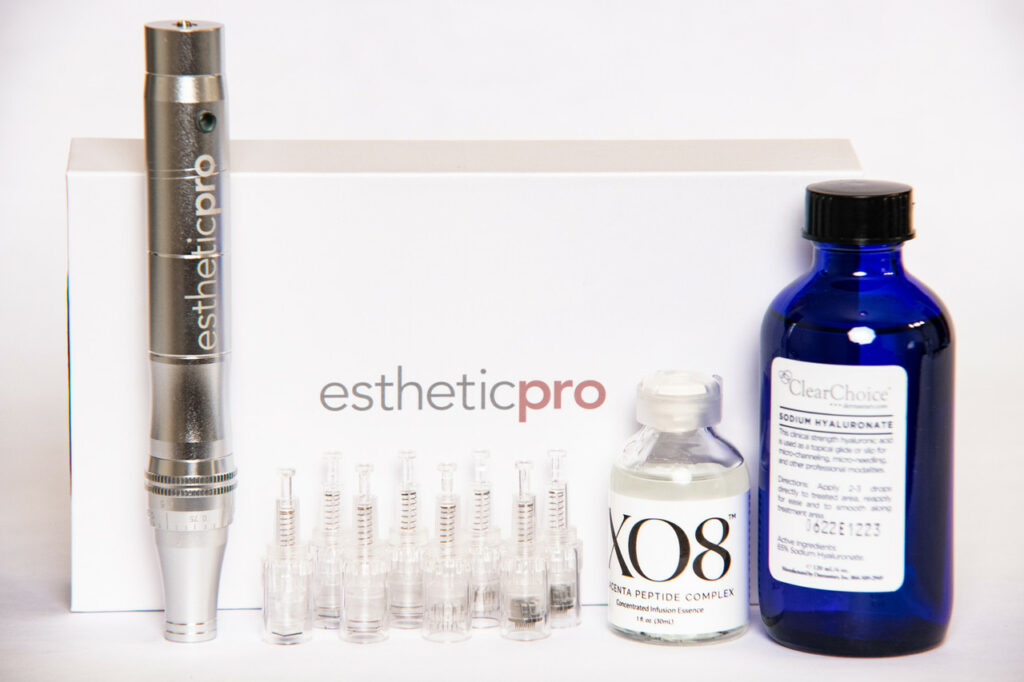 New customers get 10% off their first purchase!

We sell all microneedling machines at wholesale to skincare professionals at the manufacturer's lowest allowed price! 
Following thoroughly cleansing the skin, a numbing cream or gel can be applied to ensure your client's comfort. In most cases, microneedling is applied to the entire face, or it can also be used on other areas of the body for targeting concerns such as stretch marks.
The last step of your protocol will be application of active topical products and proper homecare including sun protection, which is a must to protect the skin post-appointment. You will also want to advise all microneedling clients to use gentle homecare products that align with the recovery process such as hydrating serums and a professional grade moisturizer.
Next Steps for Estheticians
Marketing microneedling and answering your clients' frequently asked questions
Step #1: Create a buzz around the benefits
When adding microneedling to your facial service menu, it can be very impactful for estheticians to provide information on what clients can expect in terms of the results. You can do this by taking to your social media with before and after pictures, live demonstrations, or even a Q&A session. You might also consider creating a special section on your booking app or website, with bullet points highlighting the benefits.
To help you out, here is a comprehensive list you can add to your marketing materials along with before and after photos…
11 reasons to add microneedling to your facial routine:
Before & After Microneedling Pictures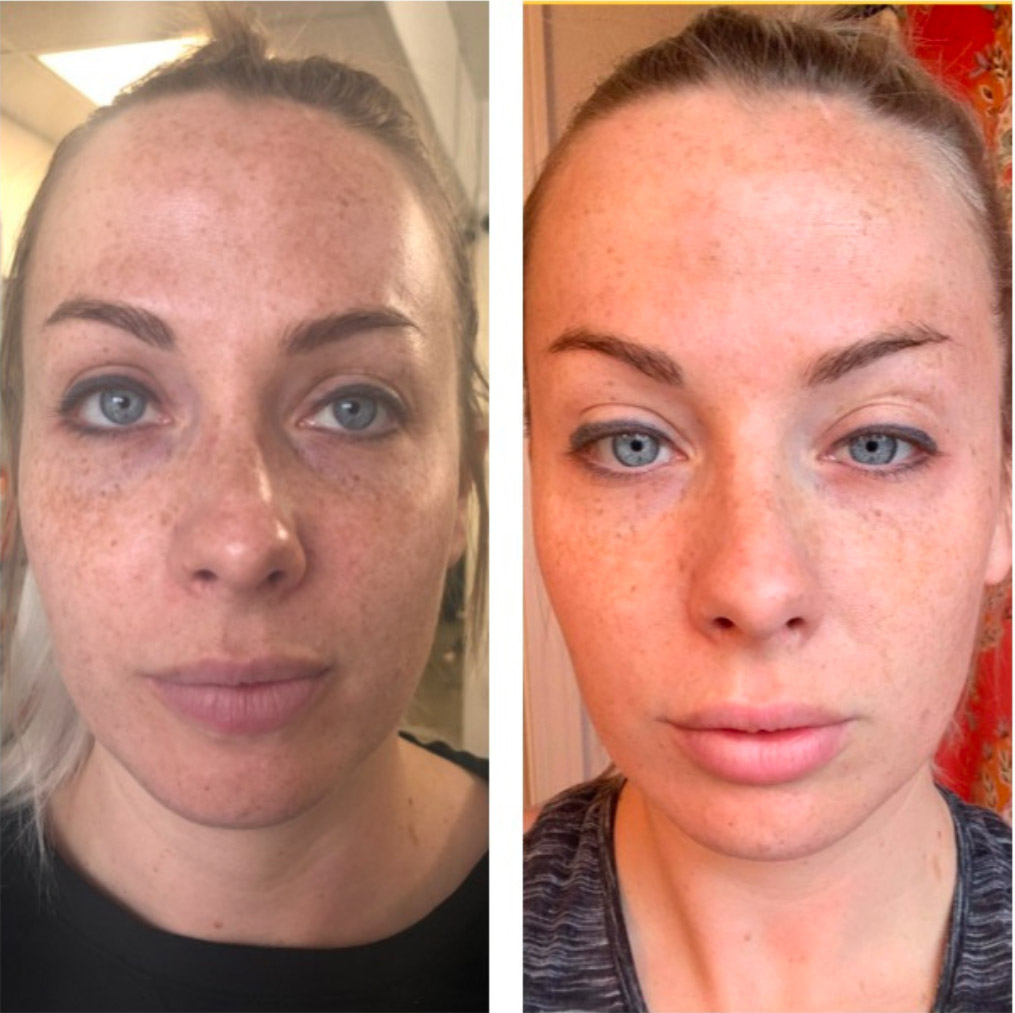 Step #2: Educate your clients on how to achieve best results
Although microneedling can produce some immediate effects such as plumping the skin and promoting a radiant glow, the best outcomes are accomplished through a progressive series of treatments. Knowing this, it's a good idea to partner with your clients, setting them up with a package of three to six visits, and scheduling appointments in advance.
In the beginning, you will ideally want to see your microneedling clients every couple of weeks, and then move to a maintenance schedule of once every four to six weeks.
Step #3: Position yourself as the skin-care expert
Address at-home microneedling options…
Due to its popularity, microneedling has begun to show up in a variety of settings, including at-home devices.
In order to leverage this growing trend and ensure that you are the go-to esthetician and facial treatment provider for your clients, it can be very advantageous to offer your professional skincare services but also partner with clients who wish to incorporate microneedling at home. For example, selling retail tools and making yourself available to teach your clients proper technique will set everyone up for success and prevent some of the pitfalls of DIY treatment, including injury and damage to the skin.
And we just happen to carry a microneedling device for at-home use!
At-Home Microneedling Device
BENECELL Microneedling Regeneration System with EGF
What it does: This system helps relieve the skin of lines, wrinkles, acne scars, and pigment irregularities, and its regular use helps revitalize, hydrate, and brighten skin.
Why you'll love it: Sell to your clients for at-home use. Get recurring income from the sale of replacement heads and serum.
A perfect blend of clinical science and luxury beauty, BENECELL will make the skin glow from the inside out by improving not only the appearance but the health of the skin. All your needs in one drop.
BENECELL's unparalleled 100 ppm EGF maximizes results after use, with the combination of the Microneedling roller with an extra EGF 100 Serum(10ml)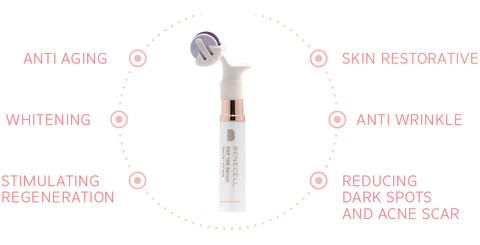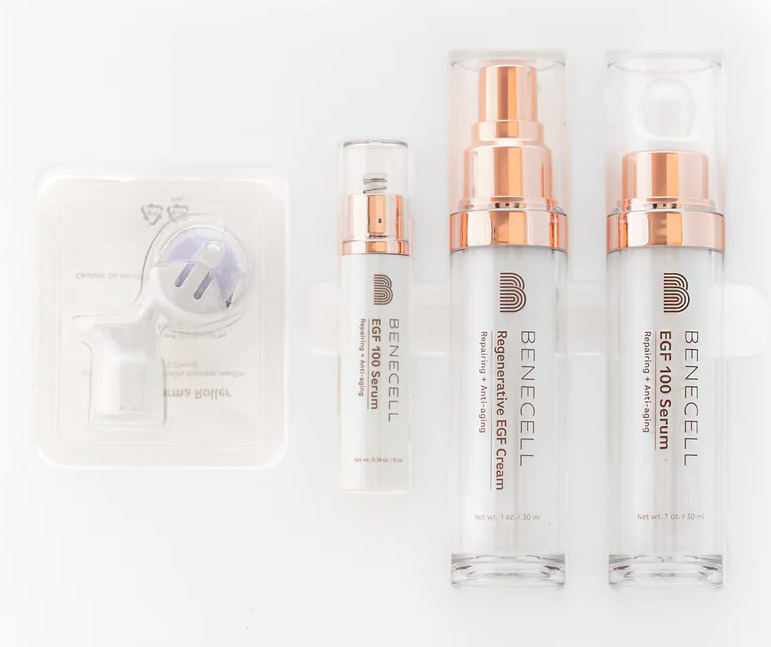 New customers get 10% off their first purchase!

We sell all microneedling machines at the manufacturer's lowest allowed price at wholesale to skincare professionals! 
Be ready with answers for your clients…
Lastly, anticipating that estheticians may need to answer more questions from clients new to microneedling, here are some final must-know facts you can provide.
Is microneedling better than botox?
Although both are essentially anti-aging treatments, botox is quite different in that it works by freezing or temporarily blocking wrinkle-causing muscle movement, rather than addressing the skin directly. For this reason, the two can act as complementary procedures when scheduled a few weeks apart.
How much does microneedling cost?
Cost of treatment will vary widely depending on your market and the provider. Overall, it is a very affordable modality compared to other available options. Starting at around $200 per session and going up from there if combined with other modalities.
Are there any side effects following microneedling?
After a microneedling facial, it is normal to experience some swelling, tenderness, and minor bruising in the areas treated. However, these effects are temporary and will subside quickly.
What activities should be avoided before and after microneedling?
Prior to a microneedling appointment, certain medications such as NSAIDS should be avoided along with topical treatments that exfoliate such as retinol products, AHAs, and BHAs. Hair removal treatments in the area(s) being treated are also not advised for about one week beforehand. After treatment, the skin will need to be protected against exposure to excess heat and sun, in order to prevent excess inflammation or damage to the skin.
Are there any contraindications with microneedling?
Microneedling is appropriate for most people. However, it is not recommended for eczema, diabetes, those with a weakened immune system, anyone with bleeding or clotting disorders, as well as patients taking blood thinners.
Where can I get professional microneedling treatments in California?
California estheticians are not allowed to penetrate the skin, regardless of depth, unless under the direction of a doctor such as at a med-spa, or at a plastic surgery or dermatology office even though we know microneedling is benign and relatively easy to perform. Consumers don't like to hear this because services rendered in medical offices are generally much more expensive.  One exception is that an esthetician who carries a permanent makeup license is allowed to offer microneedling.
There is nothing to stop California estheticians from selling at-home microneedling devices and training their clients on their use at home, however. With so many purchase options online to confuse the buyer, their clients will greatly appreciate their guidance and product recommendations. See the at-home microneedling device CSS sells above for our recommendation. 
Finally, before you go, check out Dermajem's microneedling machine for pros that includes radio frequency!
Give your clients something they can't get at home!
Anima Envie RF Microneedling by Dermajem
What it does: With RF Microneedling we supercharge traditional microneedling by adding radiofrequency energy. By combining these two therapies we can create lasting change in the skin with minimal downtime.
Why you'll love it: The best part of the Envie is you are not limited to only treating the face. It can be used to treat and improve the body as well. The same principles apply when treating scars, stretch marks, and texture on the body.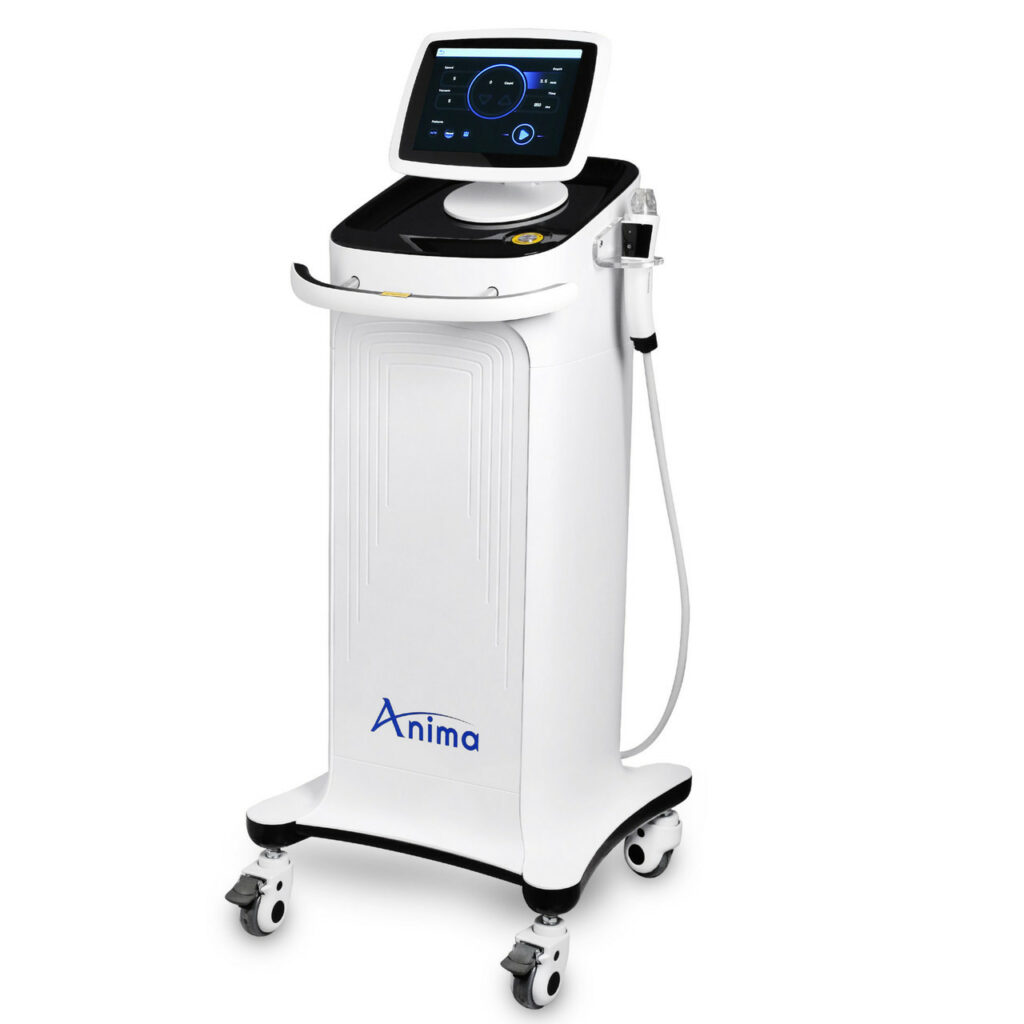 New customers get 10% off their first purchase!

We sell all microneedling machines at the manufacturer's lowest allowed price at wholesale to skincare professionals!
Join the CSS Family
Get the Esthetician's Edge

If you're a professional esthetician, dermatologist or cosmetologist, we invite you to join our community by registering on our site today. You will get access to over 40 of the best skincare lines, esthetician equipment, and supplies for professional use and resale – all at wholesale prices! 
Plus, you'll get our special CSS product training so you'll always know how to use and sell skincare products and services like a pro!
And if that's not enough, get 500 Loyalty Points  just for signing up that you can trade for a discount later, as well as a 10% discount coupon to use on your first order! 
It's quick, easy, and free to join.